Where the world gathers for
plating, anodizing, & finishing Q&As since 1989
-----
Is passivation the cure for identifying weld inclusions?
2003
Sir,
Our customer has asked for passivation of heat transfer plates used in our heat exchangers. We as a standard don't do any passivation on our exchangers. A leak was observed at start up & holes were found on the plates. Customer then requested passivation as the service fluid was eating up the inclusions which cause the leaks. Is passivation the right process to correct this problem What is the main purpose for passivation? Is it the only way inclusion can be identified. We at this point are not sure how these inclusion got in the weld metal. Any insight on this will be usefull.
Regards,
David Lasrado
- Richmond, VIRGINIA, USA
---
2003
It is hard to say what is the CAUSE of your problem. If there were inclusions in the steel this certainly can cause a problem, but passivation may or may not eliminate the problem. If the inclusions are iron based it will take care of the problem.
Passivation is a process of removing exogenous materials from the surface of stainless steel, including iron and iron oxides, then chromium and nickel enriching the surface to form a hard chrome oxide layer on the surface (the passive layer). The passive layer is usually 25-30 Angstroms thick. The highest percentage of chromium oxide in the surface (the passive layer) can be attained using citric acid formulations that are on the market.


Lee Kremer
Stellar Solutions, Inc.

McHenry, Illinois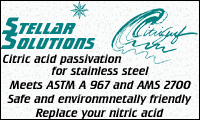 www.finishing.com is made possible by supporting advertisers like ...
this text gets replaced with bannerText