Where the world gathers for
plating, anodizing, & finishing Q&As since 1989
-----
German Finish Nomenclature
2003
I am trying to find out what is the finish "IIb" specification for a stainless steel flange used in Germany. Is it sandblasted? Is it pickled and passivated? What is it?
It is not the surface roughness.
Thanks
Walter Siebold
- Houston, Texas
---
First of two simultaneous responses -- 2003

I believe this may be referring to a No. 2B finish, which is a common designation for stainless steel. A No. 2B finish is a standard, as-rolled (not polished) finish for stainless steel. The definition is a bright, cold-rolled finish resulting in the same manner as No. 2D finish, except that the annealed and descaled sheet receives a final light roll pass through polished rolls. This is the general-purpose cold-rolled finish that can be used as is, or as a preliminary step to polishing.
A 2B finish on stainless will range from about 5 microinches Ra on lighter gauges, say 0.024 inch to 15 microinches on 0.187 inch. A 180 grit finish is equivalent to a number 4 finish which has a Ra of 5 to 15 typically.
Toby Padfield
- Troy, Michigan
---
Second of two simultaneous responses -- 2003

Walter,
Seeing that no one answered your request, why don't you go the German specs called D.I.N. Deutsche Industrie Norm ... but if you do (I did as I was curious) ... out came some specs for copper ! I just typed down D.I.N. 11B onto GOOGLE
Maybe you'll be luckier... hope so.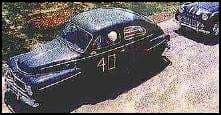 Freeman Newton
[deceased]
(It is our sad duty to advise that Freeman passed away
April 21, 2012. R.I.P. old friend).