Where the world gathers for
plating, anodizing, & finishing Q&As since 1989
-----
Fumes in Galvanized Plumbing
2003
Has there been any reliable analysis of the material lining corroded galvanized WATER SUPPLY pipes? After removing them from a home during a whole-house plumbing upgrade, I could smell intoxicating fumes coming from the drained water pipes. The odor can be described as similar to propane gas, but with a very strong acid content, as of Muriatic Acid [affil link], as well as having nauseating properties. We considered the possibility of a type of fungus being the culprit.
Michael Morgan
- Baltimore, Maryland, U.S.A.
---
2003
Michael,

I was never in the house building/repair business so what I say please take with a pinch of salt.

My first question is WHY galvanized piping. Is this a real Olde House? The next one concerns the water ... was it stagnant for a long time? If so, depending on it's chemistry, that could affect the odour. And re your comment about fungii, ah, surely you wouldn't get any IF the piping was continuously used but surely might get some if the water lay dormant for a while. Also you never stated if your water supply is from the city (i.e., treated) or from a well ... where it could be somewhat odiferous, eh?

Anyhow, I sincerely hope that you are now in the 2lst century and using plastic pipe in the house. PVC type l, grade l ... ie. the normal uPVC pipe ... is ideal for water or for drainage ... and for acids, too!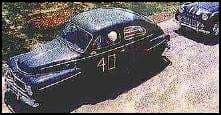 Freeman Newton
[deceased]
(It is our sad duty to advise that Freeman passed away
April 21, 2012. R.I.P. old friend).
---
2003
The odor is probably hydrogen sulfide, which can form by reaction of the water with sulfide in iron or steel pipe. This occurs when water is somewhat acidic and/or contains high levels of chloride or chlorine. The smell is usually only noticeable when water is not used for a period of time, allowing the hydrogen sulfide to reach a detectable level (0.5 ppm), or when air (oxygen) accelerates the reaction, as in this case.

It is not a problem in most water systems, where slightly alkaline pH and hardness content are maintained to form a protective scale inside piping.
Ken Vlach
[deceased]
- Goleta, California

Finishing.com honored Ken for his countless carefully researched responses. He passed away May 14, 2015.
Rest in peace, Ken. Thank you for your hard work which the finishing world, and we at finishing.com, continue to benefit from.