Where the world gathers for
plating, anodizing, & finishing Q&As since 1989
"How do you passivate stainless steel"
-----
2003
CAN ANYONE TELL ME, IS THERE A CHEMICAL SPRAY I CAN PUT ON STAINLESS STEEL TO PASSIVATE IT AFTER THE WORK BEING DONE IS COMPLETED,
HARDY SLATTER
a ship repair facility - NORFOLK, Virginia
---
2003
Normally passivation occurs in air but can be "forced" or to remove possible "tramp" iron by using a simple Nitric acid/ water mixture (1:3). This is more effective if it is warm (100°F) and can be left on the surface for about 15 minutes. To increase the effectiveness of oxidation sodium bichromate can be added (2%). If the stainless is a machining quality (such as 416) which contains sulfur or selenium then the above solution can result in a grey color. In this case a potassium or sodium bichromate solution (10%) ata bout 100-120° F should be used.
Mike Turner
- New York
---
2003
Passivation is a process of first cleaning the surface and removing any free iron from processing, then chromium enriching the surface to form a passive layer upon exposure to the air. This can be done many ways. Current technology with citric acid formulations allow safe and much more effective passivation than with nitric acid. There are products that can very effectively be sprayed onto the surface to get excellent passivation without the need for dangerous chemicals.

You can search online for citric acid passivation or contact us and we will get you there.


Lee Kremer
Stellar Solutions, Inc.

McHenry, Illinois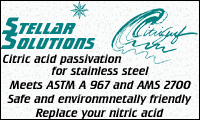 www.finishing.com is made possible by supporting advertisers like ...
this text gets replaced with bannerText