60,000 Q&A topics -- Education, Aloha, & Fun
topic 2242
Selective Gold Plating
A discussion started in 1998 but continuing through 2019
1998
Q. I would like to do selective gold-plate on my aluminium chassis, but I have limited knowledge on this. please help ! Thank you very much !
Alfred
Ang Kah Kiong Alfred
DSO National Laboratories
---
1998
A. Mr. Alfred,
Typical selective plating techniques used for electronics chassis include liquid masking (using a stop-off mask material )and tape masking (using platers tapes). Your plating chemistry supplier should be able to recommend the proper material based on the chemistries and temperatures you are using. They also may even supply certain liquid masking materials. Good luck, these processes take the steadiness, patience and talent of an artist.
Ken Mantle
- Tempe, Arizona
---
---
1999
Q. I am a disabled person (wheel chair).
Do you think I would be able to make a substantial amount of $$$$ using a gold-plating kit machine?
l.a adams
- mineral springs, Arkansas
---
A. I don't think your disability disenfranchises you from making money in that field, La. If you are an aggressive 'sales type' person with a history of successful sales, you'll probably do fine at it.
But if you're not, I think it will be a waste of an investment. In operating this Hotline for all these years, I don't think two people have asked me who they can call to get something gold plated with a gold plating kit machine. That doesn't mean there is no potential market, but it probably does mean that the world will not beat a path to your door.
Ted Mooney, P.E.
finishing.com - Pine Beach, New Jersey
Striving to live Aloha
---
---
Selective Gold Deposition on a Chip
2005
Q. Sir,
I have an array of metal deposts on the surface of a chip,which are of microscale. I want to selectively deposit beads of gold on those metal surfaces. Can you suggest me a way to do it.
Thank you
Vinay Agarwal
Tufts University - Medford, Massachusetts
---
2005
A. Some of your terms are a little vague, Vinay. You have an "array of metal deposits" but you don't say what metal, or in what condition, or how they got there or why. You want to deposit "beads" of gold, but I don't know if they means you want to stick some microscopic gold balls on them that you have available, or you just need to cover the metal with gold, or what. The easiest way to answer you is to note that gold is noble to almost all other metals and will immersion deposit onto them from a gold plating solution. But I don't know if that's any help.
If you do want "beads", you could probably gold plate the surface then "cold weld" the beads. Good luck.
Ted Mooney, P.E.
finishing.com - Pine Beach, New Jersey
Striving to live Aloha
---
2005
A. Vinay,
Try brush plating.
Good luck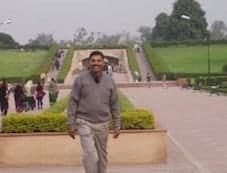 T.K. Mohan
plating process supplier - Mumbai, India
---
---
Gold plating only a part of silver pendant
December 27, 2019
Q. Hi ... I am Shereen ElAyat, Silver jewellery designer. I made a workshop for myself, and now I am starting the plating phase. I am plating 925 silver with gold -- but what if I want to plate only a part of my piece with gold and leave the rest with silver color or coat it with platinum for example? What is the process and tools ... I mean plating gold and platinum on the same piece? Thanks in advance.
Shereen El Ayat
Designer - Egypt
---
December 2019
A. Hi Shereen. There are two possible approaches: brush plating or masking.

You can search for "brush plating" and learn that in this technique you do not immerse the piece in a plating tank, but instead use an electrified "brush" or "tampon" periodically dipped into the gold plating solution.

"Masking" can be done many different ways: with plater's tape (quite similar to electrician's tape), with elastomer plugs or caps, with brushable glue-like masking materials, with waxes, etc. Good luck.

Regards,
Ted Mooney, P.E. RET
finishing.com - Pine Beach, New Jersey
Striving to live Aloha
finishing.com is possible thanks to our supporting advertisers, including this shop: