Where the world gathers for
plating, anodizing, & finishing Q&As since 1989
-----
Corrosion on 2024 Chromate, Salt Spray Test
2003
Q. I will appreciate anyone who read it or response for my questions. My problems are corrosion on chromated 2024 aluminum after salt spray test. The process used is degreasing/cleaning > deoxidizing (using Metex etch salt MacDermid made) > water rinsing > chromating(using Alodine 1200s, at 13g/L, pH 1.9) > rinsing > air drying. The material of test specimen is machined from extruded 4" x 4" bar to size 0.5" x 4". After salt spray test perASTM B117 [affil. link] pit corrosion occurred.

Any thoughts? Would much appreciate!
Choi Myun-sig
- Gumi, Gyungbuk, Korea
---
"Surface Properties of Conversion Coated Aluminum"
by Raj & Ali
from Abe Books
or

Affil. Link
Your purchases make finishing.com possible
2003
A. For how many hours was the sample salt spray tested? How many pits occurred? How deep were the pits? One specification for chromate conversion coatings on aluminum (MIL-C-5541 [affil. link or DLA]E) has the following requirement: after 168 hours, no more than 5 corrosion pits, and none that are greater than 0.031 inches (0.79 mm) in diameter.

If the coating did not meet this specification, then there is certainly a problem. If the number of salt spray test hours was significantly higher than 168 hours, then perhaps the performance expectation is too high for a conversion coating.
Toby Padfield
- Troy, Michigan
---
2003
Q. Thanks for reply. The salt spray test hours were 168hr. and corrosion pits were too many occurred and larger then 0.78 mm. I would like to know what's the estimated cause and how to improve this problems and could you recommend better chemicals or process? thanks again.
Myun-sig Choi
[returning]
- Korea
---
2003
A. First, look at your test panels under 10X to 20X, look for pits in the base metal. Pits in = larger pits out!

The product you mentioned as a deoxidizer is pure Ammonium Bifluoride, which used alone on 2024 is not a complete deoxidizer. The ABF will enlarge the very small pits in the base metal which will be galvanic cells in the salt spray.

Either add the ABF to 30% nitric acid or better still, buy a mixed acid Ferrous Based Proprietary Deoxidizer. The company you mentioned has one in their line. I can recommend several.

Robert H Probert
Robert H Probert Technical Services

Garner, North Carolina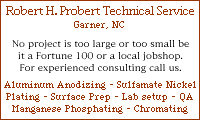 ---
February 8, 2018
A. I know this is an old thread- But surely still a common question. Here are some general hints for getting the best salt spray results on chromated Aluminum:

- As already noted that's not a Deox, it's a satin-masking agent to blur machining lines, for which it works admirably. You can satin mask to your heart's content and then go into a 'real' deox to do the final clean.

- Your Deoxidiser should contain NO SILICATES. Once you start processing, you do get buildup in tanks. But even with a purpose-made deox, you need to make sure your total silicon remains below 30 mg/L or 30 ppm. Some proprietary deoxidisers actually contain silicates straight from the factory, so avoid those!! They won't always tell you... you know, 'proprietary mixtures' -- drives me nuts. And ESPECIALLY if you are running casting alloys in the same deox tank, test for silicates frequently, as work load demands.

- MacDermid Isoprep184 is specifically made to prep for chromate. It works great. THAT BEING SAID... Because it contains Iron, you have to be SUPER watchful of drag-out if you are running a ROHS Non-Hex chromate conversion on your line. It will KILL the tank if Iron buildup is allowed. So rinse like crazy!

- Keep an eye on your chromate tank conditions. Is it being gently mixed? Not too fast liquid movement. Gentle is key. Temps over 70 °F, but not too hot. Don't filter it, either. If you do, which the manufacturer says is a big no no and I can confirm...it will start out fine for months or even a year, but the first sign you have that the semi-soluble activators are gone will be sudden, catastrophic salt spray failure.

- When handling the processed panels, ... DON'T. Dry them GENTLY, not with an air gun. If the air pressure is uncomfortable on bare skin, back off. A motorcycle drier actually comes in handy for this. Don't try to wrap them for a day or so. The conversion needs to go to completion to provide maximum protection, and believe it or not, this process continues after the parts have been removed from the tank. Ever try to strip chromate off parts that have been sitting for a couple months? Goooooood luck!

- Last but not least, garbage in garbage out, so be sure to get the best panels you can, store them so they won't get damaged physically or chemically, look for fingerprints and discard any that have prints, and check your soap tank is working to get any residual cutting fluid off.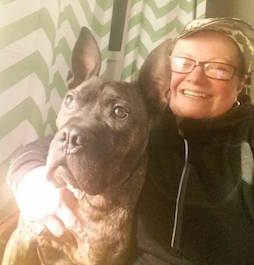 Rachel Mackintosh
Lab Rat and some other things - Greenfield, Vermont