Where the world gathers for
plating, anodizing, & finishing Q&As since 1989
-----
Sculptor seeking Steel (anti rust) finish
2003
I am an artist (sculptor)working with mild steel making sculptures that will be displayed in the open for lengthy periods without rusting. I am trying to apply a finish that the will preserve the steel's natural finish (shine or dullness as the case may be). I am also willing to contemplate a finish that comes about after the steel has rusted.The idea is to have a natural steel finish, for example, a lacquered finish is not acceptable. Can anyone help with information?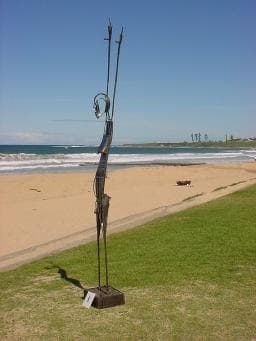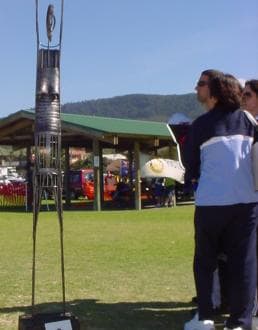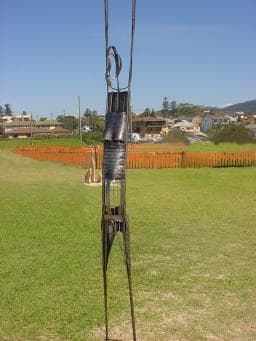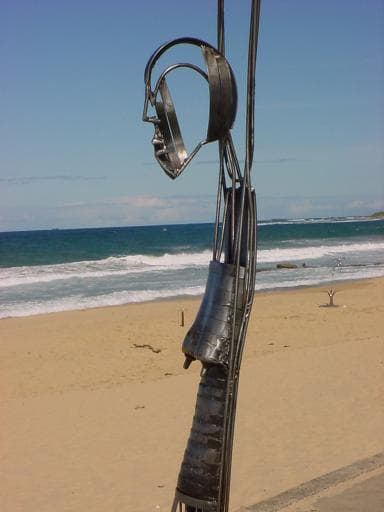 Will "pickling" achieve what I want? If so can I do it myself or does it need to be done by a company specialising in this?
Alexandre Goncalves
- Wollongong, New South Wales, Australia
---
2003
Alexandre, mild steel will rust if it is going to be outside, especially if it is going to be near the coast, as one of your pictures show. There are a few things in the arsenal that you can use to prevent the sculpture from turning into a pile of reddish powder. Yet I don't think any of them will completely allow the as-sculpted finish to exist unadulterated.

First, you can use one of the copper bearing mild steels. You've likely heard of US Steel's Cor-Ten, which covers the US Steel building in Pittsburgh. It is a "weathering" steel, which forms an adherent rust layer, which effectively prevents more rust from happening. Your sculpture will be a uniform reddish-brown color.

You can use a stainless steel or a nickel based alloy. They're far more expensive and more difficult to work, to weld, to bend, etc. They'll last, though- the façade of the olde Union Carbide building in Niagara Falls, in the midst of a heavily industrialized, chemical factory area, remains bright and shiny. Most stainless steels won't resist seawater, though- it'll cause pitting.

You know you can paint, or lacquer, and you probably know all about black oxide coating. This doesn't seem to be what you want.

You can try electroplating- a lot of chromium isn't shiny, and perhaps a thin layer of electroless nickel (2 to 5 mils should resist corrosion quite nicely) will mesh with your artistic vision. EN is usually shiny, but you can get some with Teflon or SiC co-deposited, which changes the appearance.

I can't think of anything you can just smear on the surface to prevent corrosion- a layer of glass, say, would be great, but would obviously be visible. Even ion implantation, a line-of-sight process in which you shoot a beam of chromium atoms at a surface, and which causes no change in appearance, is not really feasible. The surface would have to be polished for that to work, and if you can tolerate shiny, there are less expensive ways of getting rust prevention.

'Pickling' means dipping the parts in an acid to clean them. It'll get them clean, and remove any scale that is already there, but it won't keep it from rusting again.

Well, even though I sound negative, I wish you all the best! Good luck!

Lee Gearhart
metallurgist - E. Aurora, New York
---
2004
I am a sculptor working in Vietnam. I work in mild steel and stone and I am having a big problem with rust. My works in mild steel are highly polished. Once polished I clean with turpentine [affil link] or kerosine then spray with a clear acrylic paint. It wasn't so much a problem in a country with dry heat but here in Vietnam it is very high humidity. After about 1 to 2 months very fine rust veins start to appear. Would love some advise on this.
Nicole Allen
artist - Ho Chi Minh City, HCMC, Vietnam