Where the world gathers for
plating, anodizing, & finishing Q&As since 1989
-----
White spot after grinding process
2003
White spot / Contam I had read the following from your site www.finishing.com/library/probert/probertwhitespots.shtml

"Zinc, More. The zinc in the 7000 series alloys forms soluble salts in just about every process tank in the line. When these dissolved salts hit the water rinse the lower solubility causes the salt to precipitate as a white powder."

I have a question on my side which use aluminum alloy. I have the white spot problem too. Aluminum alloy (with about 0.5% of Zn) after grinding process, go through the cleaning / rinsing which use phosphoric acid as detergent then through DI and last Hot DI (~60 degree C). After that from the visual I found white spot sometime happens some times not. Can I get rid of it by controlling the temperature (last step) ? Appreciate if you can advise.
Jeff
- BL, Penang, Malaysia
---
2003
I am not sure I can guess what is happening but here comes my first suggestion and if the problem is still open please come back and let me swing again.

The typical commercial Phosphoric/Detergent type products will work for preparing aluminum for chromate and anodizing. You did not say which, where , or when you see "white spots".

The Phosphoric/Detergent prep does leave behind a very slight smut, more if you stay in too long as the phosphoric acid is etching aluminum. This smut, in the case of 7000 alloys does contain some zinc.

Hawley's Chemical Dictionary list Zinc Phosphate as a "white powder".

Heat is not a factor except it drives the water off and leaves behind white zinc phosphate. Zinc phosphate is insoluble in water but it is soluble in nitric acid. So ,give the parts a dip in about 20% Nitric Acid and let us know what happens.

Robert H Probert
Robert H Probert Technical Services

Garner, North Carolina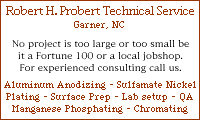 ---
2003
Hi,

The white spot appear on the surface of aluminium which cannot be wipped off, I dipped the parts in the nitric acid 20% as what you suggested for about 5 - 10 second, but the white spot still cannot removed. The phosphoric acid detergent is used for cleanliness purpose.

If this white spot is the "powder" type, what would make it stick on the aluminium disk even after scrubbing ?

I took 2 samples for FTIR analysis,

one shown 0.79 match with DIBENZOL-D-TARTARIC ACID

one shown 0.42 match with NYLON (POLYHEXAMETHYLENE ADIPAMIDE)

I'm looking for this element on my area. Any common industrial uses have this kind of element ?

I also went for SEM/EDX test, results only is C, O, and of course Al.

aluminium parts > Low pH > Phosphoric detergent (scrubbing) > DI > Hot DI (~65 degree)

Any specific aluminium composition tended to have this problem ?

Thanks for the time & advise
Jeff
- Malaysia
---
2003
We had the same problem before although characterized differently. The composition is consistent with your analysis, ie. organic in nature (nylon). On our part, we discovered the "soil" results from deburring the parts. The grinder left the particles on the surface.
Dado Macapagal
- Toronto, Ont
---
2004
Hi,

I face the problem of white spot appear on the zinc plating (black chromating) with copper base metal. By customer feedback (Japan) the white spot is zinc (tested). So can somebody tell me why this happen? Is it due to the rinsing problem during plating process or others?

Thanks
Frankie TDK
- Malaysia