topic 21739
Water spot remover suggestions for windows, paint on car
(2003)
Q. Aloha from Hawaii. I have a water spot remover problem. There is so much calcium in the water, it has ruined my vehicles paint job and windows. What is the best way to remove it from a vehicles paint/windows? Any suggestions?
Please Help.
Kate Malheiro
- Ewa Beach, Hawaii
---
(2003)
A. I have the same problem so I researched it and found what I needed to get rid of the problem I had. It's called HAWAIIAN SHINE and can be found at Checkers and local stores.
Yolander Vines
- Waipahu, Hawaii
---
(2007)
! If you find and decide to use Hawaiian Shine Waterspot Remover, please ensure you use LOTS AND LOTS OF WATER with it. Do not let it dry on the paint or it will damage the clearcoat.

I got the best results by using a wet microfiber cloth, pouring a bit of the remover on it and then applying it to the car, making sure the section I apply it to stays wet. Then rinse thoroughly. Twice if necessary.
R. Bracey
- Ewa Beach, Hawaii
---
(2003)
A. We had water spots on the boat and got them off easily with See Spot Go.
I used it on my sister's windows, that had been hit by the sprinklers, and have since used it on shower glass, car windows and paint, and haven't had any problems.
It is available on the internet. Good luck! By the way, we were just in Hawaii 2 weeks ago, had I known, I would've brought you a bottle!
Vickie Dimond
- Centerville, Utah
---
(2007)
A. Try white distilled vinegar. It is the best and cheapest way to remove any water spot stains safely on anything.
Stephen Jester
- Riverbank, California
---
June 4, 2008
A. I had the same problem with my windows and shower doors. A friend recommended a product called Bruce's GSR [linked by Editor to product info on Amazon] so I found the savior to my problem. The stuff works great and it was pretty cheap.
Nicole Costa
- Sacramento, California
---
June 19, 2008
A. Not all surfaces are the same. Windows are different than painted surfaces so one product can't be used on both to be able to do the best job. I have had great results with a product called Pumix. They have separate applications that are non acidic. This is better than anything I have used.
Eric Elbert
Pumix Inc. - Fresno, California
---
July 16, 2008
Q. I have been doing google searches to find a product that I found in Hawaii that was the BEST. However, I can't find the item. It was one of those home-based businesses and this guy approached me at the car wash one day and asked if he could show me this great product. I said, "whatever." Well, it was really amazing. It was at least $45 bottle per bottle but the stuff was great and now I can't find it anywhere.

It was a milky color in a clear bottle and I sprayed it on and then used microfiber rags to buff it off....AMAZING! You would think with it being a home-based business...they would be advertising all over the internet but I haven't been lucky enough to find somebody that sells the product. I guess a name would be nice but I don't remember. My cars always looked hot in Hawaii and would like to continue that even though I'm in Kansas.

If anyone knows what this item is called . . .?
Jenny Garrett-Schoch
- Manhattan, Kansas
---
July 20, 2008
A. Hi, Jenny. There are many otherwise powerful cleaners that you can't get anymore because they are regulated due to smog, carcinogeneity, destruction of the ozone layer and other valid reasons. My first car was a convertible with bright white naugahyde upholstery, but greasy power top mechanisms in those days. I remember detergent mostly making a gray stain when removing grease, then learning about carbon tetrachloride, which would instantly remove every trace of grease and tar with one quick wipe and leave it glitteringly white. If young people today saw how carbon tet removes grease, their jaws would drop in amazement -- but it's an offender on all three counts :-)
The point being, you need to be very careful about buying cleaning products from people who approach you, because they can be terribly dangerous without your knowledge and leave you without recourse. But good luck with the hunt!
Regards,
Ted Mooney, P.E. RET
finishing.com
Pine Beach, New Jersey
---
July 23, 2008
The best stuff I have ever come across to address the issues of water staining on windows, vehicles of all types, showers and marine vessels is a product called Waterspot, remove,restore, polish. Its manufactured & distributed by Envirosafe Inc based in Hawaii.They also distribute to other locations so check them out :-)
Andy Munro
waterspot removal specialist - Rotorua, Nth Island, New Zealand
---
December 16, 2008
Please try Ducky "The Original Water Spot Remover" =>

Ducky was the first ever product developed specifically for this problem in 1989. Many others have since copied but none perform as well. It is environmentally friendly, non-toxic, and requires no rinsing. it is also non-abrasive. you can find at most marine stores including West Marine and Boaters World.
richard romero
duckyproducts - pasadena, California
----
Ed. note: "Many others have since copied but none perform as well". C'mon, folks, this is a site where we discuss technical issues. These claims that each secret formula is better than the other 999 secret formulas is silliness that is inappropriate for a technical forum :-)
---
July 10, 2009
The absolute best product I have ever used is CX-7...I think. I too live in Hawaii and the water is rock hard. Another car buff friend of mine used the product and it works like magic. Wipe it on, wipe it right off and rinse. It works on paint and windows. But, I can't find it anywhere. Came in a white plastic bottle and I believe it was made (or distributed) out of Waipahu, HI.

Anyone familiar with it? Doesn't come up on Google.
Debra Dela Cruz
- Waimea, Hawaii
---
July 10, 2009
Hi, Debra. Maybe it was C-30, which comes in white quart and gallon jugs. Maybe your car buff friend was using it on a Mazda CX-7 :-)
Regards,
Ted Mooney, P.E. RET
finishing.com
Pine Beach, New Jersey
---
July 11, 2009
That's funny, but no, he had a big black truck. I checkout out the website for C-30, that's not the product I was thinking about, but I'll give it a try.
Mahalo!
Debra Dela Cruz
- Waimea, Hawaii
---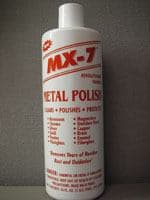 October 29, 2009
Debra,

You are very close. The product you are thinking of is MX-7 =>
and it is made here in Hawaii on Oahu. They make a product for cleaning glass/fiberglass, etc., one for painted surfaces, and one for chrome/metal. Though there are several variances of the product, all three are called MX-7. Each bottle costs about $13 and can be purchased at Don Quixote's off of Kam Highway behind Ben Franklin's. Look on the bottom shelf in automotive. Good luck!

Cheers, Bill
Bill Sante
- Honolulu, Hawaii

Ed. note: Thanks for the very specific directions where to find this, Bill, and for the chuckle :-)
A posting on the world wide web directing the people of the world very specifically to the bottom shelf in the automobile aisle of a tiny store behind another small store on a small island in the middle of the Pacific Ocean is helpful information ... but funny too :-)
---
October 8, 2010
Q. Used mx-7 on my windows and now have a film on them, and can't get off with anything I've tried, soap, gojo hand cleaner, steel wool. Any help out there would be great. mahalo
j lockwood
- kauai, Hawaii
---
March 8, 2010
My 2002 GMC, with white paint was rough to the touch, and I could barely see out of the glass, from hard water deposits.
A product was given to me by a local detailer that worked instantly. It required the surface temp to be cool, and wet. With soapy sponge, GLOVES, and a little Metal Wax brand metal cleaner =>
My entire vehicle went from aging to like-new in about an hour. It is a caustic liquid, but if used right, it won't hurt the paint. It can clean an area the size of a door in about three minutes, but it takes some getting used to at first.
I highly recommend this stuff. I read up on it online, and found nothing negative. Very affordable too!
andy richards
- Nevada city, California
---
May 29, 2011
The quickest and easiest one so far for removing water spots on all surfaces, getthemasterstouch.com
Jason Miller
- Big Pine California USA
---
January 4, 2012
Just used MX-7 Paint spot remover and it worked incredible. Tried many other products and tons of elbow grease to get spots off of my black charger. I treated the side which had been blasted by sprinkler water and the entire side of the car was covered in milky white spots. This product made the entire side of my car look brand new, with almost no scrubbing and about 40 minutes of work. Great stuff.
Jason Davis
- Honolulu, Hawaii, USA
---
January 4, 2012
! Thanks, Jason. Thanks, Jason.
But readers, this site is for technical discussions and we'd prefer to see this thread start moving into technical insights like the chemistry of water spot removal. A string of testimonials that "Brand A is best"; "no, Brand B is best"; "no, Brand C is better" on a semi-anonymous internet where some of the postings are from shills, some of whom are posting with fictitious names, isn't of much value to anyone, and encourages a race to the bottom :-)
If anyone has some technical input, as opposed to a recommendation for a 12th cleaner or additional testimonials to the 11 already recommended, that would be much preferred :-)
Regards,
Ted Mooney, P.E. RET
finishing.com
Pine Beach, New Jersey
---
February 20, 2012
Q. If you have a skin problem should you use any of these products?
carolyn samson
- kihei, Hawaii USA
---
February 20, 2012
A. Hi, Carolyn. Well, you shouldn't use any of them without wearing rubber gloves.
Regards,
Ted Mooney, P.E. RET
finishing.com
Pine Beach, New Jersey
---
April 18, 2012
A. I sit and look at all of these products on the market that are supposed to get rid of water spots on a car's paint when the simplest and cheapest thing out there is a 50/50 mixture of white vinegar and water. I have a 2004 black F150 that sits outside and the paint still looks like new. After washing my truck I wipe it down with the mixture and dry it and all of the spots are easily removed. I also wax my truck religiously. Try this and you will throw out everything else.
Dan Garrick
- Safety Harbor, Florida, USA
---
November 15, 2012
A. Dan, it makes perfect sense that you are using a 50/50 mix of white vinegar and Distilled (I hope!) water to maintain your beautiful black truck. You say you are surprised that all the folks are throwing around the names of so very many products when you have found the best and cheapest remedy for water spots. The thing is, most folks posting here are NOT trying to maintain a beautiful finish as you are. They are trying to remove very difficult spots that have etched into the paint. The mixture of water and vinegar will not remove stage 2 or 3 water spots - for them you must get out the big guns!
Elaine Sekerman
fine auto detailing - Hollywood, California


This public forum has 60,000 threads. If you have a question in mind which seems off topic to this thread, you might prefer to Search the Site