Where the world gathers for
plating, anodizing, & finishing Q&As since 1989
-----
Extracting zinc from a penny
2003
I am doing a school project for my chemistry class and have to find out what percentage of copper is in a penny. I also have to produce the copper I extract. I have found that it would be easiest to extract the zinc out of the penny rather than the copper itself and have also found that I need to use hydrochloric acid. I was also told that using a newer penny would be best as only 2.5% of a penny is plated with copper. Can you please help me determine what concentrations of hydrochloric acid I will need to extract the zinc from the penny.
Erin C.
- Wheatland, Wyoming, United States
---
2003
Erin,

I only just saw your letter and it's probably too late for your project. But in case someone else sees this and reads it, it might help.

You didn't say what grade level your experiment is for, so I can't say for sure what methods to use. However, here are some suggestions:

The penny was made from all copper until recently. Do Internet research on the change-over by the U.S. Mint from copper to a copper-coated piece of zinc. I'll bet that the answer is listed.

The copper surrounds the zinc. Any acid, such as vinegar (acetic acid solution) or diluted pool acid (muriatic or hydrochloric) will attack the zinc if the zinc and copper are exposed to the acid. ALWAYS HAVE AN ADULT SUPERVISE WHEN HANDLING CHEMICALS OF ANY TYPE, EVEN KITCHEN CHEMICALS. WEAR goggles [←affil. link] AT THE VERY MINIMUM. One way to do this is to cut the penny in half, or perhaps in pieces smaller than halves. Eighths might work better. You may need to periodically scrub off the zinc corrosion product with a toothbrush, I'm not sure. Eventually you'll end up with only a copper shell. Presuming you thought to weigh the pennies before and after with a very sensitive lab scale, you will get an answer. A pair of metal snips will cut the penny without losing any of the material.

Finally, there is a mathematical way to do it. You'll have to probably be in algebra or better to do this. It relates to how Archimedes figured out how to determine whether the King's crown was all gold, or gold "cut" with some less expensive metal. That story would be in most encyclopedias. But your clue is that copper weighs a certain amount per volume, and that zinc weighs less for the same volume. If you can very accurately measure the volume of a penny, and very accurately measure the weight, you can figure out by proportions how much is zinc. This assumes that ONLY zinc and copper are present. How to measure the volume of one penny? Well, a good way is to measure 1000 of them (remember, no bubbles) underwater, then divide by 1000.

I hope that one of these ideas benefits you or some other student.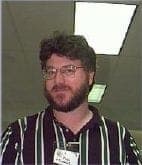 Paul Tibbals, P.E.
gas & electric
San Ramon, California, USA
(My opinions are not related to nor a statement of my employer's)