Where the world gathers for
plating, anodizing, & finishing Q&As since 1989
-----
Silver tarnishing -- is body chemistry responsible?
Intro / synopsis: Silver may be turning black due to exposure to chlorine or bromine in a swimming pool or hot tub. But many women report variable degrees of blackening, based on their changing body chemistry.
Still it should be recognized that a reasonable amount of tarnishing is quite normal, and that it is possible that a tarnish preventative coating that was on the jewelry when new has worn off.
Q. I've noticed lately that my silver's been tarnishing to black. I have worn my silver for years and never take it off and all of a sudden this past week I notice it turning black. What is the cause and why is your sickness or illness in the body? Does it have to do with sweat and, if so, what's calling in the sweat to tarnish my silver? Is it an illness that I'm going through? I need to know because it's the first time that I've ever seen my silver jewelry turn black.
Frankie Jo
- Corpus Christi Texas
November 19, 2023
---
---
⇩ Closely related postings, oldest first ⇩
---
---
Q. I have worn my sterling silver earrings for sometime without them tarnishing, but just the other day I put them on and they tarnished in about three days. So, I decided to put on another pair, and they turned as well.So, then I put on my third pair and they also turned. Now my question is, "Does your body chemistry have anything to do with the tarnishing of sterling silver?", because my earrings are as black as smut.
Yolanda L
[last name deleted for privacy by Editor]
- Decatur, Georgia, USA
2003
A. Dear Yolanda,
Changes in body chemistry can effect the tarnish rate on sterling silver jewelry. Amino Acids in the perspiration contain or sulfides and the presence of sulfur or sulfides accelerates the rate of tarnish. Changes in hormone balance during adolescence or change of life in women has been known to change the bodies chemistry. Medications or chemotherapy can also effect the body chemistry. Some cosmetics and skin lotions can also accelerate tarnishing in silver or lower karat gold jewelry. Try cleaning your silver jewelry in dish washing detergent and water after wearing it, be sure to completely dry it. This will help remove skin oils or perspiration and may help keep silver jewelry clean and bright longer.
Best regards,
Jim Sivertsen
United Precious Metal Refining Co. Inc. - Alden, N.Y.
---
---
Q. Dear Sirs,

We currently manufacture silver plated jewellery and we have experienced a blackening effect occurring on skin and apparel when the jewellery is worn.

We use brass raw material as our base product then we plate with copper strike, a coating of palladium and then 5 microns silver followed by Palladium Cobalt Preservation PCP. Our question is what could be causing the blackening effect?

We have tested for tarnishing and there is no tarnishing occurring.

Thank you for your help and assistance in this matter.

Kind regards from Hong Kong!
John
John Barnes
Manufacturer of O.E.M Products - Hong Kong
April 14, 2008
Q. Sorry, further to my previous enquiry, need to inform you of the exact plating spec we use for our jewellery, it is as follows:

Brass ( Base Material)
+
Copper Flash Plating: Cu 99.99% P:0.01%
+
Palladium Flash Plating: Pd 80% Co:20%
+
5 Microns Silver plating: Ag 100%
+
Protective Coating TPS (Passivation)

We are puzzled as to where the blackening can be occurring that stains the skin and garments black!

We are told it could be the result of an insufficiently thick protective components such as a combination of Miralloy, flash palladium and high quality plating to produce a porosity free-free plating.

Your professional view and advice would be appreciated.

Thank you very much,
John Barnes
[returning]
Manufacturer of O.E.M Products - Hong Kong
A. Hello John,
As you probably already know, the palladium - cobalt flash coating is used as a diffusion barrier plate between the copper and silver. This flash coating may not be sufficient to hold back diffusion of the copper into the silver. When I hear skin turning black I think of copper migration. A pure silver plate alone will not turn skin black, unless the tank is full of metallic contaminants.
I would also suspect the PCP process, it doesn't seem to be holding up. There are a few steps you can take for corrective action measures.
1) Plate two sample lots; one lot with the normal flash coating of Pd-Co. The other lot plated with a higher thickness coating of Pd-Co, say a 15 microinch thickness and follow the rest of your process for each lot.
2) Have your customers evaluate each sample lot to see if the problem arises in either lot.
3) Have your Pd-Co Preservation supplier check out your process thoroughly by completing an analysis, or coating samples for you with your solution to see if there's a problem there. Have them verify that you are using the proper shipping and storage packaging as well. Hope things work out for you.
Mark Baker
process engineer - Malone, New York

Hi Mark,

Greetings from Hong Kong!

Thank you very much for your valuable advice.

Much appreciated and will try your recommended steps.

Kindest,
John
John Barnes
[returning]
- Hong Kong
A. I've worn silver bracelets for my entire life. Whenever, I get sick the bracelets will turn black, I don't take them off at all. When I get better they turn silver again. This has happened 3 times in my lifetime and I'm 54. It may have to do with antibodies in our body and what they are fighting. The same thing would happen with my mother over the years, she's now 83.
Dawn Anders
- Queens, New York, USA
May 28, 2017
---
---
Argentium Silver Earrings
on eBay or


(as an Amazon Associate
& eBay Partner, finishing.com earns from qualifying purchases)

Q. My daughter has Sterling Silver and Argentium earrings and one ear turns the silver black (tarnished), and I am wondering why one ear does this but not the other.

She is 7, and the one ear that is turning the silver has been an ear that previously was repeatedly infected from the date of piercing on and off for multiple years. We switched from stainless to 14k and then to Sterling Silver and it finally stopped getting infections. It doesn't get infected any longer but does heavily tarnish at the spot where it sits in the ear.
Tara Garrioch
- Interior of BC, Canada
December 10, 2017
---
---
! I have never had all my rings turn black until I woke up this morning and my gold and silver rings were black. I never take off my rings except to clean them. This has kinda freaked me out.
Rebecca Sears
- Science Hill Kentucky USA
May 12, 2019
? Hello Rebecca,
Were the rings subjected to chlorine while you were cleaning or swimming in prior days?
Mark Baker
Electronics plating - Winston-Salem, North Carolina USA
---
---
Does the air in my new apartment tarnish silver?
Q. Hello my name is Kim. I recently moved and I noticed that my silver Pandora bracelets turned yellow. They almost look gold, now I haven't worn them in the last 30 days. But, they have been on my dresser on the bracelet holder. Could the air in my apartment tarnish them at this rapid rate? I've never had this issue before at my other residence.
Kim Lindsey
- Turnersville, New Jersey
January 19, 2020
Silver Jewelry Anti-tarnish Bag
on eBay or


(as an Amazon Associate
& eBay Partner, finishing.com earns from qualifying purchases)

A. Hi Kim. Yes, it's probably possible that the air in your new apartment is more industrial than in your previous homes, but it's hard to offer constructive advice beyond keeping them in an anti-tarnish bag because silver tarnishes in normal atmospheres. Light tarnishing (turning yellowish is 30 days) is not really an indication of foul air. Good luck.
Regards,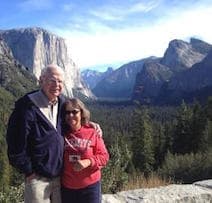 Ted Mooney
, P.E. RET
Striving to live Aloha
finishing.com - Pine Beach, New Jersey
---
---
Q. I have worn a silver bracelet for the past 5 years on my left arm and 2 on my right arm for about the same length of time and neither one of them has ever tarnished until about 4 days ago. I don't mean gradually either, I mean I can almost see them turning. Also, a ring I have been wearing for 13 years is also turning and never has before. I have not exposed them to bleach or anything else that might turn them. My skin does not turn from this. Could this be caused by a chemical imbalance, because I have a metallic taste in my mouth, too? I have cleaned my jewelry, dried it good, put it back on and in just a few hours it was tarnished again. Would appreciate your help. Thanks
Marcia Turner
- Needham, Alabama, USA
February 6, 2020
A. Hello Marcia,
If the pieces are Sterling Silver and not plated Silver, it is likely that for some reason your body chemistry has something to do with it. One way you can verify this is have a family member or friend wear the bracelets and ring for awhile to see if it occurs when they wear them. If it doesn't, you know it's your body chemistry causing it. If it does occur with the other person wearing it is the finish itself. This may sound elementary or simplistic to you, but no sense to go off on tangents or fishing expeditions. Good Luck to you.
Mark Baker
Retired - Winston-Salem, North Carolina USA
---