Where the world gathers for
plating, anodizing, & finishing Q&As since 1989
-----
Is there a fix to stainless steel pitting?
2003
Q. This is a strange one but my stainless steel barbecue covers (main unit and burner) developed some pitting. This pitting occurred in 1 weeks time because of a bucket of pool acid was left on the barbecue in which the mist from the acid settled over the stainless steel throughout the week causing pitting and rust. I was able to remove the rust quite easily but the light pitting and dullness still exists. Are there any products out there that can remove the pitting and dullness to the stainless steel? Does it have to be sanded and then chemical treated? I'm clueless so I need help!
Thanks,
Greg Walker
- La Mirada, California, USA
---
2003
A. This is not a problem that can be cured with a simple chemical treatment. Anything that will etch the steel will leave a somewhat dull finish. If you can remove the part and take it to a metal finishing shop they can electropolish it or plate it. Short of that, you will probably have to buff the entire surface with Scotchbrite or similar NON iron containing abrasive to restore an even surface. This is not an unusual problem in the presence of chlorine, chlorides or hypochlorites.


Lee Kremer
Stellar Solutions, Inc.

McHenry, Illinois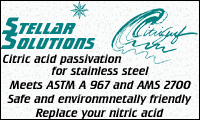 ---
---
February 22, 2012
Q. I just discovered that the 36" stainless steel impeller (304) of one of the axial flow pumps running at my shrimp farm (aquaculture) has a serious attack of pitting on its surface; can this be repairable ? Someone is recommending to fill in the pitted surface with ss welding; I am not too sure about it; besides, it would unbalance the impeller, and I doubt that any local shop would have the ability to balance the piece after the filling work is done. Thanks in advance for your comments !

Regards,
Luis BOTERO
shrimp Farming - aquaculture - Panama, Republic of Panama
---
February 28, 2012
A. You can probably buy a new shaft for what a repair would cost. Look at replacing it with a 316SS shaft for longer life.
Can you buy a blank rod, have it turned to size, polished and then retrofitted to the prop?

Look into finding a shop that does high energy thermal spray. This might be diamond jet, or D-gun or even HVOF with a suitable powdered metal.This would have to be ground to size and finish. There used to be a shop here that repaired huge sewage impellers and shafts that way. They also did some weld build up on some impellers.
James Watts
- Navarre, Florida
---
March 8, 2012
A. When pit corrosion has set in, it is very problematic indeed. There are products available to clean up the corrosion and greatly reduce the effect the pits can have on the reoccurrence of corrosion. Genuinely REPAIRING the pits, though, would require some weld filling or electropolishing treatment.

Ray Kremer
Stellar Solutions, Inc.

McHenry, Illinois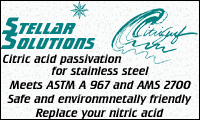 ---
April 9, 2012
A. Vacuum cladding is used for expensive turbine and centrifugal compressor components when they experience surface attack. It can be chemical corrosion, like in your case, high temperature corrosion, erosion, fretting, cavitation, etc. That said, I agree with James and Ray that you are probably better off looking for a replacement propeller than trying to fix that one.
G. Marrufo - Mexico
Guillermo Marrufo
Monterrey, NL, Mexico
---
April 13, 2012

James, Ray, Guillermo,

Thank you all for your comments; being a critical pump (40,000 gpm !), I better go for the replacement with a new impeller; repairing implies a high investment, and dealing with an unbearable risk.

Best! Luis
Luis BOTERO
- Panama, Republic of Panama
---
April 16, 2012
A. Perhaps you should inform the vendor of the replacement impeller what happened to the old one and ask if he has a better material that is more resistant to corrosion.
G. Marrufo
Guillermo Marrufo
Monterrey, NL, Mexico
---
May 1, 2012
A. Just a thought - how about rebuilding the propeller surface by brush plating (aka tampon plating) and then polish it back. You need to talk with a competent brush plater to find a suitable system that will adhere to stainless steel, but brush plating lends itself to such problems. You may even get away with using copper or nickel. There are so-called stainless steel plating solutions, but they only deposit a mixture of iron, chromium and nickel and this is not true stainless steel.

Trevor Crichton
R&D practical scientist
Chesham, Bucks, UK
---
May 2, 2012
A. If you are replacing it with a new one it may be a good idea to get it coated with a hard and corrosion resistant coating. PVD coatings like TiN, CrN are generally used. Hope someone would have machine to handle this big a job.
H.R. Prabhakara
- Consultant
Bangalore Plasmatek - Bangalore Karnataka India
---
April 17, 2012
?Just a curiosity - maybe some specialist can answer: can the pitting be originated by cavitation?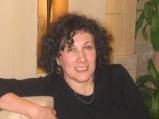 Anna Berkovich
Russamer Lab

Pittsburgh, Pennsylvania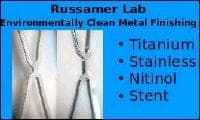 ---
April 19, 2012
A. Pitting in 300 series stainless steels is often caused by chloride ions. The grades that are more resistant to pitting have a higher concentration of molybdenum, such as 317 alloy, which has more Mo than 316.
Lyle Kirman
consultant - Cleveland Heights, Ohio