Where the world gathers for
plating, anodizing, & finishing Q&As since 1989
-----
POWDER COATING DEFECTS: ORANGE PEEL OFF
2003
Q. I want to know the defects of powder coating:
1) WHAT IS ORANGE PEEL OFF?
2) WHY IT IS SEEN IN THE FINISHED PRODUCT AFTER POST OPERATION?
3) IS THERE ANY METHOD TO AVOID IT PROACTIVELY?
4) WHAT IS THE EFFECT OF IT; WILL IT REDUCE SOME PROPERTIES?
S.SRINIVASAN
COMMUNICATIONS - Bangalore, KARNATAKA, INDIA
---
2003
A. Orange peel is basically a surface texture of "hills and valleys" hence the term "orange peel". It is seen post-application once the powdered product has been subjected to heat and flows to form the resultant film layer. Here are a few items that can be looked at to help reduce this defect:
1. Substrate smoothness
2. Substrate temp. ramp in the oven
3. Substrate max temp.
4. Powder size distribution
5. Film thickness
Shane Sylvestre
- Windsor, Ontario, Canada
---
2003
A. Dear Sreenivasan,
"Orange peel" effect does not mean "peeling off". It means that the powder coated surface has the texture of a 'Santare ka chilta" It's mainly caused by oven problems accurately described by Mr. Shane as above.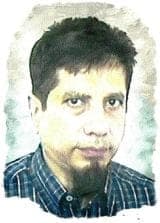 Khozem Vahaanwala
Saify Ind

Bengaluru, Karnataka, India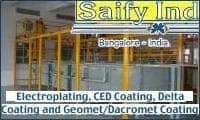 ---
2003
A. Hi,
As described orange peel is in fact a surface defect. One of the most common causes for this is the quality of the powder coating you are applying, mainly the particle size distribution as described by Shane. If you are using a re-claim system you must regulate the Virgin : Reclaim ratio correctly.
The other main cause for this effect, which has not yet been mentioned, is incorrect spraying. If you have the kV on your gun too high you will be generating too much charge, this charge will not be able to dissipate, which will cause the powder particles to "Fight" against each other and cause this effect. Turn the kV down on your gun until the orange peel has gone. Alternatively you could fit a "free ion collector" to your gun which will collect the excess charge.
Hope this helps.
Drew Devlin
- Lincolnshire
---
May 16, 2013
A. I would disagree with the advice given so far.
Reverse Ionisation is a totally different effect to "orange peel".
REVERSE OR BACK IONISATION USUALLY SHOWS UP AS SURFACE CRATERS.
Orange peel is usually an unwanted "texture" effect.
Orange peel is almost certainly the result of too heavy a film build.
Normal film builds would be ~60-80 microns.
Perhaps a little heavier with Yellow/ Orange / Red powders: maybe as much as 120 microns.
Anything over this you are getting into Orange peel area.
Hope this helps.
BILL
William Doherty
Trainer - Salamander Bay, Australia
---
August 3, 2013
A. Your parts might not be getting up to temp fast enough. I had trouble with orange peel until I added another heat element. When I would open the oven to load my parts I would drop temp. My oven was not getting back up to temp fast enough bye the time I was up to temp I was past the flow stage. I added one more element and the oven heats up faster and took care of the problem.
Chip Brann
- Norton, Massachusetts, USA
---
---
April 27, 2013
Q. Please explain how to fit a "free ion collector" to spray gun to collect the excess charge.
Javier Barron
- Apodaca. N.L. Mex.
---
---
September 6, 2017
Q. hi ,
I have just designed and had built a side table in mild steel. Being a cabinet maker all my work is finished in a PU lacquer and thinking to have it finished the same way which is possible with the right primer. I had one of the tables powder coated by the fabricator and it came out inconsistent (orange peel) and shiny. However I have seen some quality door handles that have been powder coated and they are matte and perfect. Did I just get a bad job and should look for someone better? Are there different processes to get a much higher quality finish? Thanks, Tim
TIMOTHY NEWBOLD
maker - stourport on seven, U.K.
---
September 2017
A. Hi. Sounds like they did a bad job. The coating should be smooth. But I am not following your references to PU lacquer and what it has to do with this situation. Powder coating doesn't often use a prime coat of paint; it usually uses a phosphate pretreatment. Epoxy, polyester, or a hybrid of the two are the most common types.
Regards,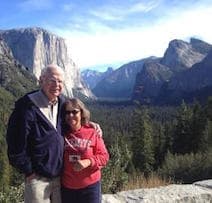 Ted Mooney
, P.E. RET
Striving to live Aloha
finishing.com - Pine Beach, New Jersey
---
September 11, 2017

Thanks very much for the responses, much appreciated. It's clear that I need to find a better powder coater. tim
TIMOTHY NEWBOLD
[returning]
maker - stourport on seven, U.K.
---
September 19, 2017
A. I will try to respond to your problem again:
Orange peal with powdercoat is almost always a result of excessive coating thickness.
This is easily checked with an Elcometer thickness gauge.
Normally you should be looking at a coating thickness of 80-100 microns.
Once you exceed 100 you get into orange peal territory.
Gloss level is determined by powder formulation.
You can usually select a matte/ satin or gloss formulation.
About the only way an applicator can influence gloss is by under-curing the coating which normally results in a slightly higher gloss than a fully cured coating.
Hope this helps.
Regards,
Bill
William Doherty
Trainer - Salamander Bay, Australia
---
November 4, 2017
A. Bill, you are correct, orange peel can be caused by heavy film thickness. But Shane's got it, there are many factors that can cause orange peel. Hell, too light of thickness can also cause it. Many times, even if you've eliminated the factors that you can control, it's the powder. If it's crosslinking before the powder has finished flowing out, it will "lock in" before it's smooth. Some powders are just cheaply made without the correct flowing agents. When it's an unacceptable problem, I usually eliminate the factors I can control, then switch to a better quality powder. If specs call for a specific powder, I end up working with the powder company to reformulate the flowing agents. As with all things, you get what you pay for.
Kayla Fagen
production manager - Cedar Rapids, Iowa, USA