Where the world gathers for
plating, anodizing, & finishing Q&As since 1989
-----
Manganese Phosphate sludging problem
2003
Q. I am looking for the best methodology for filtering for a Manganese Phosphate Bath. I have used an exterior filter system but have had trouble with the piping from the bath tanks to the filter becoming clogged up. Is there a product/process that would reduce the number of times that I have to clean the tanks and allow good flow to and from the filter media.
Mike Ray
- Newton, North Carolina
---
2003
A. Bigger pipe is a start. You would not be using metal pipe, would you?
James Watts
- Navarre, Florida
---
2003
A. First try to limit the formation of sludge. Do not heat the tank until you have a big load ready. Do not gas fire from the bottom. IF gas fired, place the heat on one side of the tank so that it sets up a convection current which dumps the sludge onto the bottom on the opposite side of the heat. If steam coil heated, place the coil about 8" from the bottom on one side; again this will set up a convection current and dump the sludge in the bottom.
Start heating, when you get near 185 F, then right there at tank side, titrate the total and free, by the time you complete the titration it will be close to 195 F (which I prefer for less sludge formation), knock down the free acid with Manganous Carbonate (it makes far less sludge than caustic or soda ash and you are replenishing the Manganese at the same time). Process the work, TURN IT OFF quickly and leave it off until you have more work to do.
Do not let the tank boil away all week just to have it ready for a few pieces a day, Heat it, Use it at capacity hurriedly, then turn it off.

Robert H Probert
Robert H Probert Technical Services

Garner, North Carolina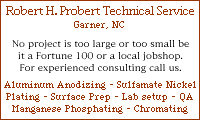 ---
2003
A. I used to make a water add to top up the tank (and stir) after the heat was shut off. This drops the temp several degrees rapidly relative to cool down. Another benefit of Robert's good words is that it keeps the free acid /total acid ratio in a much better range, which limits the pH corrections.
James Watts
- Navarre, Florida