Where the world gathers for
plating, anodizing, & finishing Q&As since 1989
-----
Lubricating wheels on Soap Box Derby Racers
2003
Q. I am looking for the best lube for wheel bearings and axle spindles for my Soap Box Derby Racer.

I presently use CRC Brakleen [affil link] to clean out the bearings and 6 drops of Krytox [affil link] per wheel bearing. We are only allowed to lube one time per race day. Most use Lighter Fluid to clean and lube the bearings. The bearings are cheap, after a day of racing when the bearings are cleaned out gray dirt comes out. My dad thinks that the bearing races are wearing!

I think clean and dry would be the fastest!

SBD cars weigh up to 255 lbs with driver. We cannot change the bearings that come in the SBD wheels. The wheels with bearings cost $80 per set of 4. Each wheel has an inner and outer bearing. They are open bearings.

Top Speeds can be over 30 mph. We race down hills. Time for each race is about 30 seconds. Over 104 US cities are planning to have 500 BD events this year! The sport is 66 years old. Wins and Losses can be by as little as .001 of a second!
Ryan Harrigan
Rat Racing - Columbia, Maryland
---
2003
A. Dear Ryan,

Try using straight STP Oil Treatment [affil link]. It has always worked well for deep drawing and as a mandrel lubricant for swaging tubing (severe conditions).

Good Luck,
Jim Sivertsen
- Alden, New York, U.S.A.
---
2003
A. Hi Ryan !

Well, you sure seem to know your stuff ... and I agree with your Dad, too, re. the bearing races starting to rust.

I haven't a clue what Krytox is! ... But in the late 60's when racing (Volvo 544 1.8 L) I used automatic transmission fluid for the (manual!) gear box ... which NO ONE else did in order to reduce frictional losses ... and beat standard 5 L and 7 L Mustang Shelby's in novice races, but then the car weight was reduced down to 1740 lbs.

Have you considered a Teflon product? PTFE is maybe NBG at temperatures over 500 °F but your race duration is so short that I'm sure that the temperatures won't rise that much. You can buy a Teflon powder and, I dunno, maybe also a spray can of Teflon. But you are on the right track, reducing friction is very important ... and if this helps you win a race or two, please let us know, OK?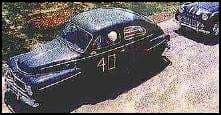 Freeman Newton
[dec]
(It is our sad duty to advise that Freeman passed away
April 21, 2012. R.I.P. old friend).
---
2003
A. The best lubricant for all mechanical devices is Militec-1 [affil. link by editor to info/product at Brownells] synthetic metal conditioner. It also doesn't attract as much dirt as conventional lubricants. The once a day lube schedule will be no problem.
Peter Wilbur
- Lincoln University, Pennsylvania, USA
---
2003
Krytox is a new Dupont lube that will someday replace Teflon. Have tried 2 W 20 30 and grease. Have tried: DSX lubes, Redline racing assembly lube, and 5 weight racing lube, Bishops Original lube, Graphite, Locklube, Lighter fluid, Miltech Whale Spit Lube that one put on Fishing reel gears after boiling the gears in water!
Ryan Harrigan
[returning]
SBD racing - Columbia Maryland
---
2004
A. I might guess that you are past needing this response, but someone else might. Bicycle shops have a great selection of the newer high-tech lubes which cut friction and don't attract dirt. Maybe your younger brother could use this suggestion!
Brooks Allen Mick
- Yorktown, Virginia
---
2004
A. Krytox is a very good slippery oil. There are grease variations too (it is about as high tech as it gets). I do not know how it will do well with the heavy loads that you see in the soap box race. The other reply suggesting STP oil treatment may sound a bit "crude" but it does have some long lasting abilities for a load like you are talking about. You may need to do some tests to see which one does best in the long haul.
Dwayne Pilkington
- Smithfield, North Carolina
---
2004
A. Ryan, to answer your question, the best lubricant for yours, mine or anyone else's soap box derby wheels is a good quality air tool oil. You need to thoroughly clean your bearings with Isopropyl Alcohol [affil link] then lightly lubricate with air tool oil before each day of racing. Do not over lubricate.

Good Luck,
Craig Murray
- Tucson, Arizona, USA
---
2004
We usually used CRC Brakleen [affil link] to clean out the bearings and 6 drops of the thinnest Krytox lube in each bearing. Heck I used to sell 1/2 oz needles of Krytox [affil link] to other racers!

Lube the axle spindles with thicker Krytox oil on cold days and add a bit of the Krytox grease on hot days.
Ryan Harrigan
[returning]
- Columbia, Maryland
---
2005
A. In response to your question, I must ask you which wheels you are using -- old rally nylon race wheels are the absolute best, no exceptions. Newer steel wheels are okay if prepped properly. Hook up a 1/2 inch rod about 3 feet long to an old GE electric motor spinning at a no-load speed of 1750 RPM and let them fly with a light viscosity oil. After you get tired of that noise clean them with kerosene and then give them a good spin. A really light oil such as sewing machine oil is good. WD-40 evaporates too fast and is useless. Your comment of "dry" is appreciated, however, lubrication is what makes the world go 'round . Here's the big hint:

Old timers used a special "lead #2 type" substance to (break in) their prized rally wheels. BUT, all traces of any of this sort of stuff would be only confined to your cellar and your closest friends!

Good luck,

Mark
Mark Madcharo
- Albany, New York
---
2005
Q. I am inquiring as to what the best lubricant would be of pinewood derby racing cars. Is a dry lubricant better than a wet lubricant?

Thank you
Kurt Riabov
- Montvale, New Jersey
---
2005
A. This year we are testing Militec-1 [affil. link by editor to info/product at Brownells] Metal Conditioner

All the entrants in the 64th Greater Washington D.C. Soap Box derby 2005 received samples!
Mike Harrigan
- Columbia, Maryland
---
---
March 16, 2012
Q. I'm new to soap box. What is the procedure for cleaning and lubricating the wheels for my soap box car? Do the wheels need to be disassembled?
Paul Johnson
- Show Low, Arizona, USA
---
June 10, 2012
A. Clean your bearings with brake clean and lube with boca bearing soak (only a drop per bearing); spin wheel to lube and then ONLY store with the wheel standing up (so the lube will not leak out). Best of luck!
Tommy Gullett
design engineering - Mt Clemens Michigan USA
---
November 18, 2012
Q. Can someone tell me how to clean my Gravity racing hot wheels cars and what lube is best?
Miguel Cruz
- St. Croix, U.S. Virgin Islands
---
October 3, 2015
A. What about Harley Davidson synthetic Sportster transmission oil? Low viscosity and very slippery.
Jim sherrer
- elmira New York usa
---
March 29, 2016
A. WHEN I WAS IN DERBY I USED CASTOR OIL.
JOE LUKE
- ELMIRA New York USA
---
July 9, 2018
Q. Mark what do you mean by "old rally nylon race wheels are the absolute best". Where can I buy a set if this is the truth. I recently purchased a stock car kit for a soap box derby race in my hometown. For the last two years my car has not won one heat. This is not a sanctioned race just wondering what I can do to make this new car as fast as the old ones people have been racing for years. Some people have the white wheels some have the metal red wheels. I tried the white last year and a set of the red hoping that would speed it up to no avail. Looking for any pointers to get this thing moving a bit faster.
Barb Benson
- Owatonna Minnesota
----
Ed. note: Mark's posting was from 13 years ago. We'll try to notify him, but his e-mail address probably changed over the years. But anyone is certainly welcome to comment!