topic 20361
Spot anodizing for touchup
adv.
(2003)
Q. I would like to know about possible spot anodizing to eliminate small handling scratches or marks after parts are received from anodizer.
Thank you,
Robert Zinck
- Groton, Massachusetts
---
A. Brush anodizing can be done with brush plating equipment. Alternatives, depending on the required finish quality and color include chromate conversion coating from a chromate dispensing "pen" or simply the use of a magic marker (indelible marker). I hate to say it but a large percentage of black parts have small rack marks and scratches disguised with a indelible marker, sometimes with the customer's knowledge, sometimes without.
Ted Mooney, P.E.
finishing.com
Pine Beach, New Jersey
---
---
Are there any ways to "touch up" hard-coat anodize without sending it back to the coater?
August 28, 2008
Q. Dear specialists,
We are a medium sized tool shop with no coating capabilities except your common machine painting, but there are several times we needed to "touch up" some hard-coat anodized parts. Are there any options out there short of sending the part back to the coaters to get stripped and recoated? Usually it's something simple like a tapped hole or a chamfer that had to be added after coating....... We understand the color may vary a little, but we are looking for something that has similar wear characteristics as hard-coat...... I am pretty sure most people want to grab a sharpie and color the spot in, but that doesn't work well on working surfaces....... Any suggestions ?

Thank you
Jeff Frazee
Manufacturing - Anderson, Indiana USA
---
August 29, 2008
A. You should consider brush (selective) anodizing. You either would have to send it out to a shop specialized in brush anodizing or buy the equipment, chemicals, accessories and take the course to do it yourself in house.
An important additional -advantage would be that no other areas but the repaired ones will be affected. Strip and recoat always reduces dimensions overall because anodizing eats about 50% of the thickness of the anodized layer from the base material. Every time you strip you loose at least 50% of the thickness.
Guillermo Marrufo
Monterrey, NL, Mexico
---
---
November 22, 2011
Q. I need information on brush anodizing. I have a weld repair to make to a 6061 structure that has been clear anodized. The filler rod will be 5356. The part is too big to put in a tank. I want to clean up the part and brush anodize the area where the anodize was ground off for weld prep, and the weld. Does anyone know of a kit to brush anodize small surfaces of about 12 square inches?
Dave Clayman
- Alplaus, New York, USA
---
November 23, 2011

A. First, you will never match the surface finish and/or color of the touch up anodize. It is not simple and requires expertise in masking as well as the anodizing operation.

All or the major vendors of brush systems have hands-on classes which would be an absolute minimum for this.

The equipment is in the several hundred dollar category to thousands, depending on size and quality.

An option would be to have one of the companies come in and do the job by contract and to demo the procedure and equipment in case you might want to make a purchase at a later date.

None of the options are cheap.

If you use a local contractor, weld some scrap together, have it regular anodized, grind out a path, weld it and let him demonstrate that he is qualified to do the job. The material needs to be of the same alloy and thickness. Welding will ruin the anodize for some distance from the weld bead, especially if you do mig weld. Tig would be a better option in my opinion.

James Watts




- Navarre, Florida





---

November 24, 2011

A. There are several makers of spot anodizing equipment, however you're looking at quite an investment for just one part. Just to name 2 (might be cheaper for you to just send them the part):

Brooktronics
Sifco

Keep in mind that spot anodizing an area as big as 12 sq in will most likely look quite a bit different than the rest of the coating on the part.

Marc Green




anodizer - Idaho




---
---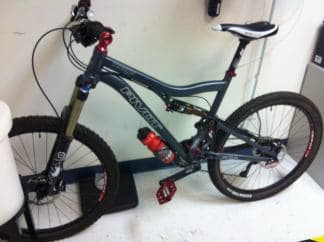 October 24, 2012

-- this entry appended to this thread by editor in lieu of spawning a duplicative thread
Q. I have an aluminum bike frame that was factory painted. At the factory they laser etched the company's logo (PIVOT) into the frame paint finish. So the logo has the raw aluminum look to it. On the bike I have red anodized parts and accessories everywhere. I'd like to color the logo red (anodized red) if possible. Is this possible to anodize this etched logo with paint surrounding it? What options do I have. Can I color it some other way? Looking for help and advice. Attached is a picture of the bike for reference.


Thank you kindly in advance.
Joe DeStefani
- San Diego, California
---
October 24, 2012
A. Hi Joe.
It perhaps can be done, but isn't easy, as you can read above.
This is a non-critical, no wear situation. I suggest cleaning the engraving with acetone (try it in an inconspicuous area elsewhere to make sure it's harmless to the paint), then use a metallic red magic marker. It may not be perfect, but I think it will turn out a lot better than brush anodizing, as well as being much easier.
If that isn't good enough, then "anodize look" spray paint should do it, but it would be extra work to mask the rest of the bike, and you'd probably need to prime first. Good luck, and let us know how it works out.
Regards,
Ted Mooney, P.E.
finishing.com
Pine Beach, New Jersey
---
October 27, 2013

Strange drink bottle mounting point, I bet it gets dirty!

Brian Goodliffe




lab geek - Ennepetal NRW Germany




---
---
April 4, 2017
Q. Hi everybody
In my shop we plated hard anodize type III. We'd like to start doing touch ups. We bought powerpack 20 V / 60 A. My Question is, we need to touch up a surface area .083in^2. How can I calculate the volts and amps for this small area? We dont want to strip and re-anodize our parts.

Thank you
Adan Reyes
- Phoenix Arizona


This public forum has 60,000 threads. If you have a question in mind which seems off topic to this thread, you might prefer to Search the Site