Where the world gathers for
plating, anodizing, & finishing Q&As since 1989
-----
Electroless Nickel Plating on Aluminum Causing Weird Dimension Changes

Q. I had some parts returned from plating (electroless nickel on aluminum parts). The overall dimensions of the parts are .002-.003" smaller than those recorded prior to plating. There's a 4-40 cold form threaded hole that now accepts the nogo thread gage when it didn't before plating. Is it possible that part of the process removed that much material from these parts?
Josh Forand
- Conway, MA
July 1, 2022
---
A. Hi Josh. Do you happen to know if the shop which does your electroless nickel plating also offers aluminum anodizing? :-)

... because although I am not immediately seeing why electroless nickel plating or its preparation cycle would cause this problem, if the parts were mistakenly anodized and then stripped before the electroless nickel plating, this sounds like exactly what would have happened to the dimensions :-)
Luck & Regards,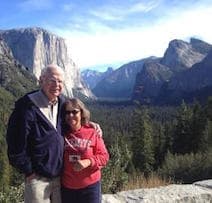 Ted Mooney
, P.E. RET
Striving to live Aloha
finishing.com - Pine Beach, New Jersey
---
---
↓ Closely related postings, oldest first ↓
---
---
2003
Q. My company is currently running into a unique situation with an aluminum casting we manufacture. The aluminum casting print calls for the material to be: alloy SC84A (A380) ASTM B85 [affil link]. Once it is machined it is plated with .0006-.0008"" of electroless nickel plating. We are currently running into a problem where the closely toleranced inside and outside dimensions are both growing large by .001 to .0015". The part acts like it is swelling.
Possible causes are the heat treating process for the nickel, the aluminum content in the casting, the cleaning processes. Do you have any ideas?
Ed White
- Chenango Bridge, New York
2003
---
A. A simple way to find out the cause is to strip the electroless nickel coating in nitric acid. If the part is out of spec after stripping, shame on you. If the part is the proper size after stripping, shame on the plater.
Todd Osmolski
- Charlotte, North Carolina, USA
---
A. Since there are two sides, if 0.0006 -8" is added to both sides of the part, it should grow by 0.0015" on the OD and shrink by the same on an ID. Any less than 0.0006" per side of EN is a waste of time for most purposes. Curious--What temp is your bake cycle?
James Watts
- Navarre, Florida
---
A. Daft quest here but you are allowing for the fact that if you put 0.0006-0.0008"" per face of nickel on it would reduce a bore by 0.0012 - 0.0016", i.e., you know the nickel adds to the size of the part?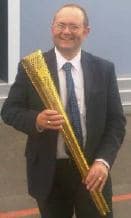 Martin Trigg-Hogarth
surface treatment shop - Stroud, Glos, England
---
Q. In response to the three previous responses: The parts are made to pre-plate dimensions that allow for the .0012-.0016 of buildup on each surface. We have been making these parts in mass production since 1995. We switched plating houses in 2000 and have never seen this situation occur before. Instead of the part building up to print specs, it has acted like a sponge and swelled in size all over. It isn't physically possible to have machined the parts incorrectly on the I.D., to be as large as it is. The plating house is confident all of its processes were done correctly (their bake cycle is for 1 hour at 300 degrees).
Could a change in the casting material be a cause?
Ed White
[returning]
- Chenango Bridge, New York
2003
A. Assuming that the parts are small enough or you can cut a portion off, I would do a metallographic measurement. Yup, destructive analysis. There are not many shops that will mount and polish a 2-3 inch part accurately enough for a measurement, but it has been done. From what you have given us, the plater must be putting on too much, but that is expensive and darn few would do that. This could be checked metallographically on small sections. It is the "referee" method of settling arguments. Stripping can remove some parent metal. I would certainly bake a couple of castings without plate and measure after bake to check dimensions. However, 300 °F should not affect it. I sure hope that it is not 300 °C or you have a metallurgical problem with most alloys that have copper.
James Watts
- Navarre, Florida
---
Q. A response to James Watts. I understand your statements, but what perplexes me the most is the fact that the inner diameters are getting larger instead of smaller. If excessive plating were the only cause, we should be larger on the outer diameters and smaller on the inner diameters. We are large on all diameters.
Thanks for your assistance.
Ed White
[returning]
- Chenango Bridge, New York
2003
---
A. I've never heard of anything like that (although I find myself saying that frequently). Are you sure the object is measured at the same temperature before and after plating? Any ring shaped item will be bigger in I.D. at higher temperature.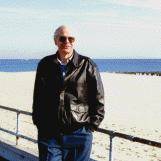 Ted Mooney
, P.E.
Striving to live Aloha
finishing.com - Pine Beach, New Jersey
---
A. Ed, I saw that on an earlier posting and assumed that I read it wrong. I would definitely send a few machined parts thru a cleaning and bake cycle.
Ted, virtually every steel and stainless steel ring will be different sized after heat treatment and some after tempering. We used this phenomena for application of felt metal to aircraft parts years ago. I was unaware of this phenomena in aluminum and did not think that 300 °F was enough to cause a problem. It strongly appears that it can in his case. Hope he tests and finds out and lets us know.
James Watts
- Navarre, Florida