World's #1 on-line resource since 1989
-----
Need help on de-smutting of aluminum
A discussion started in 1002 but continuing through 2020
2003
Q. I'm looking for a desmut that works better than just 100% nitric on series 6 aluminum. I've heard of ferric and sulfuric acid mix but don't know the percentages. Anybody have any successful recipes?
Joe Thortan
- Alogen, Michigan
---
2003
A. Dear Mr. Thortan,
Maybe you can try this recipe: 50% nitric acid with 120 g/L ammonium bifluoride. I've had always good results with this mixture.
Kind regards,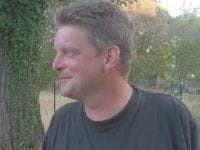 Sjamp van Esch
- Eindhoven, The Netherlands
---
2003
A. You do not need ammonium bifluoride on wrought alloys like the 6000 alloy series (it will work, but you etch which leaves a light smut and also attacks the titanium racks).
At least 20 companies in the USA sell a proprietary deox like you describe which contains ferric sulfate and sulfuric acid. Many are listed on finishing.com

Robert H Probert
Robert H Probert Technical Services

Garner, North Carolina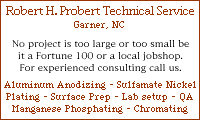 ---
February 27, 2014
A. Dear Joe.
I asked same question myself last year. I inquired of some sources and searched some web sites and after it all I found a formula (not special) and I implemented it during process. There was no problem about quality of parts. So my formula (without nitric acid) for 6000 series:
- 180-200 gr/lt sulphuric acid
- 2% hydrogen peroxide (as an oxidizing agent)

You can try it.

Sincerely,
alaattin tuna
akpa aluminium - turkey, sakarya
---
---
January 30, 2014
Q. Dear Friends,
I am using cold rinse after deoxidising bath, then the next bath is sulfuric acid anodizing. When I prepare the new rinse water bath, after one rinse the pH value is showing around 4. So my concern is, does it not affect the sulfuric acid bath which is next to it, and how frequently should I change or discard this rinse water?
Aijazullah Tajir
- Abu Dhabi, UAE
---
January 30, 2014
A. Hi Aijazullah. pH is not a good way to determine whether the rinse will adversely affect the anodizing tank or not. A few drops of acid in very clean water will lower the pH to 4, whereas once the water accumulates a heavy dose of ions it takes quite a bit of acid to significantly change the pH.
As a thought experiment, imagine that you had a vat of strong caustic and you added sufficient acid (a lot of acid) to get the pH to 7 (neutral). It would take a huge amount of additional acid, not a few drops, to further lower the pH to 4.
An age-old rule of thumb is that figuring on 500:1 dilution in the rinse tank is a possible starting point for experiments. The best way to decide when the rinse tank is too dirty is empirically with a conductivity meter. Although you probably can't determine from first principles how contaminated is too contaminated, with a little experience you'll know what conductivity is acceptable and what is excessive. Have you considered having 2 rinse tanks between the processes, which will both drastically cut the flow rate and eliminate your worries about the first rinse being too acidic. Good luck.
Regards,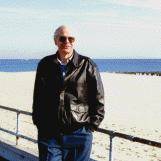 Ted Mooney
, P.E.
Striving to live Aloha
finishing.com - Pine Beach, New Jersey
---
---
Sulfuric acid / peroxide process as a desmut/de-ox for aluminum?
January 13, 2020
Q. Hello,

I am an engineer from an anodizer who uses a traditional nitric acid, sulfuric acid and persulfonate Deox process.

Can anyone comment on their experience using a hydrogen peroxide/ sulfuric acid deox process.

How does it remove smut? Does it produce strong fumes? Does it etch the aluminum darker?

Thank you
J. Adam
Shop employee - Toronto,Ontario, Canada
---
February 5, 2020
A. I have been using hydrogen peroxide/sulphuric acid/nitric acid mixture as deox process over one year instead of licensed products.I certainly advise to use this mixture ... don't forget, hydrogen peroxid one of most powerful oxidizing agents as a chemical product. Try it and you will see good result.

Good luck.
alaattin tuna
- TURKEY, sakarya