60,000 Q&A topics -- Education, Aloha, & Fun
topic 19519
Painting a Fiberglass Tub/Shower Unit
A discussion started in 2003 but continuing through 2019
2003
Q. I have a blue fiberglass tub/shower combination that we would like to paint white and do it ourselves. We have gotten bids here for $400-$500 and would like the information on what types of paint, glaze, etc. to use to complete this job.
THANK YOU.
Cary B
[last name deleted for privacy by Editor]
- Cheyenne, Wyoming
---
2003
Q. I have a Fiberglass shower that's a light tan and I'm wanting to paint it a grey to Light gray like the rest of the bathroom just like Cary is wanting to do--but I don't want to paint it and have it come off after like the 3-4th shower can you help, thank you.
TC Paterno II
- DeLand, Florida
---
2004
A. Yes, this can be done fairly easily. I have done several over the years. Preparation is the key here and if steps are skipped, the quality of the end result will be substandard.
Step 1. Sand the entire area to be painted with 320 grit Sandpaper [affil. link to product info at Rockler], you don't want to sand through the gel coat you simply want to sand until it hazes over and the finish becomes dull.
Step 2. Clean the shower with Muriatic Acid [affil. link to product info on Amazon] to remove all of the dust. Then rinse the entire thing with water and let dry completely.
Step 3. Painting. Use a good quality primer first then use a good epoxy based paint in the color of your choice. Rustoleum makes an appliance paint [Rustoleum "appliance paint"] which works perfect for this application.. The only draw back is the only colors are white and almond. I have used oil based paints before as well with a satisfactory result, you simply have to watch close for runs in your paint. Always use a spray gun or spray can, never brush or roll paint on.
That's it, its really that simple and the results are usually stunning.
Happy Painting
Greg F
[last name deleted for privacy by Editor]
- Austin, Texas
---
2004
Q. What type of primer would you use for this job?
Thanks,
Bob D
[last name deleted for privacy by Editor]
- S. Grafton, Massachusetts
---
2004
A. Sherwin Williams has a good primer but if you are going to use Rustoleum I would get a Rustoleum primer. Have fun. I'm going to start tomorrow.
Nancie D
[last name deleted for privacy by Editor]
- Lacey, Washington
---
2005
Q. I plan to patch the floor of a fiberglass tub/shower unit and then paint the whole thing. Would marine paint (epoxy-based paint used on fiberglass boats) be better to use? Or just how good is the Rustoleum paint for holding up under flexing, water, cleaning etc. and looking really good?
Bill P
[last name deleted for privacy by Editor]
- Mobile, Alabama
---
2005
Q. I'm a faux artist and had planned on painting a fiberglass shower/tub to look like stone in a house we are planning on reselling, but I just got off of the phone with Sherwin Williams and a company that carries marine paint, but neither of them recommended painting it. They both said that no matter how you prep it, it's going to bubble and peel off before long due to the caustic reaction of hot water on it. I'm very discouraged now. It's going to be a nightmare getting a new tub in there. (Will have to remove walls and plumbing due to it's location.)
For those of you that have actually painted them, how long did it last?
Kim C
[last name deleted for privacy by Editor]
- Titusville, Florida
---
2005
A. I just painted my tub yesterday with the Rustoleum epoxy spray paint. I did not use a primer. I did sand with a palm sander with 220 grit sandpaper. I then used muriatic acid to clean after sanding. Use extra caution when using cause the vapors are extremely strong. I used a fan pointing to an exterior window. fumes were still very strong. Then I sprayed the walls. The spraying was worse then applying the acid. I'd advise using a charcoal respirator or some type of mask. Also either cover every thing or strip the bathroom. I gutted the bathroom because we are remodeling anyway. Luckily I was removing the floor also cause it was covered in over spray. Also the walls in the whole bathroom were covered. So I suggest only spraying when you are going to remodel. The results were amazing. It looks better than a new enclosure. This is not an overnight project. It takes planning and some money. All and all I'm very happy though.
Shawn T
[last name deleted for privacy by Editor]
- Niantic, Connecticut
---
!! Readers: muriatic acid is a gas dissolved in a liquid, it is not a liquid. So it will fume! So not only is it dangerous to use, but the fumes will attack stainless steel and plated fixtures (maybe down in your kitchen as well as up in the bathroom). SO use only with really, really good ventilation as well as proper protective clothing, including goggles [affil. link to product info on Amazon] and Rubber Gloves [affil. link to product info on Amazon]. Good luck.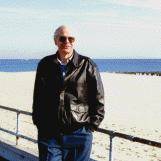 Ted Mooney, P.E.
finishing.com - Pine Beach, New Jersey
Striving to live Aloha
---
2005
A. Hmmm - very interesting to read this ongoing dialogue. I did paint an avocado green shower stall in a rental house years ago. I took a "what-the-heck" approach with minimal prep & straight forward application. I did a regular cleaning and wiped it down with either window cleaner or rubbing alcohol (can't remember). Then I just generously brushed on a basic white marine/boat paint (must have been epoxy... the fumes were nasty!) I think I did two coats and the brush marks pretty much just melted together. It all worked just fine - I lived there a few years. The only problem was when, in desperation, I used a caustic drain cleaner and it melted the paint away just around the central drain where the water was standing, revealing a ring of that awful avocado green. Oops!

I've now got a rubber-ducky yellow jetted tub in my new house (whose idea was THAT?!) and hope the same process will work again... I'll try to remember and post my results - good, bad or ugly. Cheers!
Michelle M
[last name deleted for privacy by Editor]
- Port Townsend, Washington
---
2006
Q. I have been trying (in vain) to clean a fiberglass shower. I have tried every cleaner on the market including commercial ones, steaming, scrubbing, EVERYTHING! I finally used a fume-free oven cleaner someone recommended, and it got the top layer of gunk off, so I started scraping. Turns out, the previous owners had PAINTED the shower and the bottom layer of "gunk" is actually a coat of paint!
I am soooo mad! It looked great when we moved in, but after about 6 months, it got to where I couldn't get the shower clean (we have very hard water) and now it turns out that the paint must have become really porous and was holding all the soap scum and calcium deposits in. After inspecting the shower very closely, I have determined that it is spray paint. I hope I can remove it with some sort of paint remover. Please, DO NOT paint your shower unless you are selling or you want to be going through misery in a few months! I think I'd be better off to replace it!
Kathy S
[last name deleted for privacy by Editor]
- Nashville, Tennessee
---
2006
A. Rustoleum now has a product for this exact problem. I came across it while researching how to paint my blue fiberglass tub to white. Here is info in case anyone else needs it: "Rustoleum Tub and Tile Refinishing Kit" =>
Oscar M
[last name deleted for privacy by Editor]
- San Diego, California
---
2006
Q. Hi All,

Well I am having the same problem! We remodeled the whole bathroom and so the Almond tub needed to be white we were told to buy Kliens tub epoxy we had an "expert" painter apply it for us we didn't use the tub for 5 days! It peeled and bubbled right away in the first shower! We then bought another kit and did it again and then went away on vacation for 7 days and didn't use the shower for 8 days and "AGAIN" the peeling! It looks awful and now we just put our house on the market and we haven't figured out how to make this tub look good. We put so much money into the house and do not have the time or money to replace the tub at this point. I see that this process has worked for some and I was hoping someone may be able to suggest something for us to try. We don't have the time or money to take another vacation to let the tub dry and we only have 1 bathroom. We have a major dilemma and wish we were NEVER told to epoxy the tub in the first place.

HELP! :(

Thanks,
Tobra W
[last name deleted for privacy by Editor]
---
2006
A. We have an old claw foot bath tub. The paint was wearing to the point that it was chalking. I wanted to refinish it without getting into a lot of expense. My brother had his tub recoated with a professional refinishing kit. It too peeled after about 4 months and looks awful! I paint with an industrial painting company. I sanded the tub, wiped it down with thinner, primed with Devoe epoxy primer (#235). Sanded it again just enough to create adhesion. Wiped it down with thinner again (don't rub). Then painted it with two coats of X-O Rust interior/exterior enamel (TRU-VALUE product).It is a heavy duty formula that prevents rust, abrasions, weathering and fading. It looks beautiful! You need to sand slightly and wipe down in between each step. It's all in the prep work. It may need to be recoated more often (6 mos. or so) but a little sanding, thinner wipe down and re-coat with top coat is all it takes. It isn't peeling and I don't use a real abrasive cleaner, but it works.
Susan W
[last name deleted for privacy by Editor]
- Tioga, North Dakota
---
2006
A. A little google searching goes a long way. Here is a product (complete with user-supplied before and after photos) for refinishing all bathtubs including fiberglass, tubbyusa.com
Kevin W
[last name deleted for privacy by Editor]
- Salt Lake City, Utah
---
2007
A. About resurfacing fiberglass tubs, we used automotive paint. That's right, auto paint, polyurethane. You wet sand the surface with 200-400 grit wet or dry paper. Wash thoroughly with cleanser and water, dry surface then wipe down, just prior to painting, with lacquer thinner [affil. link to product info on Amazon] . Prime it with auto primer, and then after it dries lightly sand it, wipe clean with clean damp rags and apply the auto paint with an HVLP, that's a high volume low pressure spray unit. They can be rented. There is not much overspray and the paint hardens to a tough finish. I used to resurface counter tops and tubs using about the same method for all. Hope this helps
Brendan Walsh
ex-resurfacer - San Antonio, Texas
---
2007
Q. We have a fiberglass shower that cracked near the drain. My father, who has done fiberglass auto body work did the repair on the crack, but we have yet to find a spray paint that will adhere for any length of time to either the patch or the rest of the shower pan. They all bubble and peel. We're trying the automotive paint next.
Melinda Crow
- Whitney, Texas
---
2007
Q. How do you get the glossy shine after painting? Does the paint come glossy already?
Rebecca Lirette
- Houma, Louisiana
---
2007
A. Hi, as far as glossy paints go, yes, they come from the store in glossy finishes. You can get flat (dull), satin or eggshell (some gloss) or semi-gloss (shiny). The used to sell a full "gloss" but I'm not certain that exists any longer.

Remember, the shinier the paint, the better the seal, the easier to clean.

But cleaners, like 409 especially (not knocking 409, it's my fave cleaner) will melt most paints.

Get a squeegee and get all water off your painted shower after you're done using it, and clean gently with absolutely minimum abrasive and chemicals.

When I did my shower stall (Rustoleum all the way) I put sand in the coat I used on the bottom to texture it. My preference. After a year, it's chipping a bit (inevitable) and will have to be redone. Prep was sanding, washing, then windex. Primer. Sanding. Wipe with damp cloth. Paint 2 coats. All rustoleum enamel.
Jon Howard
- Hagerstown, West Virginia
---
2007
Q. If people can paint a fiberglass pool, why can't one successfully paint a shower or tub?

Wouldn't it use the same process?

I'm planning to paint my shower pan and will probably use pool paint.
Jan Couch
- Hanford, California
---
2007
A. I had a professional company do my 2 tub units and stand up shower stall that were blue. They came out great. I didn't want to replace them as I wanted the full unit without a grout line and we wouldn't be able to fit a full piece into the bathrooms. Two of the bathrooms are going on 3 years done and I just had the shower done. The price in the northeast is about $600-700 a unit. It is worth it if you don't want the expense of replacing the whole tub and wall. I also had a crack in the fiberglass tub repaired with no further problems. Just make sure you get a reputable company with a warranty. The job is complicated so I glad I'm didn't do it myself as I almost did. It took 4 hours a unit.
Margery Boga
- Glastonbury, Connecticut
---
2007
Q. Re: last comment

You said you used a reputable professional company. What specific kind of company did you use? Was it a regular house painting company or other?
Thanks.
Alisa Heyward
- Raleigh, North Carolina
---
2007
A. In regards to my previous post where I said I got a professional company, I looked in the yellow pages under tub refinishing, made sure they had a license then checked with the Better Business Bureau. The first company I used does tubs in many hotels so it is done all the time. We just may not know it.
Margery Boga
[returning]
- Glastonbury, Connecticut
---
(you are on the 1st page of the thread) Next page >
---