World's #1 finishing resource since 1989
No login needed: Chime right in
topic 19453
Consistent Coloring With Commercial Clear Anodizing of Aluminum
2003
I recently had 43 panels (44" X 96") of 1/8" 5052 aluminum done in commercial clear anodizing. The aluminum sheets were from the same coil and run, according the supplier. When the panels were finished, there were 7 of the panels that had a yellow tint to them and the rest were the desired light grey color. The anodizer told me that this was just the nature of anodizing. This project was the first time we've had to anodize panels this large, so I don't have anything to compare it to. Is the anodizer right, or is it possible to get all of the panels the same color?
John Hines
architectural metals - Anaheim, California, USA
---
2003
It's all a matter of degree rather than a yes or no. Yes it is very difficult to get a perfect match, but it is done. Yes, different batches of aluminum will come out differently even if the anodizer processes them identically.
And yes it's even possible that the anodizer did something wrong, like dichromate sealing of the yellow ones, and isn't owning up.
The metal finishing world is divided into two camps: one camp which feels 'sample boards' are indispensable towards the solution to this kind of dispute; and the other which feels that samples boards are worthless and what the shop should be doing is processing per exact instructions instead of turning science back into a black art by fudging around to get parts to match the sample board. I'm in the first camp: make a sample board showing the limits of acceptability.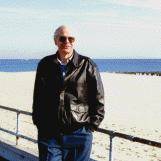 Ted Mooney, P.E.
Striving to live Aloha
finishing.com - Pine Beach, New Jersey
---
2003
It is extremely difficult for the anodizer to get the current all the way into the middle of this large panel, but it is possible to get a quality, clear, especially on 5052, anodic film. The solution must be free from contamination and have a dissolved aluminum of under 12 gm/L, the right temperature, the right agitation (difficult on this shape), etc...
Next time give the anodizer some tabs all around the panel, then he has to make contact to these tabs to get the current on the part.
Yes it can be done. Yes it is extremely difficult.

Robert H Probert
Robert H Probert Technical Services

Garner, North Carolina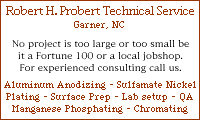 ---
2003
There are several things you can try. First make sure you don't run the sheets side by side. This will cut current in your anodize tank from sheet to sheet. Second reduce the agitation in your etch tanks. This will help the sheets to etch even.anodize at a temperature of 68-70 degrees. Reduce your anodize time by 3-5 minutes. Third make sure you have at least 5 to 6 contact points on each side of each sheet. You don't want them to lose contact in anodize tank. One more thing you may want to cut your etch time down. I'm sure this should take care of your problem.
Kris Heim
- Walkerton, Indiana