60,000 Q&A topics -- Education, Aloha, & Fun
topic 19342
Chemical conversion coating on aluminum: what is default color?
A discussion started in 2003 but continuing through 2019
2003
TUTORIAL:

Alodine is a Henkel trade name for a line of conversion coating processes.
Q. I have an aluminum part to be chemical conversion coated per Mil-C-5541 [link is to free spec at Defense Logistics Agency, dla.mil], class 1A. Is this colorless Alodine or gold Alodine?
Norm Dang
an instrument manufacturer - Santa Ana, California
---
2003
A. Hello,
The Mil-Spec states that unless otherwise requested the default color is Gold. That pertains to Class 3 coatings as well.
Bill Grayson
- Santa Cruz, California
---
2003
A. Class 1A is a paint base coating. It can be gold or clear, but the coating should be gold unless a clear chromate is directly specified.
Patrick Patton
lab products - Westlake, Ohio
---
2003
A. Gold. Alodine is one of many trade names for aluminum chromate meeting Mil-C-5541 [link is to free spec at Defense Logistics Agency, dla.mil].

Robert H Probert
Robert H Probert Technical Services

Garner, North Carolina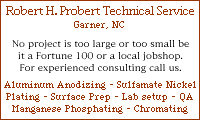 ---
TUTORIAL:

Iridite is a Macdermid trade name.

Clear chromating is sometimes done by leaching the color out of yellow/gold coatings in hot water, but many professionals believe that "no color left = no chromate left".
2003
A. Alodine (or Iridite or whatever) is sort of an opinion, isn't it? Anyway, MIL-C-5541 (or AMSC5541, both are "active" if anyone wants to toss stones at a NADCAP auditor) has Class 1A and Class 3. Class 1A is the "corrosion protection" and could be described as the "dark" and Class 3 is the "electrically conductive" and is the "light". In any case, don't confuse "clear" and "colorless" ... it should be (depending on which "proprietary" chemical, prep and cleaning (mechanical and chemical, the immersion time, temperature, alloy type, et. al) faintly yellowish ... again, this is subjective.
My personal gripe is design engineers who spec "colorless" and want you to "bleach" (hot water) ... what are they thinking!
Doug Hahn
- Mason, Ohio
---
2003
A. Color can vary from colorless to golden - iridescent - brown. Materials conform to Mil-DTL-81706 [link is to free spec at Defense Logistics Agency, dla.mil]. Coatings shall be continuous free from powdery areas, breaks, scratches, etc. Sometimes called yellow Iridite. No dimensional change are effected with Iridite finishes. Class 1A is used as a corrosion preventative film (unpainted) or to improve adhesion of paint finish systems.
Robert D Lilley
- Singapore
---
---
Electroless procedure for aluminium plating in a brass color
October 29, 2018
Q. Hi I wish to plate aluminium zipper in yellow (brass) color thru electroless procedure. Please guide process and chemicals.
Please help.
Mukand Garg
Bdmpl - Delhi
---
October 2018
affil. link



Aluminum How-To
"The Chromating - Anodizing - Hardcoating Handbook"
by Robert Probert
$89

A. Hi Mukand. I think you have yellow (gold) chromate conversion coating in mind. The main step in the process is immersing the aluminum into a vat of Alodine, Iridite, Chemion TCP, or other brand of chromate conversion coating chemistry for the formation of the conversion coating. These days, trivalent chromates should be specified.
This step is preceded by mechanical finishing, non-etch alkaline cleaning, etching (usually), desmutting (with the specific chemistry dependent on what aluminum alloy you are using). We have dozens, maybe hundreds of threads about chromate conversion coating of aluminum in this forum, but books are probably a faster, more tutorial, path to general learning. Good luck.
Regards,
Ted Mooney, P.E. RET
finishing.com - Pine Beach, New Jersey
Aloha -- an idea worth spreading
---
---
March 11, 2019
Q. Where in Mil-Spec Mil-DTL-5541 [link is to free spec at Defense Logistics Agency, dla.mil] F does it state that "unless otherwise requested" the default color is Gold?
Glen Boreman
- Oceanside California
---
March 2019
A. Hi Glen. It doesn't, although it did say more or less that it in the earlier days of MIL-C-5541 (copies of which are no longer on line at quicksearch.dla.mil).

MIL-C-5541E says in Section 3.5: "Clear (colorless) coating shall only be used when specifically authorized by the procurement authority,"
and in section 6.2: "Ordering data. Acquisition documents should specify the following: ... d. Clear coatings, if desired ..."
It seems that the color expectation went away with MIL-C-5541F, concurrent with inclusion of Class II (non-hexavalent) coatings.
Regards,
Ted Mooney, P.E. RET
finishing.com - Pine Beach, New Jersey
Aloha -- an idea worth spreading
---
July 30, 2019
A. Glen,

There are a couple of trivalent chromium conversion coatings on the market that meet this MIL-DTL-5541-F spec and exceed the performance of hexavalent alternatives. Currently all trivalent conversion coatings are clear, producing an almost imperceptible iridescent look. It is a complaint with many customers that they cannot tell if the coating has been applied especially with untrained operators on-line.

In the next year there is a USA based company that is fast tracking a dyed trivalent conversion coating through the QPL process to conform to this spec. It is commercially available now though distributors as an unspecified product.
Isaac Brown
Technical Sales Rep - Cleveland, Ohio, USA
---
July 2019

Thanks for the update, Isaac!
opinion! Is it too much to hope that the dye color is spring green or lilac or ANYthing other than the yellow/gold natural color of the toxic, carcinogenic, hexavalent chromium and identified with it for so long?
Regards,
Ted Mooney, P.E. RET
finishing.com - Pine Beach, New Jersey
Aloha -- an idea worth spreading