World's #1 on-line resource since 1989
-----
Surface Prep for Chrome Plating: Q&A
A discussion started in 2003 but continuing through 2020
2003
Q. Cutting the costs of chrome plating:
I do a lot of restoration work and fully understand that much of the cost to chrome plating is surface preparation. I can remove the old flaking, bubbly chrome from old chrome plated parts with no problem, including polishing out with a sisal wheel/black emery cake, etc., to a luster.
Question: for a pre-plating surface prep, should I take it out to a full mirror luster or leave a slight satin finish to provide tooth for the plating process?
Thanks,
Lynn M. Perry, Sr.
retired - Plano, Texas
---
2003

A. "Tooth" is not required for nickel-chrome plating of steel, but no sense overdoing the buffing.

If there are no visible scratches or dings they should plate fine. You would probably be surprised by how matte truck bumpers are before plating. Most times when there is an "argument" between the plater and the polisher, it seems the plater wishes the polisher had quit while he was ahead :-)




Ted Mooney

, P.E.




Striving to live Aloha




finishing.com - Pine Beach, New Jersey





---

2003

A. Whether you polish to a mirror finish or not depends on your desired end finish. If you start with a satin finish, you will end up with a shiny looking scratchy finish. The plating thickness is not enough to fill the scratches left in the part. A mirror finish is the best finish for a smooth looking part, as the plating doesn't need anything to grip onto, the way a paint would.

Dan Brewer




chemical process supplier - Gurnee, Illinois




---
March 22, 2020
A. Years ago I sliced my finger nearly to the bone on a strip of chrome I was peeling off, and save the long curly-cue piece in the top of my tool box. I believe it is .0005" thick which alone is enough to fill some scratches. That has to be true especially when you consider it gets copper and nickel under it.
Carl Hungness
Carl Hungness Publishing - Madison, Indiana
---
March 2020
A. Unfortunately, plating is better at emphasizing scratches than filling them :-)
Plating doesn't flow in to gaps; rather, electricity converts the dissolved ions to metal. And electricity sort of takes the path of least resistance, so there can be a buildup around a scratch rather than a filling action. A rough polished but scratch-free surface can come out shiny with the benefit of today's self-leveling nickel plating, but a scratch will remain a scratch.
Regards,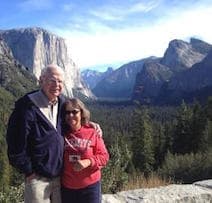 Ted Mooney
, P.E. RET
Aloha -- an idea worth spreading
finishing.com - Pine Beach, New Jersey