Where the world gathers for
plating, anodizing, & finishing Q&As since 1989
-----
Pewter cleaning, finishing & polishing Problems & Solutions
Q. I have sand cast pewter bowl and candlesticks that are over forty years old and really need to be cleaned but I cannot find out how. They are a rough finish. They mean a lot to me and want to display them. Thanks.
Chrispi Pioszak
- Tampa, Florida
August 20, 2023
A. "How you care for your pewter depends on the appearance you wish to achieve and maintain.

In daily use, pewter was kept bright and polished and some collectors prefer this appearance. Pewter does not tarnish like silver, so a periodic clean with an all-purpose metal (not silver) polish will keep it looking bright.

Much old pewter is patinated and has a colour ranging from mellow silver to charcoal grey, a more 'antique' appearance favoured by many collectors, especially in Britain and Europe . It is possible to restore patinated pieces to a brighter and polished condition and there are degrees of restoration depending on whether a completely untarnished appearance is preferred or whether some signs of age, e.g. oxidation in joints, dents, etc., should be apparent.

Oxidation on pewter varies according the composition of the alloy and even this composition can vary on individual pieces. Serious oxidation can eat right through the metal and eventually create holes, especially in sadware (dishes and chargers, for example). Expert guidance is needed if such pieces are to be restored. For other pieces, the following can be tried (although never on valuable pieces without practice or guidance).

Washing with hot, soapy water will often remove a surprising amount of dirt and tarnish and should always be the first step.

A light oxide can often be removed with a hard rub and repeated application of a proprietary metal (not silver) polish.

Use of a fine grade of emery paper, say 600 grade, wet and dry. A coarser grade may be tried to begin with, working up to finer grades. Dark, hard-metal items will be slow to respond to this treatment, however, and several applications may be needed.

Some restorers also use electrolysis to remove oxide but this is an even more skilled task.

We repeat, never attempt to restore old or valuable pieces without guidance and practice on non-valuable/unwanted items!

Finally, old and valuable pieces will benefit from an application of good quality neutral wax polish to enhance appearance and protect from further oxidation."
-- (according to the Pewter Society webpage)
Goran Budija
- Cerovski vrh Croatia
September 13, 2023
---
---
↓ Closely related postings, oldest first ↓
---
---
Q. We are craftspeople making hand shaped pewter ware, and some castings.
We are looking to receive information: technique, equipment for mechanical finishing and polishing.
merci beaucoup.
bernard chaudron
- val-david, Quebec canada
1998
A. Not sure what final result you are looking for but I've done perhaps 100 pieces including plates, mugs, pitcher, etc. in the past decade. These were old, distressed pieces which were picked up at flea markets and antique shops around the world. In most cases I've hand sanded them working up to at least a 400 grade paper followed by machine buffing using at least two grades of rouge. The result is a blemish-free surface which is mistaken for all as polished silver. Indeed in Victorian England pewter was known as "poor mans' silver". I certainly would not do this on a valuable old piece since the value would disappear with the patina. It also takes a heck of a lot of hours so the reward of turning what was viewed as a piece of junk into a beautiful shining object must be sufficient for you.
Tom
Tom Barton
Iowa
---
---
Q. As a hobby, I make pewter figurines. The metal I use is a mixture of tin and lead. I'm interested in plating these molded figurines with copper, brass or bronze. Just to give them a different look. I would like to use stuff found around the house or at the local hardware store. I'm not looking to put a lot of money into this right now.
Also, any suggestions on cleaning and polishing these pewter figurines would be most welcome. There must be an easier method, than a lot of brushing and rubbing by hand. The piece needs to be very clean before being dipped into acid, to give an antique finish. Then some brushing, steel wool [affil link on Amazon], and polishing cloth. Must be a simpler method out there...
Harvey Hazelett
- Saint Cloud, Florida, USA
2001
---
---
Q. Hi there,
I am Spin casting large quantities of figurines, etc. in both pewter and zinc. I am looking for a method(without plating) to give these products an antique silver finish where the silver will have a high shine showing through the black. How is this achieved? I have a mini vibrator as well as a tumbler. Which is the best medium to use for polishing these figures after I have blackened them. And should I use some sort of polishing compound.
Thank you,
Andrew cartwright
- Durban, South Africa
2001
A. I read somewhere, but have not tested for myself, that Caustic Acid will blacken the pewter and age it.
Q. I would also like to ask anyone's advice on lacquering pewter to shiny finish or translucent finish.
Thank you.
Rony Ben-Nachum
Freelance sculptor - Mizpe Hila, Israel
2002
---
---
Multiple threads were merged: please forgive repetition, chronology errors, or disrespect towards other postings [they weren't on the same page] :-)
---
---
Finishing pewter buckles
Q. I'm making a belt buckle from Pewter in my technology a level course, and need to find out the best ways of finishing the model. What with and how do I polish it?
Natalie Morgan
- Rochford, Essex, England
2002
A. Hi Natalie,

Pewter buckles? ... but ye olde dark pewter with lots of lead or the modern shiny so-called pewter?

If ye olde, which have a dark patina, then try Silvo [affil link] brass and chrome cleaner. That's what I used but I forgot which gives one the best shine! You'd never get it to be shiny. For 'modern', I guess chrome cleaner or silvo. Go & try them yourself.

As far as acid cleaning is concerned, I just don't know which would be best ... but then you never posed that question, did you !

But to get your buckle to a smooth state, you'd have to use fine emery (or sand) paper, then super fine and finish off with ultra fine. Then get a drill with a polishing pad and use whatever 'grinding' paste you can lay your hands on ... i.e., jeweler's rouge (polishing/buffing compound) [affil link], for instance. That should make your pieces nice and smooth prior to polishing them properly.

Hope this helps.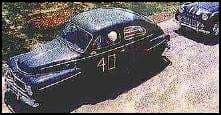 Freeman Newton
[deceased]
R.I.P. old friend (It is our sad duty to
advise that Freeman passed away 4/21/12)
2002
A. Hiya, I hope this doesn't come too late, but the only way to polish pewter is to tumble it in steel BBs. That's what they use in the industry. Also, they plate it with various "shiny" metals. Pewter is rather porous and fuzzy, compared to the finer metals, that's what makes it resist a rouge wheel polish. The friction just causes it to "fluff up" and the rouge becomes impregnated in the soft pewter. You can try baking soda [affil link] and Q-tip [affil link], I've gotten nice results that way.
Good Luck!
Deon Allen
- Mesa Arizona USA
2003
---
---
Q. I'm trying to achieve an antique type finish in my pewter, with a predominantly high(silver) shine and some black showing through the small detail. At the moment I am blackening the pewter in Nitric acid and then hand buffing it with a scotchbrite, and finally polishing it in a vibrator. This method does not give me the high quality finish that I am looking for and makes the pewter look very "black" with a little bit of shine.
And buy the way it's definitely not my vibrating method, because I am able to achieve a high shine on non-blackened pewter.
Please could you help in this regard.
Tina Faherty
- Durban, Kwazulu-natal, South Africa
2002
---
---
Q. What can I use to clean tarnished pewter that has lots of detail i.e. if I use a silver polish, when I rub it off with a cloth, some of the polish remains where the cloth cannot reach it.
Thank you,
Tina Faherty
- Durban, KZN, South Africa
2003
A. Precipitated chalk (finest!) mixed with some water is also good for cleaning of your object. When finished rinse thoroughly!
Goran Budija
- Cerovski vrh Croatia
A. If your pewter is antique-and it sounds as though it is, it is probably lead based... It is not meant to be shiny like silver so don't overdo it! Mix rottenstone [affil link] with boiled linseed oil [affil link] to a paste and rub your piece with a soft cotton cloth dipped in the mixture.(Rottenstone is used in the regular 'Brasso' but is mixed with a more volatile carrier.) Rub in one direction only and the smooth bits will have a beautiful satin finish. When you are done, wash it in hot soapy water to clean all the stuff out of the crevices then dry it off. Finally buff it with a soft cloth to reveal all the detailing. I just did it with an Indian flower patterned napkin ring and it looks beautiful.
Clive Hollins
- Cambridge, UK
---
---
Q. I am new here, but I was just wondering what size steel ball bearing to use to tumble polish lead-free pewter, and approx. time it would take.
Thanx in advance,
Fred Dufort
- Ontario, Canada
2004
---
---
Q. I need to clean and polish to a shine modern pewter. Who would supply me with rotten-stone or can I use Brasso [affil links to item on Ebay & on Amazon] without damaging the objects? These are everyday articles that you would use for dining and food preparation.
Renette Kumm
- South Africa
2007
Ed. note: We've now hotlinked the previous posting to a source for rottenstone, Renette.
---
---
Q. I was looking at necklaces and I was wondering what the quality of a pewter finished necklace is?

Thanks
Jerrica O'Neil
- Great Bend, New York, United States
May 16, 2012
---
---
Q. I've just received a brand new brooch made of pewter. It has a satin finish and it is quite dull. Is it possible to make the finish on this piece shiny/lustrous, and, if so, how?
Jill Donahue
- Newport Beach, California
February 25, 2021
A. According to pewtersociety.org website: "In daily use, pewter was kept bright and polished and some collectors prefer this ... clean with an all-purpose metal (not silver) polish will keep it looking bright."

Hope it helps and good luck!
Goran Budija
- Zagreb Croatia
A. Use hydrochloric acid [affil link] aka muriatic acid or Harpic limescale remover to remove the scale from pewter prior to polishing. The item must be totally clean of oil and wax before doing this.

To keep the black scale in certain places just mask up using lacquer. Be very watchful over this process as the acid can completely dissolve the pewter within an hour!
Alan Carden
- Brighton, East Sussex
July 20, 2023
---