World's #1 finishing resource since 1989
No login needed: Chime right in
topic 1948
Trying to solve a corrosion problem;
1998
We have a 4340 steel bar used as a load bearing member on logging trucks in canada and the USA. We are trying to minimize the corrosion damage that is incurred in Canada. The bars can have bad corrosion damage in two years of service in Canada but have very little corrosion here in the states.
steel bar details;
4340, heat treated to 180 ksi, cad plated, then chromate plated. The bar has a electrical connector screwed to the plated steel body. This connector is aluminum with a chromate finish (typical mil spec sealed type). It is screwed to the steel body with stainless screws.
Corrosion facts;
Given the above configuration, the load cell seems to corrode and the connector does not. If the steel bas is not plated at all, the connector corrodes away and the steel bar does not. The application of a powder coat only seems to delay the problem, and not by much. I know that Canada tends to use calcium chloride instead of sodium chloride but I can not see this making a big difference.
Is there a plating, finish or sacrificial element that can be used to minimize the corrosion problem?
Any input is appreciated.
bill Zimmerman
- seattle Wa
---
1998
Bill,
According to my experience and knowledge, you had a serious galvanic corrosion problem caused by SS screw since Canada uses a lot of salts to deice in winter. If SS screws can be replaced with Zn-Ni plated and yellow or black- chromated steel screws, the situation will be substantially improved. Otherwise, you need to completely paint whole system consisting of plated steel + aluminum connector + SS screws after they are assembled using an adequate coating. Please contact me if you like to have further discussion.
Ling
Ling Hao
- Grand Rapids, Michigan
---
1998
I wonder if the steel bar is really corroding or whether the cadmium plating only is corroding. The clue here will be the performance of the aluminum connector. With different metals, you have created a galvanic cell where the least corrosion resistant metal will corrode first. For steel, cadmium, and aluminum - the cadmium will corrode first, then the aluminum, then the steel. Thats why the aluminum corrodes when you don't plate the steel. I don't believe that the stainless steel fasteners will play much of a role here - their small size will make them nearly insignificant due to relative area effects.
Now, with all that, you may be able to protect the steel bar with a sacrificial anode, such as magnesium. The size and shape and location of the anode(s) could be tricky because the environment is from splash not submersion. For best response, the bar and the anode must be in common contact with the electrolyte (salt water). You may be able to bolt one or more magnesium anodes onto the bar and obtain adequate protection. Anodes would need to be replaced periodically, but this would be easier than replating.
This is just an idea for you to pursue. Having not seen the device, it is hard to give enough details for implementation or prediction of success. You get what you pay for, I guess.
Good Luck.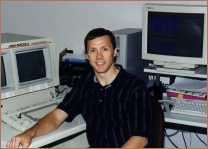 Larry Hanke
Minneapolis, Minnesota
---
1999
In response to the corrosion problem of the 4340 steel bar on logging trucks. Fresh and salt water spray from roads as well as salt water dripping off the logs stored in salt water will cause this corrosion. Our engineer recommends the use of sacrificial anodes welded or bolted to the steel bar. Aluminum would be the best anode for the job. The aluminum anode usually has a small percentage of indium mixed into it at time of manufacture. There are also traces of zinc, copper iron and silicon. This mixture ensures the proper electrolytic reaction. Anodes made of zinc, aluminum and magnesium are commonly used on any steel submerged in salt and fresh water. Use above water should work as well and a test application to the steel bar of several aluminum anodes should prove successful in solving your problem.
Doug Beatty
- Manager, sales and marketing
foundry - Clarenville, Newfoundland
---
Pinhole Corrosion in Copper Pipes
2000
Q. Hi
I live in Cape Town, South Africa, near to the sea. I have had several corrosion problems with the copper water pipes in the house. Every so often I get pinhole leaks in the copper pipes resulting in me having to chop open the wall and replace a section of pipe. I am told by a plumber that it is quite common in the area and could be due to electrolysis. Do you think that it would help if I clamped zinc anodes to the pipes at various points. This method is used on boats to prevent corrosion of metal parts, but I don't know about copper. Do you have any other advice.
Thanx...
John Franklin
- South Africa
---
2004
Pin Holes in copper water pipes. Corrosion in water copper pipes is sometime a problem. Pin holes appearing in copper pipes is quite a serious problem and are being reported more and more often. It is called pitting corrosion if it appears as a pin hole and quite isolated form other type of corrosion. In copper pipes there seem to be two main reasons for it, the one it the copper pipe itself not being properly treated, and the other could be the water in your area, or a combination of both. Find out if there is a similar problem in the area. The sad part is that there is not much that you can do to prevent it....
Jose Prozzi
- JHB, South africa
---
2004
In fact there is an excellent solution to the copper pinhole problem described in the ++++ posting. The process is called epoxy barrier coating. This method has been used in large diameter piping systems for decades around the world, but there is also an emerging industry that can provide this solution in small diameter piping systems such as domestic water, fire sprinkler, gas lines, pool piping, A/C lines and other applications.
Murray W. Greenwood
- Seattle, WA USA