Where the world gathers for
plating, anodizing, & finishing Q&As since 1989
-----
How to clean conch shells
adv.
Environmentally-friendly Citric Acid-based Processes for Passivation of Stainless Steel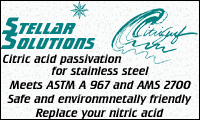 Q. I was recently given a 7" conch shell from Turks and Caicos. I've read and read and watched several videos but cannot find an answer to this question - what kind of wire brush to use? Not the brand but the actual wire bristles. Stainless steel? Brass? Nylon? Obviously, I am a total neophyte at this and will really appreciate the help.
Sherry Wilson
- Georgia
September 19, 2022
A. It depends on what you are trying to clean off. If it was a live shell, you may not need to do much, a nylon bristle brush would be fine. If it is an old dead shell that has a lot of encrustations, stainless steel or brass is fine - it doesn't really matter. The best way is to soak for a couple of hours in a dilute bleach solution to soften up things that are on the outside and then use the brush to clean off what didn't come off.
Lee Kremer
- Dayton, WY
September 21, 2022
---

Thank you so much! Did the bleach thing and the boiling. Need wire brush for stubborn spots. Thanks again!
Sherry Wilson
[returning]
- Georgia
September 22, 2022
---
---
↓ Closely related postings, oldest first ↓
---
---
Q. What is the best way to clean a conch shell. Found one in the attic, want to clean it up.
Nel Lull
- Crozet, Virginia
2003
---
Q. We just returned from the beach with seven conch shells. The conch has already been removed, but we would like to know how to clean the shell (i.e. remove the horrible smell, polish, etc). Can you help?
Jennifer Keeling
- Tulsa, Oklahoma
2003
---
Q. I am also interested in knowing how to clean the conch shell. I have a few of them from a trip to Greece. They were brown, and my friend had a bright idea to put them in bleach to clean them, so now they are white, but they can get cleaned. It's just a film like substance over the actual shell.
Thanks.
Kelly Mass
- Westfield, New Jersey
2003
---
Q. We just returned from the Caymans with a couple of conch shells. The conch has already been removed. I have soaked them in bleach to get them white, how do we clean the shell to get the bright color on the inside and get the shiny finish like the store bought one's.
Can you assist?

thank you.

donald basemore




- Conyers , Georgia




2003






---

Q. I have a conch shell from Bahamas. I removed the conch myself by simply pulling on it(probably a bad idea because it ripped off and its tip is still attached inside the shell). I want to know how to completely remove the conch and get rid of the smell. Thank you.

Inna




- Brooklyn, New York




2005





---

Thanks for the site! I followed the instructions and the conch looks great!
Jimena del Azar
- Toronto, Ontario
---
Q. I found a conch shell in Jamaica, but it's sort of brown and covered in a thin layer of something.... how do I clean it?
Corinne Schlick
student - Oceanport, New Jersey
2006
---
A. How to clean shells:
If the animal is still in the shell, you need to put the shell in some water and SLOWLY bring it to near boiling to "cook" the animal. (Good eating, usually!) Some shells are not compatible with boiling, as it may craze the nacre. Pull the animal out slowly after it is fully cooked and make sure that you get all of the liver out (the last little curly-cue part that is in the shell- dark colored).
Another method the get the animal all out is to place the shell on an ant hill. The ants will clean it out in a couple days, usually.



Once you get the animal out:

Cleaning seashells can be easy or hard depending on the condition of the shells. The best and simplest system for MOST shells (some are too fragile for this) is to soak them in diluted (1:1) bleach for 10 minutes to a few hours (depending on the degree of encrustation, etc.) then cleaning any detracious material from the surface with a pick, if necessary. Repeated bleaching could be necessary. The pariostricum (the "skin" that covers the shell) will come off in the bleach.

After the shell is clean, brush on some diluted mineral oil or baby oil.(some people use other oils). You can dilute it 1:1 with some lighter fluid or paint thinner (FLAMMABLE!). This will bring out the color and shine of the shell.

For a more professional method, use ultrasonic cleaning machine.
Sheldon
- Nassau, Bahamas
August 19, 2008
---
A. I live in Bequia, St. Vincent for 30 years; used to dive conch for food. Other than ants to clean them, we used to take fish hook, set into foot of conch and hang from tree over grass. After the conch died, weight of shell would remove the flesh.
bob demmans
- Sarnia, Ontario, Canada
September 11, 2009
---
A. I found the best way to clean Conch shells, once the animal is removed, is to soak the shell in a diluted solution of CLR and water to loosen the pariostricum (the skin covering the shell). While still wet, the skin will peel off like peeling an onion. Use a stiff brush and a pick to remove the hard spots. Let dry for a couple of days, then rub with mineral or baby oil to shine. CLR will not bleach out the shell and it will retain the beautiful color.
Karen Fickies
- Irons, Michigan
March 8, 2010
---
---
Q. I have a lot of small conch shells I picked up last week. I have soaked them in water and weak vinegar [affil link] water to get the odor out of them. When they dry they have a white coating on them that gets thicker as they dry. How can I get it off without harming the shell.
Bennie Watson
- Englewood, Florida
September 14, 2016
A. Hello Bennie, what you are probably seeing is salt that has leached out from the surface of the shell. In other words the weak vinegar [affil link] solution may have removed some of the salt, but not all. You may want to try using a baking soda paste, brush on a small area, rinse and dry. If that works you can get a bigger bristle brush and repeat the process. Rinse with warm water repeatedly. I wouldn't try using anything with more abrasion.
Mark Baker
Process Engineer - Phoenix Arizona
---
A. Before you try anything else, try rinsing the shell with clean tap water. If the color returns without any white discoloration while the shells are wet, let them dry completely and then brush on a dilute solution of mineral oil (dissolved in paint thinner or similar). This should return the original color.
If the color does not return when the shell is wet from the rinse water you probably have etched the surface slightly with the vinegar [affil link] (acetic acid). The dilute oil solution can still bring back most of the color probably.
You could send me a photo of one of them if you like and that might help us decide the best course of action.
Regards,
Lee
Lee Kremer
- Dayton WY
---
---
Q. Bought a conch shell from Maui. Brought it home and as soon as I took it out of the wrapping, I smelled the worst stench I have ever smelled. What I believe has happened is that they removed the animal, but not all of it. I have soaked it in bleach, used CLR, vinegar [affil link], baking soda and lemon juice. Nothing is seeming to work, as the shell still smells of dead bodies! HELP!!
Tiffany Kalbfleisch
- Boise, Idaho, USA
February 6, 2018
---
Tiffany:
Not sure which kind of shell you bought, but we have cleaned many shells with left over animal inside. If the shell is large enough, go outside and blast a hose into it to dislodge the animal parts that are deep inside.

If you cannot do this, put the shell into a bleach solution with the protoconch (the closed point of the shell) pointed down so that the bleach gets all the way down into the shell. Leave it that way for a few days. You will probably see some bubbles coming up out of the shell for as long as there is animal left in there to react with.

I would be happy to talk to you about it.
Regards,
Lee
Lee Kremer
- Dayton WY
---
Q. Hi Lee - I live on a sailboat in the Bahamas. Yesterday we found a huge beautiful king helmet conch. I would love to clean and keep the shell but the animal is still inside. I have no idea how to kill him quickly and get him out. Truth be told, I'm a bit squeamish about it. Any ideas? Thanks in advance.
Holli Holdsworth
- Bahamas
July 19, 2019
---
Q. I got a conch shell from Turks and Caicos and I have used bleach rubbing alcohol and CLR. I was able to get the brown skin off but now I'm seeing a weird green color on the outside and near the top of it. Is the green color normal or how do I get rid of it?
STEPHANIE BUSCH
- Crestwood, Illinois
August 1, 2019
A. The green color is not "normal", but it may be normal for this shell. Some shells DO have a green coloration. If DILUTE bleach does not remove it, it is probably in the shell itself. Or, it may be some calcium carbonate that has absorbed some color from the algae that was on the shell.
If it is under the nachor (the shiny coating on the shell) it is part of the shell itself. If not, the bleach will slowly remove it.
Lee Kremer
- Dayton WY
September 21, 2022
adv.
Environmentally-friendly Citric Acid-based Processes for Passivation of Stainless Steel