Live! From Pine Beach NJ: The world's most popular metal finishing website, and the internet's friendliest corner
topic 18854
Carbonate problems in Copper Cyanide Plating
2003
Q. I have a lot of problems with a high level of Carbonates in my copper CN bath. Why it grows so fast? How to reduce it?
Paulo
- Caxias do Sul, RS Brazil
---
2003
A. CARBONATE BUILD UP CAN BE BROUGHT DOWN BY CHILLING THE BATH OR BY TREATING WITH CALCIUM OXIDE, AND CARBON TREAT THE BATH, CARBONATE SETTLES AS CALCIUM CARBONATE.
Panjala Mukesh


fashion jewelry mfgr.
Hyderabad, India
---
2003
A. In the cyanide baths, the carbonate can be formed by different ways, but can be formed mostly by absorption of carbon dioxide from the air (reactions 1A and 1B) or by hydrolysis of the cyanide. 2XCN + CO2 + H2O = X2CO3 + 2HCN (1A),X: Na or K 2XOH + CO2 = X2CO3 + H2O (1B), X: Na or K Keep the concentration of sodium carbonate in the bath below of about 75 g/L (or below of about 100 g/L of potassium carbonate) The are two different ways that can be used to reduction of the carbonate concentration: one can be done by cooling the bath and other can be done by precipitation with barium hydroxide.
Jean Vicente Ferrari
- São Paulo, São Paulo State, Brazil
---
2003
A. Are you using air to agitate the tank , because that will push your carbonates as will a pump that is cavitating . The cooling of the tank will only work if you are using Sodium Cyanide, not Potassium .
Dave Brackenridge
aerospace plating - Germiston, South Africa
---
2003
A. 1. pH greater to 12
2. Temperature greater than 50 °C
3. CN frees Too much 30 g/L
4. NaOH too much :
Use H2O2 and activated charcoal
ivanoguera
universidad - Medellin-Colombia
---
2003
A. Whenever the topic of freezing out Carbonates arises, I feel compelled to issue a friendly bit of advice.
Throughout my career, I have heard knowledgeable platers talk about high carbonates. They were going to freeze it out by adding dry ice to the tank. Well "DON'T EVER DO IT."
Dry Ice is Carbon Dioxide, which forms Carbonic Acid in solution. This reacts with cyanide in solution and forms poisonous Hydrogen Cyanide gas. Repeat: DON'T DO IT.
Many years ago, someone published a "tip" about using a "Dry Ice Tube" in their bath to rapidly freeze out carbonates. A tube, sealed watertight at the bottom, was filled with dry ice and inserted into the cyanide tank. The carbonate crystals would form on the outside of the tube and could be scraped off and discarded.
Use refrigeration devices to achieve the carbonate crystallization. You may even have a special tank with freezer coils. If you also do hard coat anodizing, you may have surplus cooling available for this purpose.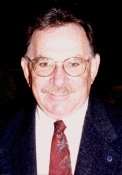 Ed Budman
- Pennsylvania
With deep sadness
we announce that
our friend Ed passed
away Nov. 24, 2018
---
-- this entry appended to this thread by editor in lieu of spawning a duplicative thread
Q. What kind of treatment can I use to reduce carbonates in a Cyanide Copper bath. I don't want use freeze method.
IBARRA GUADALUPE
SALES - MEXICO
---
December 1, 2009
-- this entry appended to this thread by editor in lieu of spawning a duplicative thread
Q. Does anybody know how to remove carbonates in a plain cyanide copper bath

Calcium hydroxide how much

Barium salts are any useful?

cooling the bath to 30 degrees?
Daniel Hernandez
plating shop - Bucaramanga Santander Colombia
---
August 12, 2013
A. For Calcium Hydroxide the reaction is 0.7 ounces of calcium hydroxide removes 1 ounce of carbonate.
The complete procedures for the various methods of carbonate removal are discussed in this paper:

nmfrc.org/subs/history/oct1953c.cfm
Steven Gorzo
- Calgary, Alberta, Canada
---
---
May 15, 2019
Q. We are having an unusual red color on the parts in a copper cyanide bath with 80 amp. We lower amps to 20 and the color is expected but the plating time is long, over 90 minutes in an usual 45 min plating desired time frame
1. pH is 14.7 (how can we lower it?)
2. Potassium carbonate's is 18.8 oz/gal ( We use potassium cyanide, Can we begin introducing sodium cyanide so we are able to freeze carbonates. Will there be or has anybody encounter any issues if we start adding sodium cyanide when we have a copper potassium cyanide bath? The tank volume is 635 gallons) KOH and Rochelle salts are at optimum concentration.

Your response(s) will be greatly appreciated.

Sincerely,
Maribel Tirado
- Santa Fe Springs, California USA


If you have a question in mind which seems off topic, please Search the Site