World's #1 on-line resource since 1989
-----
Antique mirror solution. How to antique a mirror
2002
Q. We produce mirror furniture. We mix our own silvering solution, and silver the glass. We have been antiquing the mirror using various materials, but haven't had good results. Can anyone suggest a chemical or formula that will allow us to get an antique effect on the silvered glass?
Evin O
[last name deleted for privacy by Editor]
- Yogyakarta, Indonesia
---
A. Hi, Evin

You are a furniture company already making silvering solution, and already silvering glass, and already antiquing it, with more experience than the rest of us -- so readers perhaps feel that if they take the time to make a suggestion, you will probably say "we already tried that, of course" :-)
So the way forward may be to tell us what you tried, and in what way the finish isn't satisfactory to you. From there people should be able to help you make progress. Thanks!
Regards,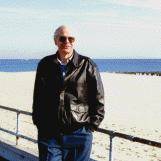 Ted Mooney
, P.E.
Striving to live Aloha
finishing.com - Pine Beach, New Jersey
---
---
-- this entry appended to this thread by editor in lieu of spawning a duplicative thread
Q. Can anyone help with instructions on how to make a new mirror look old. I am looking for something that gives a mirror that mottled faded aged look. I have heard that oven cleaner applied in patches to the back might do the trick?
Fenella Briscomb
- Sydney, Australia
---
Q. I am looking to faux some mirrors for a cabinet of mine. I would like them to have that old, distressed look as if the mirror is not longer clear and crisp. My guess is that a chemical treatment applied or splashed on the back would do, but how and what makes it the finish age? Any help would be greatly appreciated.

Randal Weeks




- Richardson, Texas





---

Q. How do I age a mirror ... Not the frame. I read an article about sulfamic acid. Not sure what to do?

Dana Taglienti




- Crofton, Maryland, USA





---

2003

Q. WHAT IS THE METHOD AND MATERIALS YOU NEED TO MAKE A MODERN MIRROR LOOK LIKE AN ANTIQUE VENETIAN MIRROR -- I.E., WITH STREAKS, SPATTERS, FOGGING, ETC.-SO THAT IT LOOKS LIKE IT HAS AGED NATURALLY OVER TIME.

Lisa G

[last name deleted for privacy by Editor]




artist - Houston, Texas




---
2003
Q.
I would also be prepared to try antiquing a mirror myself but as other letters ask, How do you do it? What chemicals do you us? I'd love to know!
Stella W
[last name deleted for privacy by Editor]
interior design - London, England
---
2004
A. To antique a mirror - FIRST be sure you have adequate ventilation AND protective respirator that is rated for more than dust and mist. You need the type that will protect you from chemicals, but not as sophisticated as to protect from light solvents. Use Rubber Gloves [affil. link to info/product on Amazon] and eye protection ( goggles [affil. link to info/product on Amazon]) too.
First, remove the "paint" backing that protects the silvering by using an ordinary paint remover [affil. link to info/product on Amazon] such as the stripper commonly used on wood furniture. Then, use NITRIC ACID which will remove the silvering by spattering it on the exposed silvering. This can be accomplished using an old toothbrush, dipping it in the acid solution and then brushing across another object (preferably plastic or glass) to flip small, random droplets onto the surface of the silvering. You can also put the acid exactly where you want it with a toothpick or for larger "damaged" areas, just pour a very small amount onto the place you want to remove the silver. The longer the nitric stays on the surface, the more damage it will do. This stuff is STRONG and works quickly. Dilute it with distilled water until you achieve a strength that works for your purpose. Start weak and work to stronger. Mirrors can't successfully be re-silvered in patches.
Nitric acid is available at laboratory supplies, chemical supply houses. Don't put it in contact with ANY metal.
GAIL
(my full name is GAIL legally!)
artist - Sedona, Arizona
---
2004

Gail, thank you for giving us an answer. I knew there was somebody out there that had to know. I am going to follow your instructions on a project, I can't wait to see how it turns out.
Once again, many thanks,
Belinda Amedee
- Gonzales, Louisiana
---
---
2004
Q. Hello all,
I am a designer and am interested in working with mirrors that have transparent panels in them. Nothing complicated, but I am looking for a way to remove the silver backing from a rectangle in the middle of a mirror to be able to show an image through the middle, from behind. I have seen several suggestions of chemicals, such as nitric acid, however I assume that these chemicals are hard to mask off. Can anyone advise me of a suitable way to do this, or of a premixed solution made for the purpose that I may be able to get my hands on?
Many thanks.
Tobias
[last name deleted for privacy by Editor]
designer - Edinburgh, U.K .
---
2004
A. To expose a window in the middle of mirror , you can set a border using masking tape , strip the paint backing with paint remover that only contains waxy suspension of Halogenated Alkyl ( in some case Methyl Chloride or else ), after paint totally removed , clean the waxy leftover , and with the tape border still attached , just remove the silvering using a metal polishing PASTE product like Autosol [affil. link to info/product on Amazon] and brass cleaner like Brasso [affil. link to info/product on Amazon] or silver polishing paste. To achieve antique effect , the main principles is to expose the silvering layer from behind, and use vary chemical to achieve different effect. To get "sepia" color , use diluted Black and white Photochemical for B/W pictures, that is compatible with silver system. Because Black and white sepia photos pigmentation mostly based on Organic Silver Complex. To make brown , use Sulphur salt (sodium thiosulphate [affil. link to info/product on Amazon] , Dithiosulphate and combined with perchlorates ).
Good luck guys.....
Wen An-Lee
furniture & interior metal crafter - Semarang, Central Java, Indonesia
---
---
2004
Q. Not having any success with making sepia or brown tones on mirror. New at this so forgive the dumb questions but: 1) is final "mirror" side the silver-treated side or the plain glass side? 2) Which black and white photo chemical gives sepia tone ?--developer or another one? 3) You have to re-paint the "back" side again, yes? With what? Black acrylic paint? Any suggestions greatly appreciated!
Jan Holland
- Minneapolis, Minnesota
---
2005
-- this entry appended to this thread by editor in lieu of spawning a duplicative thread
Q. DEAR SIR,
I WANT TO MAKE MIRRORS ANTIQUED FROM THE BACK , MIRRORS THAT LOOK OLD WITH SOME ANTIQUE STAINS , WHAT ARE THE MATERIAL OR PRODUCT USED TO DO THESE MIRRORS AND HOW TO DO THEM.
THANK YOU FOR YOUR HELP.
MAY KAZMA
INTERIOR ARCHITECT - TOURISM AREA, ABU DHABI, U.A.E.
---
2006
Q. Dear sir

Thanks for information and I know about silver colour antique mirror making. But I want to make a different color like brown. Yes you say brown is made using sulphur salt (sodium thiosulphate, dithiosulphate and combined with perchlorates) but how can I make?
What is the mixing, another acid? Please tell me the details.
Ok thanks for information.
Abul Rasheed Noushad
- Kuwait
---
2007
A. All you need is Goof Off [affil. link to info/product on Amazon] and 0000 steel wool [affil. link to info/product at Rockler] (a fine grade).
Emily B
[last name deleted for privacy by Editor]
- Sandy, Utah
March 10, 2009
Q. What was Emily in Sandy's procedure on the steel wool and Goof Off [affil. link to info/product on Amazon] for antiquing a mirror
maryann m
[last name deleted for privacy by Editor]
designer - lehi, Utah
---
---
2007
Q. I understand that antiquing mirror is quite easy. Just strip the back with a metal stripper, wipe on liquid Drano [affil. link to info/product on Amazon] or splatter. Dry and Paint to seal. Has anyone used this technique?
Hillary Hamilton
- Texas
---
2007
I'd hesitate to claim that something is quite easy if I haven't done it, Hillary. Please get back to us after you've tried it! :-)
But be careful with Drano, and be sure to wear Rubber Gloves [affil. link to info/product on Amazon] and goggles [affil. link to info/product on Amazon] as a minimum; it's dangerous stuff. Good luck.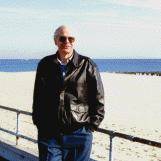 Ted Mooney
, P.E.
Striving to live Aloha
finishing.com - Pine Beach, New Jersey
---
---
January 7, 2008
Q. I have stripped the back off a mirror and I want to create a fog or slight gray effect when viewed from the front side.
Charlie Taylor
shop - Dallas, Texas
---
February 20, 2008
Q. I am trying to tarnish the silver on a mirror without removing the silver from the glass. Any way to do this?
Christopher Carnino
vintage store - Los Angeles, California
---
July 22, 2008
A. This is a simple one for antiquing any silver surface. For a mirror you would want to either selectively strip off the protective layer or remove it completely. You could use paint thinner or anything else you like that removes paint.

Once you get the silver exposed the way you like simply apply straight bleach. It "blackens" silver almost immediately. It won't give you a solid black but will give a dark smoky gray or charcoal color. It can eat through the silver all the way to the glass so experiment on a scrap mirror first.

To stop the tarnishing reaction just rinse it off with plain water.

No dangerous chemicals beyond normal laundry bleach and safe easy cleanup.

Be careful of your clothing/jewelry and work in a well ventilated area!
Jason B
[last name deleted for privacy by Editor]
- San Francisco, California
---
July 25, 2008
Q. Thank you to Jason B and GAIL for the techniques to antique mirrors.

I still have two questions:

1) Can you use the nitric acid technique to "cloud" the mirror? I want to create a fog or slight gray effect.

2) Do we have to reseal the back after the antiquing process?

Thanks for the help and information.

Janet
Janet Knapp
Tampa, Florida
---
---
November 18, 2008

I am not familiar with this website. I am just a craftsperson, not a business. How do you find the answers to these questions regarding aging a mirror? Thanks,

Barbara M

[last name deleted for privacy by Editor]




- Willits, California





---

November 19, 2008

Hi, Barbara! It's not a consulting service, it's just 50,000 different threads of ongoing discussion, with a continuing list of both questions and answers -- whichever the next reader offers.

If what has been offered to date isn't answering the questions you have in mind, please ask them specifically. And while you're waiting for a samaritan to assist you, please try to help someone else with their questions. Thanks!

Regards,

Ted Mooney

, P.E.

Striving to live Aloha




finishing.com - Pine Beach, New Jersey
---
---
November 21, 2008
Q. I am in the process of looking to buy an extremely large mirror and I want to age it. I would love to have it take on some oxidized-copper like greens, and get milky and foggy. can anyone give me any advice on how I would be able to achieve this?...I am really just looking to experiment with many different types of "finishes" so any and all advice would be much appreciated.
thanks
Rob
Rob C
[last name deleted for privacy by Editor]
Designer - New York, New York
---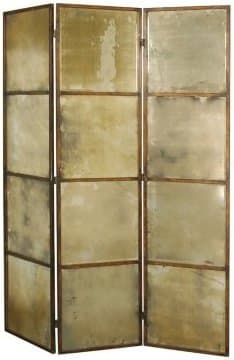 December 1, 2008
Q. I would like to know if a lay person can achieve the look of this mirror =>
I would be the lay person. I really want exactly this mirror (wall divider), but my budget is laughing at the $800 sticker price. As you can see, it's the green/brown sepia foggy tones that an earlier poster inquired about. I don't see that anyone has so far stumbled across this page with help on this type of aging in particular. My brain is cowering at the idea of burning a big acid hole through my arm. My eyeballs can't stop looking at this mirrored divider as the only one in the whole world for me. What to do, what to do.

Sarah Urban
- Houston, Texas


---
February 20, 2009
Q. I am very struck on antique mirror technique. So, I want to ask some questions:

1)Where can I buy things which are needed to antique the mirror? Can you recommend some web sites, where I can do that?
2)What things or chemical preparations I need to antique a mirror?
3)Maybe, you have some instructions how to do that?
Neringa Vasiliauskaite
stained glass - Lithuania
---
March 30, 2009
Q. I have a huge mirror which I have already aged. What do I seal the back with?
Nancy Chesser
- Greenville, Delaware
---
April 13, 2009
A. www.hgtv.com/holidays-entertaining/distressing-mirror/index.html is a pretty thorough how-to that I am going to try soon.
Somhairle Wylkenn
- Lynchburg, Virginia
---
April 17, 2009
Q. hello,

I would like to use the antique method on a mirror, however I would like to make patterns on the mirror with the acid. Is this possible and what is the simplest way to do this? Is it also possible to colour a mirror, such as yellow, orange or even green, but still keep it's reflectiveness?
Shelly Kenny
interior design student - Durban, KwaZulu Natal, South Africa
---
October 8, 2009
A. Dear All,
The antiquing of a new mirror sheet is not an easy task. On behalf of my UK clients I have tried and co-operate with several factories and glass experts. The patina itself is just silver oxidation usually in progress which, means in certain time the reflective silver layer is taken over by the oxidation. According to my experience if you try to apply chemicals, you can achieve certain oxidation, but is difficult to achieve it evenly . Basically after trying variety of methods we had on one part of the mirror big stains -- ugly marks on the other side it was nicer (small drops ) To do a nice patina on a mirror we decided to go for specialised glass sheet supplied by Italian and German manufacturers. In following my supplier cuts and silverizes by hand method (still needs quite sophisticated environment and equipment) the sheet . The result is nicely and evenly patinised mirror with stopped and controlled oxidation. In majority of the cases I would definitely drop the idea of doing it DIY and buy the patinised mirror cut to the order. It is not that expensive. Best regards
Milan STRITESKY
business network - PRAGUE, Czech Republic
---
April 4, 2010
A. I had researched this process intensively and asked at various craft and home improvement stores for products to achieve this effect. I successfully antiqued the glass of a 2'x 3' mirror using the following: Paint stripper to remove the paint on the back. I used an aerosol paint stripper as I wanted small spots revealed. A plastic putty knife removed the paint after only 10 minutes. Once the paint was removed and wiped clean,I used straight muriatic acid in a spray bottle(used for etching concrete, recommended and purchased at a home improvement store),allowed it to work on the silver and then rubbed with a cloth to remove in various degrees (smoky to clear). I rinsed with water, allowed to dry, and then recoated the back with black and copper spray paint, to achieve the antique finish I wanted. It was quick and effective! The whole process took about 1.5 hrs. I intend to do this process again using lines to give a semi-marbled antique finish. I am extremely satisfied and proud of the results!
Collen Madere
- Colorado Springs, Colorado, USA
---
---
February 10, 2011

I'm going to try it! I just worked on eglomise on glass. Soooo hard to get the mix. I'm moving on to purchasing a mirror and distressing it. Awesome ideas from everyone. I'll post after I experiment. I'm going with the stripper and muriatic acid spray bottle tech. Then I'm going to put silver and black acrylic on back, 2 coats. I'll send pics when I'm done.
Christy Karsten
- San Juan Capistrano, California
---
April 3, 2011
A. Finally did it. I had a mix of clorox 50/50 and full strength and a mix of half muriatic acid and full muriatic acid. The acid worked so quickly, 15 min. removed all the silver, even the diluted one. The clorox did the coolest treatment. I removed the paint with a stripper, super easy and only took about 15 minutes, scraped it and it was ready. I washed it off and let it dry. I am going to do my big mirror and try the acid diluted sprayed on out side. I also painted it with black acrylic and then did a silver paint and while it was wet mixed it with black. Think it looks kind of cool mixed up silver and black.
Christy Karsten
- San Juan Capistrano, California
----
Ed. note -- Readers: Don't read too fast and mix clorox with acid. That's very dangerous, as you'll read on the bottle!
---
---
December 21, 2011
Q. Is there any way to distress a mirror that is installed already onto a wall? The whole wall is mirror and I would like to antique it. After reading this I doubt it, but maybe there is a way?? I cannot remove it from the wall.
Melissa Fina
- Tucson, Arizona, USA
---
December 26, 2011
Q. This is wonderful information. Does anyone know whether any of these would be safe to use on acrylic mirror? I am trying to find pre-distressed acrylic mirror as an alternative to attempting the distressing myself, but have had no luck. many thanks!
Samantha Peterson
- Hahira, Georgia
---
February 23, 2012
Q. I would like instructions to create an antiqued mirror starting with clear glass.
kathy cox
- myrtle beach, South Carolina usa
---
August 17, 2012
A. Kathy: I was researching on Antiquing mirrors and came across Martha Stewart How-To Video on how to Antique a Mirror. It was very interesting -- she actually used silver leaf. You may want to check it out:

www.marthastewart.com/918205/making-mirror-look-antique
Mita Delizo
- Round Lake, Illinois USA
---
---
March 23, 2014
Q. I have a built in wall mirror that is tarnished -- peeling rolling silver. My husband wants to replace it with a new mirror. Is there value in preserving it?
Fran Nelson
Owner - Hilbert Wisconsin USA
---
April 11, 2014
Q. I have a new mirrored chest and want to age the mirrored areas and distress the trim. Is there a way to age the mirror from the front. Can't take it off the furniture piece. Thanks , Fran
Fran Harmon
- Nashville, Tennessee USA
---
April 2014
A. Hi. The silver is on the back side of a mirror because glass makes a good front surface -- it's readily cleanable, hard to damage, doesn't catch dust, etc. I doubt that any kind of paint you put on the front of the glass to color it would be very satisfactory. Sorry.
Regards,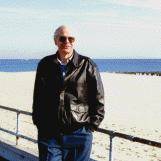 Ted Mooney
, P.E.
Striving to live Aloha
finishing.com - Pine Beach, New Jersey
---
November 20, 2014

After doing MUCH research on the topic of antiquing new mirror, here is what I have found and will reply back with my results when finished. You HAVE to remove the paint from the backside of the mirror first. This is NOT easy! After purchasing paint stripper from Home Depot with NO results, I have resorted to Aircraft Stripper (hoping for the best). Next, I will patina the silver with bleach on one mirror and with muriatic acid on the other. I will let you all know what happens. Wish me luck!
wendy pietri
Homemaker - Memphis, Tennessee
---
December 2014
!! Hi Wendy. Be really careful. Aircraft stripper is methylene chloride, which is very aggressive towards paint, but really toxic. Do it outdoors and standing upwind, wearing rubber gloves and goggles as an absolute minimum.
Muriatic acid is also quite hazardous. But the real reason I'm writing: don't even think about mixing bleach and muriatic acid! In substantial quantity, this has caused whole towns to be evacuated as it generates clouds of deadly chlorine gas. Never mix bleach with anything except water and laundry detergent.
Regards,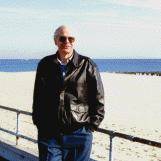 Ted Mooney
, P.E.
Striving to live Aloha
finishing.com - Pine Beach, New Jersey
---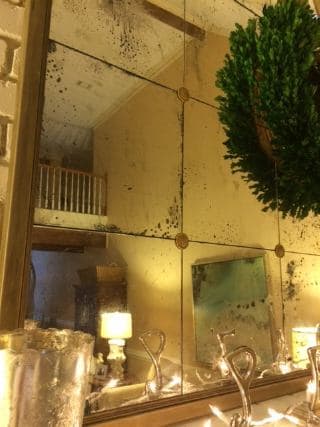 December 4, 2014
No worries!! I used it all outside and would NEVER mix anything with muriatic acid. Certainly NOT bleach. I was just trying two different ways of distressing the mirror. The bleach DID NOT work but the muriatic acid worked like a dream - but very quickly. I have posted my results and complete instructions on how to do this at
www.thepietridish.com/antiqued-mirror-diy/#more-404
I was very very pleased with the results and now I know all the does and don'ts and what will work and what won't. Hope this helps your readers.
wendy pietri
[returning]
- memphis, Tennessee usa
---
January 2015
Hi. That's an excellent link, Wendy. Nice work!
Regards,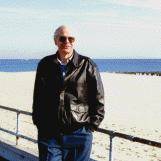 Ted Mooney
, P.E.
Striving to live Aloha
finishing.com - Pine Beach, New Jersey
---
January 29, 2016

Wendy Pietri, I tried visiting your website for your tutorial and I can't find it anywhere. It looks like it is down ... I'd love to see it!
Christi Noebel
Photographer - Dallas, Texas, USA
---
January 2016

Sorry, Christi, that's the way the web is, with links that don't usually work for long :-)

That's why we try our best to get people to post their answers directly here on this site (which has been running uninterrupted for over 20 years), rather than posting links. We will try to reach Wendy, and we'll be very happy to put her content here if she wishes. Often, people try to make advertising revenue from their work (as indeed do we, so we certainly don't blame them), so we understand that sometimes they're not willing to do that.

Regards,




Ted Mooney

, P.E.




Striving to live Aloha




finishing.com - Pine Beach, New Jersey




---
Antique mirror - need help creating specific finish
August 29, 2015
Q. Hi,
I have been creating mirror finishes for some time but have come across a finish I don't know how to create for my client. I thought maybe somebody with a chemistry knowledge could tell me what was sprinkled on the silver to get the effect in the photo I have attached.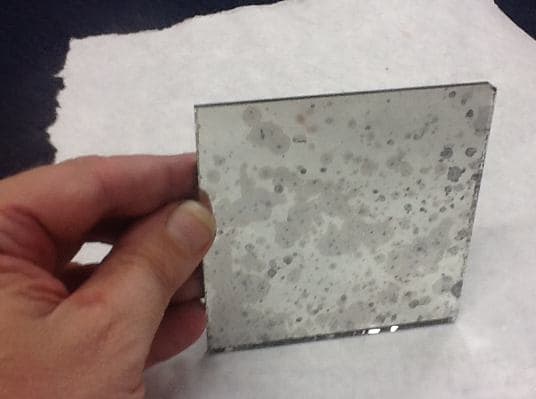 The back of the sample is bumpy so I know some sort of crystalline substance was used. If anybody has any ideas I would appreciate your help.
Regards,
John west
artist - san rafae, California USA