Live! From beautiful Pine Beach New Jersey: Welcome to the world's most popular metal finishing website
topic 18496
Polished versus ground finish on stainless steel
2002
I am having the inside of a valve reworked by a machine shop. It currently has a polished finish. They claim that by having the inside ground it will have a smoother finish than boring the valve body and then having it polished at another facility. They also told me it will have a matte finish as opposed to a shiny finish. I'm wondering how it could be this smooth without a polished surface? The flow characteristics are fairly important to this application and I would like to minimize adhesion of the product even though it is a pellet type of material.
Rick Morgan
- Pasadena, Texas, U.S.A.
---
First of two simultaneous responses -- 2002
Strictly speaking they are unlikely to be correct. However if your purpose is to retain the "flow characteristics" then for that purpose they may in fact improve them. If you mean to not increase friction, in some fluid flow conditions, it is less on a fine matte finish. That is why globules of water form on shiny surfaces but spread out on dull ones. But I would think that the "form losses" of the valve far exceed any frictional losses, unless the barrel is particularly long. Also a dimensionally "true" surface, generally characteristic of a ground bore compared to a machined one, would be more important than any difference between a finely ground surface and a polished one.
Mick Elmes
- Howick, Auckland, New Zealand
---
Second of two simultaneous responses -- 2002
I think your question is better answered by someone familiar with machining and tooling. However, the basic premise of having the smoothest I.D. possible is correct for flow and probably the best machine system capable of achieving this is an abrasive flow machine. This is something like pushing silly putty through the valve in the direction of the flow. I don't know how machining compares to this method of polishing.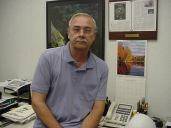 AF Kenton
Hatboro, Pennsylvania


If you have a question in mind which seems off topic, please Search the Site