Live! From beautiful Pine Beach New Jersey: Welcome to the world's most popular metal finishing website
topic 18254
Steel rust-inhibiting options showing steel material color
2002
I intend to have an exposed couch frame fabricated of standard medium gauge square steel tube. I would prefer NOT to have a painted or galvanized finish, and would like to see the metal itself (even if this may be slightly tinted). However, I live right next to the ocean, in a heavy salt air environment, so the typical rust problem is exacerbated. Are there any treating/coating/plating options (besides a clear paint sealer coat)? For example, would pickling provide corrosion resistance?
David Rockwood
- Honolulu, HI, USA
---
First of two simultaneous responses -- 2002
Sorry, but I don't think there is a solution within your parameters. Steel rusts, and if you don't plate, paint or clear coat it, it won't stay metallic looking. You might widen your options to include some kind of brushed or matte nickel look. That might look a lot like steel but won't rust.
Ted Mooney, P.E.
finishing.com
Pine Beach, New Jersey
Striving to live "Aloha"
---
Second of two simultaneous responses -- 2002
The unalloyed steel that you are using does not contain any chromium to react with a passivating liquid to give a protective layer. (With stainless steels, it is the chromium in the steel that gives the protective surface layer a few molecules thick when treated with an oxidising solution - there is no chromium in your steel). Looks as though you'll need a clear paint layer - polyurethane or similar.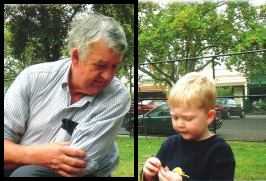 Bill Reynolds
consultant metallurgist
Ballarat, Victoria, Australia
We sadly relate the news that Bill passed away on Jan. 29, 2010.
---
2003
Spray on/wipe off Boeshield T-9 [linked by editor to product info at Amazon], (developed by Boeing and now licensed to a 3rd party chemical processor/distributor.)
The stuff has quite a pedigree and was developed to inhibit corrosion/oxidation on ferrous and aluminum alloys. It meets BSS7220 and FED-STD-791, Method 4001 (Max. 3 dots 1mm per 10 square inches after 100 hours salt spray). It also meets ASTM G-34(Exfoliation Test).
Actually, all you need to know is to spray on/wipe off. It's an extraordinary penetrant. In your case of a coastal environment, repeat the process every 6 months, which takes mere seconds. It's a clear material and leaves a wet-look shine like spraying on WD-40 [linked by editor to product info at Amazon]. However it mysteriously stays that way for months.
Hope this helps, Greybeard
Lynn M. Perry, Sr.
retired - Plano, Texas
---
2005
I am working with some old rusty sheet metal (orange, reddish and bluish)for a sculpture that I would like to protect with a finish that will not change the colors but prevent the rust from rubbing off or changing. I tested a clear acrylic spray and it darkened the orange color to a dark blue. Any suggestions on what to use.
Kayhan
sculptor - Montana


If you have a question in mind which seems off topic, please Search the Site