Live! From beautiful Pine Beach New Jersey: Welcome to the world's most popular metal finishing website
topic 18159
Finish Grinding Stainless
2002
I have been put in charge of a project at my job which involves finishing a part made from stainless steel. The part must have a vibrated finish and I am having a hard time covering grind marks and scratches that exist on the surface. I am using special stainless grinding wheels which work well for the welds however when I try to vibrate the surface to match, all of the blemishes and scratches are being very stubborn. I think I am looking for a special pad for a 6 inch oscillating grinder to leave the desired effect.
Any help would be greatly appreciated.
Thanks,
Richard Sullivan
- Burlington, MA, U.S.A.
---
First of two simultaneous responses -- 2002
Sounds like you have solved your own problem. Use a random orbital sander and stick on discs. Be careful to use only discs that are guaranteed not to have iron in them. Sounds crazy, but some aluminum oxide discs were tested recently and were found to have 1.6% iron by volume and they DID cause a problem on 300 series stainless.
Dan Weaver
- Toccoa, Georgia
---
Second of two simultaneous responses -- 2002
Most companies try to avoid hand labor, meaning that I think you should be able to achieve the results you are looking for using vibratory equipment and media. However, if you have a small quantity, you should be able to pick up non-woven pads at most supply dealers.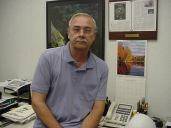 AF Kenton
Hatboro, Pennsylvania


If you have a question in mind which seems off topic, please Search the Site