World's #1 finishing resource since 1989
No login needed: Chime right in
topic 1886
I need Help!
We are looking for a finish applied to hydraulic cylinder rods that can withstand the corrosive affects of a maximum 10% muriatic acid solution applied intermittently. The rods are steel and we have used chrome plated finishes, and now currently a ferritic nitrocarburizing heat treatment that has a subsequent oxidizing quench+polish+quench treatment performs slightly better. Both finishes provide the wear resistance we need but once corrosion starts on the surface it generates damage to the seals and the cylinder begins to leak.
What other finish options are available? Can the rods be electroless, or electrolytically plated with nickel to provide wear and corrosion resistance? Can the surface finish needed be achieved with nickel? Any thoughts, comments, suggestions would be greatly appreciated.
Thank You.
Sincerely,
Bob Hathaway
---
1998
Chrome is stripped by HCl, so that is a bad choice. I would consider making the rods out of 316 or 321 SS. Probably cheaper in the long run. Electroless nickel, particularily a high Phos, like 12-14% will give better corrosion resistance than nearly any other finish. Half a thou is absolute min, a thou would be better and 1.5 thousanths will give very good wear and corrosion resistance.
James Watts
- Navarre, Florida
---
1998
I suspect the 316 stainless steel would not have the strength or wear resistance that you need for a hydraulic cylinder. Electroless nickel as Mr. Watts suggests should be provide good resistance to occasional dilute HCl and have the good hardness needed for wear resistance.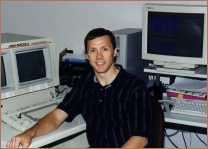 Larry Hanke
Minneapolis, Minnesota
---
1998
Using stainless for the rods should pose no problems. We repair hydraulic rods in the field all the time, and recently I have been seeing more stainless rods being used in marine environments. We recently did a job in L.A. harbor where the container cranes had almost all the rods damaged during construction of the cranes at the port (careless ironworkers).We had to make repair at 242 feet. The cranes were from Mitsubishi and the stainless rods were from Japan. As far as wear goes, there should be a negligable amount of wear from the rod going through the seals.
Tom Sivula
plating shop - Harbor City, California
---
1999
I found this question this morning, so although my reply is probably too late, here goes anyway. Oleo are manufacturers and global suppliers of hydraulic buffers and sonetimes have to plate plungers to withstand 'Hostile environment' i.e. salt water spray in dockside applications. A process we have found very effective is to chrome plate on a bronze substrate as opposed to nickel. Hope this is of interest.
Mike Kavanagh
- Coventry, England
---
2000
WE ARE INTERESTED IN CHROMIUM PLATED ROD AND HONNED CYL.IN LENGTHS OF 7 TO 10 METERS FOR HYD.PISTON APPLICATIONS ALL BEST ONNIG
ONNIG BABIKIAN
HYDRAULICS - BEIRUT/LEBANON