topic 1871
Pitting in hard chrome plated steel
A discussion started in 1998 but continuing through 2018
(1998)
Q. Our customers have encountered pitting in hard chrome plated, medium carbon steel bars. Pits are scattered in a 1 1/4 to 1 1/2 inch band along a 2.5" round bar. Cross section of the defect shows it to be spherical, extending into the metal under the chrome. The pit is smaller at the top than in the body of the pit.
What could cause this? Porosity in the steel has been ruled out due to elongation from the rolling reduction.
Dennis H
[last name deleted for privacy by Editor]
St. Paul, Minnesota
---
(1998)
A. Sounds like a gas pit, from your description. Search (using the search engine at top of this page) these letters from www.finishing.com/letters under hard chrome or chrome to find references for troubleshooting of chromium plating solutions; search for Meng and Guffie, I believe.
Tom Pullizzi
Falls Township, Pennsylvania
---
A. After listening to a talk on substrate related defects by Atotech's Alan Jones a couple of times now, I lean towards thinking that the easiest to fix cause of pitting is dirty emery cloth. Throw every piece of sandpaper and sanding cloth on your machinist's desk away; buy fresh; and let us know what happens :-)
Ted Mooney, P.E.
finishing.com
Pine Beach, New Jersey
---
(1998)
A. It sounds to me like the pits are due to corrosion. The undercut shape is the classic shape for pitting corrosion. Are the pits found immediately after plating or after some time in service. Pitting like this is often due to corrosion in aqueous chlorides. Pits can initiate at cracks and porosity in the chromium if there is no nickel plating under the chromium.
If the band is longitudinal, it could be corrosion along the bottom of the bar while laying on a wet surface. Further analysis, such as SEM/EDS, to see what chemical contamination may be inside the pits may help to find the root cause.
Larry Hanke
Minneapolis, Minnesota
---
---
Pitting is only on top surface of chrome plated parts
(1998)
Q. I had previously posted a message about pitting on hard chrome plated C1045 carbon steel. I have recently learned that the band of pits is always on the top of the bar as it would sit in the plating tank.
Does this suggest anything? Why would the top surface be more likely to pit in a commercial bath.
Thanks
Dennis H
[returning]
steel, St. Paul, Minnesota
---
(1998)
A. Dear Dennis ,
I suggest that the most probable cause of the pitting is gas pits , and this is being caused by insufficient solution agitation around the workpiece , if you are running a proprietary bath , you will find the suppliers have a mountain of recent information about filtration and its use in agitation of chrome baths and the dramatic effects this is having on both hard & decorative chrome solutions .
Best regards
John Tenison - Woods
- Victoria Australia
---
---
Steel bars can be chrome plated vertically despite sulphur stringers -- but not horizontally
(2000)
Q. My company is UK producer of hard chrome plated steel bars for use in hydraulic cylinder ram rod production. Over the last 15 years we have plated bar in horizontal plane.
During this time we have encountered pitting along the top section of the bar for it's length. The pits are 0.01/0.05mm in diameter and are not through to the base material, they are plated to the bottom of the pit. The pit is smooth and the condition of the as plated bar is bright and very smooth. The deposit of HEEF 25 is .0008"/.0012". The solution balance is perfect in accordance with Atotech recommendations. There is low Trivalent and almost zero Iron. Total oxides are less than 5 g/l. chrome to sulphate ratio is 100:1. Micro cracking is good. Temperature is 54 - 58 °C.
Our material is polished to the highest possible standards achieving 0.07 Ra < 5 CLA. Polishing is carried out using 4-head linishing machine and final polishing with 800 grit silicon belts.
Cleaning and etching is carried out in special cleaning tanks and not in the plating solution.
Recently we have two batches of material from different suppliers (2-1/4" dia.) in a 20MnV6 material (modified EN14 or 1020 medium carbon with vanadium). One batch pitted while the other did not. Both batches were plated at the same time in the same tanks (20 tonnes over two days)
Our research has concluded that the pitting problem is due to material having sulphur stringers causing excessive gassing at the upper most surface. We have found this problem on several casts of material over the last 15 years and no chemical or mechanical changes in our process can overcome this problem. Atotech UK have worked with us over the years and are also unable to find a chemistry solution to the problem.
We are convinced that the problem cannot be overcome when the bars are plated in the horizontal plane but will be perfect in the vertical!
If anyone is able to suggest another cause or offer a practical solution I will be pleased to hear from you.
Stephen D. Jones
- UK
---
---
March 31, 2011
-- this entry appended to this thread by editor in lieu of spawning a duplicative thread
Q. I use a dilute bath for hard chrome plating on Nickel, not iron or steel. 33 oz / gal of Chromium and .33 oz / per gallon catalyst (sulfuric acid). My own readings tell me I am close to where I should be. I am getting pitting on my chrome. Any suggestions?
Dave Kiminki
Plating shop - Ft. Worth, Texas
---
---
Filtering hard chrome plating solution to stop pitting
May 15, 2014
Q. We have had some pitting problems in our Hard Chrome deposits which we feel are being caused by tiny pieces of sediment or other adhering to the surface of the the part during entry into the bath and creating a pit in the chrome plate. We are happy that our preplate procedure is correct and there are no defects on the surface before plating. Although we ensure that the surface of the bath is kept free of any floating material or other debris, is it possible that tiny particles could adhere to the part below solution level?
If this is the case, how might we filter the bath bearing in mind that it is a 10 foot deep 7000 litre plating solution?
The current being applied to these parts is 1500 Amps.
Frank. Dunleavy
Aerospace - Ireland
---
May 2, 2016
A. This seems to be caused by Hydrogen gas.

Hydrogen gas is given off at the part being plated, as a result of the hydrolysis of water in the bath. As these hydrogen bubbles evolve, they must dislodge themselves from the plated surface. If they do not dislodge, the gas bubble serves as a barrier to plating, because chromium ions in solution cannot come in contact with the part. The shape of a pit can help to determine its cause. If the pit is shaped like a tear drop, hydrogen gas pitting is the likely cause. Increasing the electrolyte solution flow past the surface of the part may help to eliminate hydrogen gas pitting. In some situations, this can be accomplished by pumping solution.
Justin Barber
KYB America's Corp "Production Engineering" - Franklin, Indiana
---
---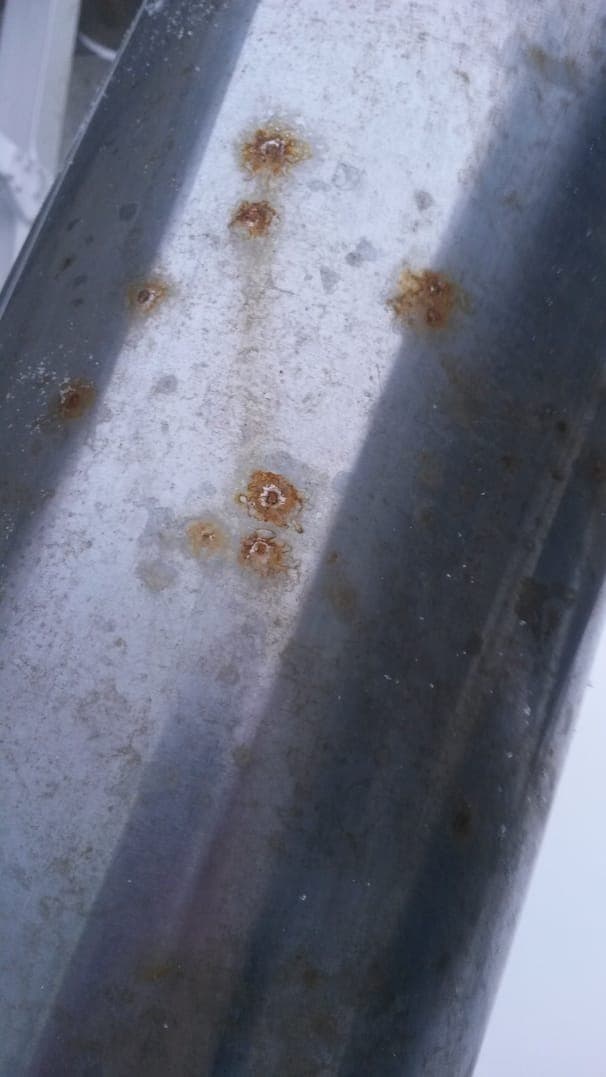 April 4, 2018
Q. We are experiencing a pit like appearance on hard chrome surface on piston cylinders after only a few weeks operation. The chrome layer was done in 3 layers with total 50 micron thickness, what is the probable cause for this defect?
Andfinnur Thordarson
- RVK, Iceland
---
April 19, 2018
A. Could you describe the 3 layer process you are applying the hard chrome? I have a strong idea what this may be.

We had a cylinder that someone needed 200um on and originally thought to prevent cracks/deformation we would do it in runs of 4, but got similar results to what you are describing, our deduction was that this was something to do with hydrogen release after re-immersion. In that case we developed a special jigging system and agitator to get customer requirements. The job was far from a smooth finish but they were thrilled!

50 µm is hardly thick in hard chrome terms, have you considered leaving it in the bath? If not this has the part been pickled prior to plating?
Oliver Gwynne
- Bradford, West Yorkshire


This public forum has 60,000 threads. If you have a question in mind which seems off topic to this thread, you might prefer to Search the Site