World's #1 finishing resource since 1989
No login needed: Chime right in
topic 1800
Keep aluminum pool ladder shiny
1998
I have built an aluminum ladder to go in my swimming pool. It is polished to a high luster (pretty) and I need a coating to protect it.
I first considered using clear polyurethane, but decided to try a silicone-based boat polish advertised for fiberglass and aluminum boats that was supposed to last for a year in salt water. It lasted for less than 24 hours in chlorine water! The ladder will now need to be re-polished (I guess, if the coating I use will work on a polished surface) since it is now pitted from the corrosion. I would appreciate any advice that anyone could give.
Thanks, Jack
Jack Hamlyn
---
1998
Often when aluminum is used for your application it is anodized before it is clear coated. The anodize seals the surface and makes it more chemically resistant.
Since you can not anodize the ladder I suggest you go to a marine supply store or supply house for swimming pools and obtain their recommendations.
You need a method and material to clean oxides before coating and clear coatings that will resist the water and chemicals in a pool.
Typically these suppliers have one resident expert or knowledgable person be sure you speak with him.
Good luck!
Ty
Tyrone L. Caley
jefferson City, Missouri
---
1998
You should be hi polishing the part and then using bright dip & clear anodize.
David A. Kraft
- Long Island City, New York
---
1998
Aluminium pool ladder , a really bad idea . The chlorine will wipe it out unless you can totally seal the surface . I would suggest hanging a lump of copper near to it , apply voltage and save a fortune on pool chemicals . With the money you save buy a stainless steel ladder to replace it once it dissolves.
Dave Brackenridge
aerospace plating - Germiston, South Africa
---
1998
Hi Dave,
Even if the cathodic protection device you describe would work, I would not step onto a pool ladder with wires hanging off it even if 100 engineers dressed in white robes were singing Gregorian chants to the Electrical Code:-)
How about a piece of magnesium bolted to the aluminum (scrap off the anodize to make contact), after Dave Kraft has anodized and sealed it? Durney's Handbook has Mg at -1.55 volts and Aluminum at -1.33 volts on the electromotive series.
Regards,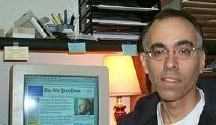 Tom Pullizzi
Falls Township, Pennsylvania
---
1999
I didn't build my own but I'm trying to salvage one. I first soaked it in vinegar for 48 hours to soften the barnacles (in the pool for 1 season). Then I scraped them off with a plastic scraper, rinsed it and got a bit disappointed. The pits are rather deep, perhaps 1/32". Cleaned it up with 150 grit Sandpaper [affil. link to info/product at Rockler] and then #0 0000 steel wool [affil. link to info/product at Rockler] to restore some of the pretty state. My plan is to dip it in spar varnish (polyurethane). I think its important to coat the inside as well as the outside. My "tank" for all this is a piece of 2" PVC pipe. Unfortunately at this point I don't have final results. It will be the end of the summer before I can say if it works or not. I'm hoping this dipping process with a good spar varnish will work -- I plan on doing it before I put the next one in the water if I don't buy a stainless steel one. Pete
Pete Pelton