Where the world gathers for
plating, anodizing, & finishing Q&As since 1989
-----
Economical selective plating on stainless steel
2002
Q. I have several SS 304 stainless steel plates of 60 cm by 6 cm (23 5/8 in x 2 3/8 in), 5 mm thick. Except for the edges (the 5 mm thickness), the rest of the plate (length and width) will be covered with wood. I was wondering if it is possible to copper or brass plate or color anodize only the edges of the plate? This is for me strictly a cost issue as I don't want to pay for covering surfaces that won't be visible.
Also, can both color anodizing or plating be performed? I am considering color anodizing as a less expensive (from a production perspective) and easier maintenance alternative (from the end user perspective) than plating. Is it so? The colors I want to reproduce (or plate) are red copper and yellow brass. Would I get exact color match with color anodizing or only "similar looking" colors?
Thank you for your help.
Vic Bee
- Hong Kong
---
2002
A. Aluminum can be anodized and consistently color dyed to any color or shade. Stainless Steel cannot be anodized.

Robert H Probert
Robert H Probert Technical Services

Garner, North Carolina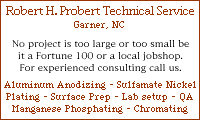 ---
2002
TUTORIAL FOR NEWBIES:

A popular surface treatment for aluminum is 'Type 2 Sulfuric Acid Anodizing' which produces a surface which can absorb and retain dyes; we have an "Introduction to Anodizing of Aluminum" which readers may wish to view.

It is possible to electroplate metals like copper onto stainless steel, but plating onto stainless steel involves the complication that stainless instantly oxidizes, and plating will only adhere properly to bare metal, not an oxidized surface. The way this is handled is to start with a "nickel strike", usually a "Wood's nickel strike" which is extremely acidic and simultaneously dissolves the oxide while depositing a thin layer of nickel. The editor is not familiar with Amit's allusion to "using lead".
Q. Yes, thank you for the correction. So it will either be plated on stainless steel or color anodized on aluminum. Any feedback on the other questions?
Thanks,
Vic Bee
[returning]
- Hong Kong
---
2002
A. Yes, You can do selective plating. Activate stainless steel by Wood's nickel or using lead, then plate copper (rochelle copper/cyanide copper), then you can opt for copper finish or brass finish. Once copper plating is done, you can go for any other plating.
Amit Pabuwal
records - Jamnalal Bajaj Marg,c-scheme, Jaipur, Rajasthan, India
---
2002
A. There is a standard red copper dye in the market for anodized aluminum. You may need to mix dyes for a yellow brass color for anodized aluminum. I suggest you contact a dye supplier for further information.
S. Y. Yuen
- Hong Kong, China
---
2002
Q. Thank you for your answers. Can someone explain selective plating to me? After asking a few job shops on the net, I am told it would be difficult and expensive (labor intensive) to selectively copper plate the edges of the ss plates. I am told to simply plate the whole thing. In that case, would an alloyed copper not be cheaper? (and avoid the added processes). Thank you.
Vic Bee
[returning]
- Hong Kong
---
2002
"THE" brush plating book:
Electrochemical Metallizing
by Marv Rubinstein
from Abe Books
or

Affil. Link
Your purchases make finishing.com possible
A. Selective plating means to plate only a portion of the surface.
Some electronic parts that are plated in reel-to-reel fashion can be selectively plated with moving masks (perforated rubber belts) ... and some non-critical parts can be selectively plated simply by partial immersion (copper bottom pots, silver plated ends of bus bars) ... and it is possible to plate limited areas of parts with a brush plating (tampon plating) kit, too. Still, in most cases the way to selectively plate is to mask the areas that you don't want to plate with stop-off lacquer or platers tape; and yes, this usually does cost more than plating the whole object.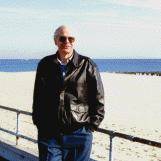 Ted Mooney
, P.E.
Striving to live Aloha
finishing.com - Pine Beach, New Jersey
---
2003
A. Vic,
I would like to add that in most cases it is cheaper to plate all over. If your plater knows what you require they would make sure the area you need plated will correct.
Chris Snyder
plater - Charlotte, North Carolina
---
2003
A. Vic, if you can stack them, which I assume you can. Then, you can approach this either by tank plating or selectively brush plating blocks, instead of units, in order to avoid masking and the amount of plating material. I would pile them up. Then would use a plastic plate for top and bottom of the stack and compress them.
Let's say you can make a pile of a 100 plates... You drill a hole on the plastics to ground them... You would then simply dip them all at once in a tank.
You can also Brush plate (Selectively Plate, just like if you were painting) the whole block. If you have the right equipment (500 Amp brush plating Power Supply), it would take you on average an Hour to copper plate .0005" thickness on all four sides of the block.
The advantage of brush plating is that you can keep the parts in house, and do any amount of parts at a time. You would not be required to meet a minimum quota. You could brush plate any height stack.
Abraham Arellanes
- San Diego, California, USA
---
November 8, 2008
A. It would be very easy and cost effective to plate the edges. We have specialized in selective plating for over 30 years so I would invite anyone to challenge this assertion.
Tim Martin
- Hayward, California
---

Abraham you have presented a simple answer that should have been obvious but which hadn't immediately occurred to me. Sounds good.
Tim, a general hint as to whether you would suggest tank plating, brush plating, special fixturing, maskants, or whatever would be useful.
Regards,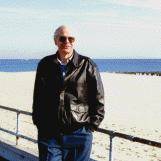 Ted Mooney
, P.E.
Striving to live Aloha
finishing.com - Pine Beach, New Jersey
---
---
December 9, 2008
Q. I am a designer, so have no specialty knowledge of metals. Essentially I am designing a small case with 0.5 mm thick stainless steel folded to shape. I want to know if I can get the inside of the object to a black chrome plated finish whilst retaining the outside in a highly polished finish. It is for aesthetic purposes only. Could the steel be selectively plated before bending?
Karl Baxter
- Shibuya, Tokyo, Japan
---
December 15, 2008
A. Hi, Karl. Yes, metal can be selectively plated before bending. However, chrome is very brittle and I doubt that you will be able to bend the metal without ruining the chrome plating. However, it can also be selectively plated after bending.
Regards,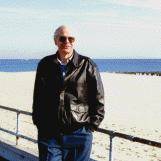 Ted Mooney
, P.E.
Striving to live Aloha
finishing.com - Pine Beach, New Jersey
---
December 16, 2008
Q. Thanks Ted,

The form I am after has a feature somewhat like a money clip. If I could indeed get a "stick" in between the inner surfaces of this clip part, which are virtually touching, would a chrome electroplated finish be able to open up to around 2.5mm, in the same way that a money clip opens. Or would the chrome be too brittle for that application.
Karl Baxter
[returning]
- Shibuya, Tokyo, Japan
---
December 16, 2008
A. I doubt that the normal flexing of using a money clip would present any problem with the chrome plating, Karl. But if you preplate before bending the metal into shape, I doubt that the preplating will properly survive the bending.
Regards,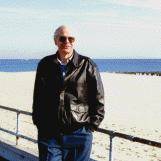 Ted Mooney
, P.E.
Striving to live Aloha
finishing.com - Pine Beach, New Jersey
adv.
Brush plating equipment, chemicals, and supplies from Gold Touch