Where the world gathers for
plating, anodizing, & finishing Q&As since 1989
Passive Ni deposit
-----
2002
What would cause a Ni sulfamate plating bath to create a passive Ni deposit? I am plating small electronic components with Ni from a sulfamate bath, followed by pure Sn. Parts plated in a brand new solution of Ni will be perfectly solderable, however, as the bath ages the parts become non-solderable. Replacing the used bath again produces acceptable parts. The bath will "age" after 5-7 days of constant use. This bath does not have organics of any kind. It is Ni sulfamate and boric acid at a pH of 3.5. Activating the parts with sulfuric between Ni and Sn helps maintain solderability, however this is not necessary when the bath is new. Is there something we can do to the Ni bath to prevent the passive deposit?
Any help would be appreciated.
Rich Reifenheiser
- Monterrey, Nuevo Leon, Mexico
---
First of three simultaneous responses -- 2002

My primary suspect would be drag-in of contamination. Is there an agitation blower that has any possibility of introducing oil?
If you are sure there is no contamination being introduced, then as a long shot, look into the "magic" stress-reducing ion that can be produced in sulphamate nickel baths. Usually this is deliberately produced under controlled circumstances by a two-cell approach with the use of sulfided anodes in one cell and sulfide-free anodes in the other. But maybe you are inadvertently generating it over time and it is hurting solderability.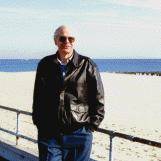 Ted Mooney
, P.E.
Striving to live Aloha
finishing.com - Pine Beach, New Jersey
---
Second of three simultaneous responses -- 2002

Give more details like Anode to cathode ratio, type of anodes used, size of tank, cathode current density, ETC.
Russell Richter
- Danbury, Connecticut, USA
---
Third of three simultaneous responses -- 2002

Metallic and Organic impurities will contribute to a passive sulfamate nickel. Copper from the anodes will lower the activity of freshly plated sulfamate nickel. Impurities coming in with the sulfamic acid you use to lower pH are fatal - at least one supplier has very tight specifications on the sulfamic acid, it has to meet very pure standards, and he sells it as a proprietary. From my other experiences in Mexico I have found impurities in many commodity chemicals far above standards in the USA.
What does "followed by pure tin" mean? Electroplated or hot dipped? Is it always thick enough? Acid or alkaline: acid would be better over freshly plated nickel.
Next time it drops off, plate a Hull Cell Panel, THEN DUMMY VERY LOW CURRENT DENSITY, THEN then treat with 0.1 %/vol Hydrogen Peroxide, then carbon treat, then plate another panel. If the second panel is solderable, then you need to frequently (probably every Friday night) peroxide and carbon treat WITH SULFUR FREE POWDERED ACTIVATED CARBON.

Robert H Probert
Robert H Probert Technical Services

Garner, North Carolina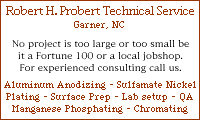 ---
2002
Thank you all for your responses. I have answers and questions to each.
Ted,
There is not an agitation blower on this system. We are not air agitating the Ni solution. I will take a close look at other sources of contamination, but I believe the system to be clean. Can the "magic" stress-reducing ion be measured? We are not deliberately forming this via the approach you mentioned.
Russell,
The machine is an RFT, Rotary plater, for plating very small parts. We are using s-round sulfur depolarized anodes. Solution temp is 49 C. The anode to cathode ratio is 1-8 or greater. The cathode area can change dramatically while the anode is fixed. The tank is approximately 50 gallons and the actual plating cell is 2 gallons, solution is constantly pumped from the tank to the plating cell (through the anode) during plating. The solution is stagnant when we are not plating Ni. However, we have found that if we constantly recirculate the solution we maintain solderability for much longer periods, up to two months. I was thinking perhaps there were large temperature variations with the stagnant solution and we are looking at this more in depth. Cathode current density ranges from 1.5 to 3 amps/sq ft. Anode current density is much higher. We plate about 100 microinches of Ni in 45 minutes and approximately 200 microinches of Sn in the same time.
Robert,
Our raw materials, boric, sulfamic acid and Ni sulfamate are supplied from the US side, however, I will investigate further the contamination specs. We are plating pure Sn from a methane sulfonic acid bath. Plating thickness' are mentioned above. We have not correlated Ni or Sn thickness to the solderability issue. I will try your hull cell recommendations, thank you. Does the copper not remain contained at the anode in the sulfur film? Even if it does not why would copper effect solderability? I know you mentioned passive Ni, but I think they are related. Copper is commonly used on circuit boards and electronic components as the soldered to surface?
Again thank you all for your time and responses.
Rich Reifenheiser
- Monterrey, Nuevo Leon, Mexico
---
2002
I think Ted is correct about the magic stress reducer, here's why. When you have a poor anode to cathode ratio you will produce the compound. I don't know how to measure it but the deposit will become semi-bright to bright depending on the level in the bath.
Russell Richter
- Danbury, Connecticut, USA
---
2002
See "Anodic Oxidation Products in Nickel Sulphamate Solutions" by A.F. Greene, Plating, 1968, vol. 55, pp. 0594-0599 will tell you everything you want to know about azodisulphonate, including how to analyze for it. I didn't off-hand find the articles about deliberately producing the magic stress reducer, but I imagine that it is azodisulfonate or a very similar ion.
But the basic idea is that depending on the operating conditions, nickel sulphamate baths can generate sulfur-based brighteners and stress reducers without the addition of any organic brighteners because they already contain the sulfur they need.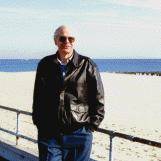 Ted Mooney
, P.E.
Striving to live Aloha
finishing.com - Pine Beach, New Jersey