Where the world gathers for
plating, anodizing, & finishing Q&As since 1989
-----
Chemical Composition of Anodized Aluminum
2002
A simple question, that I can't seem to find an answer to: what is the chemical composition of an anodized aluminum coating? I understand that it is usually an aluminum oxide, but with the different processes and different types of anodize, does the composition vary at all? Specifically, I am wondering if a black, hard anodized coating will have a significant amount fluorine or carbon, detectable via SEM-EDX.
Thanks,
Fong Liu
- San Jose, California, USA
---
2002
One reference book list the ingredients of an anodic coating as: Aluminum Oxide 80%, Aluminum Sulfate 18% (but this varies as a function of the "dissolved aluminum" in the bath, Water as 2%, and the rest is the alloying ingredients of the particular alloy that have become occluded during the film formation.
After sealing, the aluminum oxide in the 500 pores per square inch has been converted to "Hydrated aluminum oxide" which is larger molecule and literally "plugs" the pores.
If there is any fluorine or fluoride present then it came either from using tap water or from a proprietary low temperature sealing compound (which is poor sealing at best).
Carbon is everywhere, and EDAX would probably find some, however there is no theoretical reason for any carbon presence in clear anodizing. Black anodizing, if the color came from organic dye, yes, would show carbon on the EDAX. If the black came from the natural color (from the alloying ingredients) of hard coat, then there should be NO carbon.

Robert H Probert
Robert H Probert Technical Services

Garner, North Carolina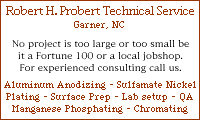 ---
2002
I don't know for certain, and it would depend on how the parts were made black, but ... if an organic dye was used it might well contain carbon in the final coating.
Jim Gorsich
Accurate Anodizing Inc.

Compton, California, USA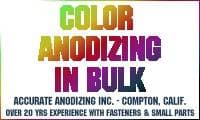 ---
2002
Fong, when I've examined hard anodize in the SEM, I get a sulfur peak from the EDS. Of course, all of my hard anodizing is done in a sulfuric acid bath. I've never gotten additional peaks of fluorine or carbon.
Good luck!

Lee Gearhart
metallurgist - E. Aurora, New York
---
2002
Fluorides are used in cold sealing processes that lock in the dyed color, in your case black, without reducing the abrasion resistance because it's done at near room temperature as opposed to nickel or cobalt acetate which operate at elevated temperatures.
As far as what is the composition of anodize, nearly anything that it touches after anodizing as the porous structure adsorbs anything it's immersed in or touches until such time that it is sealed. Sealing can occur over time by picking up moisture from the air or oils from ones hands. Typically hardcoat isn't sealed so that the abrasion resistance isn't compromised.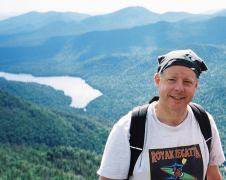 Milt Stevenson, Jr.
Anoplate Corporation

Syracuse, New York