60,000 Q&A topics -- Education, Aloha, & Fun
topic 17929
Nickel plating over copper flash
2002
Q. The thickness of nickel is 0.0002/0.0003" over copper flash of 0.000005". Would this type of plating have any corrosion resistance? How long would it take to start corroding?
Which type of plating is better? Copper flash and nickel or nickel and chrome?
Peter Wang
- Taipei, Taiwan, R.O.C.
---
2002

A. The corrosion protection of nickel over copper flash depends on the basis material in two ways. If it is steel, best corrosion protection is achieved when the metal is smooth. Rough or porous surfaces will not produce good corrosion protection when nickel plating is to the thickness you mentioned. A pore-free deposit would stand hundreds of hours of salt spray (ASTM method). If the basis material is brass or aluminum or zinc special pretreatments would be required. Again a smooth pore free surface is mandatory. If the copper strike-nickel plate is subjected to heat, the copper may alloy with the nickel or the basis metal and result in poor adhesion after heat treating. In this case a minimum of 0.0004" of copper would be required. The copper contributes little to corrosion protection, so the nickel must be of high quality free of particles and pores.




Don Baudrand




Consultant - Poulsbo, Washington


(Don is co-author of the book "Plating on Plastics")



---

2002

A. Electroplated nickel can be columnar or laminar or one over the other. It can be pure as in sulfamate deposited nickel or occluded with organic additives as in so-called "bright nickel". Electroless Nickel can be porous as deposited under poor quality control conditions.

All "bare" nickel will corrode in air, first light yellow, than dark yellow, then brown, then black. That is why decorative nickel plating is always topped off with about 30 millionths of chromium - and the automotive industries have all sorts of corrosion data on this subject if that is what you are looking for.

"How Long" cannot be answered on the basis of your info, unless you mean conventional automotive nickel plating -- then go to Ford, GM, or Chrysler and you can get exact salt spray data.

Robert H Probert




Robert H Probert Technical Services





Garner, North Carolina





---
2002
Q. As a follow-up on my request.
The tube that I am plating has a length of 1.578 ±0.003, od 1.568 ±0.003, id 1.429 ±0.002; material: SAE 1015-1020.
What is the best type of plating:
1. Copper Flash of 0.000005 thick and nickel 0.0002/0.0003 thick.
2. Nickel 0.0002/0.0003 and Copper 0.0002.
Presently I am using the second option, but, we are suffering from flaking / peeling. What sort of testing should I conduct from here?
Peter Wang
- Taipei, Taiwan, R.O.C.
---
November 2012
A. Hi Peter. There are a couple of different problems here. Copper and nickel are both cathodic to steel. What that means is that they offer strictly "barrier layer" protection, unlike coatings such as zinc which offer cathodic protection to steel. In turn, this means that if there are any pinholes or porosity, these coatings greatly accelerate the corrosion of the steel rather than retard it. For that reason you need either rather thick coatings (automotive coatings are perhaps 10x your thickness) or, as Don Baudrand referred to, a very smooth substrate so your thin deposit can be pore-free.
The second issue is that we don't understand why you have chosen a multi-layer copper and nickel deposit when it doesn't seem to even matter to you which one is done first. The third issue is that flaking/peeling is usually unrelated to corrosion, but related to a poor plating practice: if both the nickel and copper both peel off, the substrate is either not clean or not active; if the copper peels off of the nickel, the nickel probably went passive before you copper plated it. Good luck.
Regards,
Ted Mooney, P.E.
finishing.com - Pine Beach, New Jersey
Striving to live Aloha
---
---
November 25, 2012
Q. Hello,
Is plating nickel on copper good for flue gas at 840 °C (using recuperator)? Inside 35 °C, outside 840 °C?

Thanks,
Mahdi
Mahdi Zare
- Yazd, Iran
---
November 26, 2012
A. If the copper stays at 35 °C it is OK but if the copper gets to over 800 °C it will come right through the nickel and discolor the outside.

Robert H Probert
Robert H Probert Technical Services

Garner, North Carolina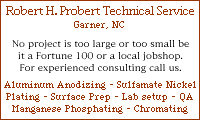 ---
---
August 25, 2015
Q. Hi, I am facing the Deposited Nickel over copper plating, the Nickel peeling off during the forming process, the plating thickness is .0002"- .0004" ELECTRO-DEPOSITED NICKEL OVER .00003"-.00005" COPPER FLASH.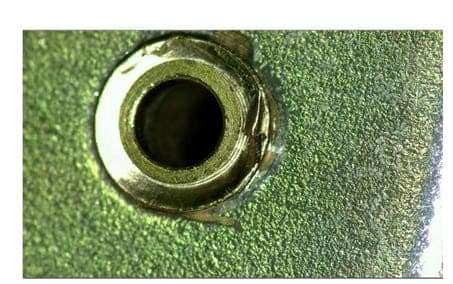 Appreciate if anyone can help to solve the problem.
Yuu Guan Seng
- Butterworth, Penang, Malaysia