Where the world gathers for
plating, anodizing, & finishing Q&As since 1989
-----
Nickel-Free Jewelry
2002
Q. I just read a letter posted about nickel-free belt buckles. My husband loves to wear necklaces, but has recently developed an allergy to the nickel they contain. I was wondering if you might know where I can find nickel-free necklaces that are still masculine.
Lori K
[last name deleted for privacy by Editor]
- Maui, Hawaii
---
2007
Q. My girlfriend says that she can only wear white gold. So I recently bought her a sterling silver necklace to see what would happen. Around her neck there are a few lil red bumps, but there is no discoloring of the necklace or any residue left on her skin. Could the sterling silver necklace that I purchased contain nickel in it and that is the cause of her problems? Any advice would greatly help.
Matt Beauchamp
- Middleburg, Florida
---
2002
A. Sterling Silver does not contain nickel and most yellow, karat gold alloys have no nickel. Ask your jeweler.
Neil Bell
Red Sky Plating

Albuquerque, New Mexico
---
2002
A. To expand on Neil's fine answer, avoid white gold and stainless steels, (at least the grades of stainless used for jewelry) for they WILL have nickel in them.

Lee Gearhart
metallurgist - E. Aurora, New York
---
---
Need a nickel-free belt
2003
Q. My teenage daughter loves to wear cool belts. However, the buckles break out her stomach and cause pain and severe rash. I believe she is allergic to nickel and has had good luck with nickel free earrings. I cannot find nickel free belts anywhere. If anyone knows where I can purchase a cool style nickel free belt please let me know.
Sue D
[last name deleted for privacy by Editor]
- Linden, Michigan
---
2004
A. In response to Sue:
Hi, I recently developed an allergic reaction to my belt buckles and found two good sites for nickel free belts. This first site has pewter buckles but their belts that come with buckles do contain nickel www.accessthatrock.com. The second site has belts and belt buckles made of stainless steel: daddyos.com.
I think surgical grade stainless steel, titanium, and niobium are the safest metals for people with nickel allergies. I have eight body piercings that contain 316LVM stainless steel and have had no problems. Any grade of stainless steel below this is not acceptable to wear in the body.
Courtney K
[last name deleted for privacy by Editor]
- Seattle, Washington
---
---
Coating nickel with nail polish or polyurethane
2004
Q. I have a 13 year old daughter who is allergic to Nickel. I learned this when she her ears were pierced. I've read a lot of information on this type of allergy, and basically avoiding all products containing Nickel seems to be the most logical solution. Finding sterling silver or gold jewelry is easy enough, but the problem I'm facing, which isn't addressed at all in any of the literature I've read, is finding belts that don't have Nickel belt buckles AND that are appropriate for a 13 year old girl. My daughter developed a big rash on her stomach where the belt buckle touches her skin. I read in a couple of pieces of literature that if avoiding Nickel is impossible, then coating it with several layers of clear nail polish might work. It doesn't. I even read that some jewelry stores carry solutions that you can apply to the Nickel to reduce allergic reactions, but the jewelry stores I've contacted have not heard of this. I would greatly appreciate any information or suggestions you may have.
Aimee J
[last name deleted for privacy by Editor]
hobbyist - Los Angeles, California
---
A. Hi Aimee. On a dermatologist forum that I read, one doctor suggested that coating metal with clear polyurethane was more effective and less likely to be allergenic than using clear nail polish.
Regards,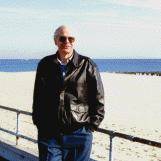 Ted Mooney
, P.E.
Striving to live Aloha
finishing.com - Pine Beach, New Jersey
---
2004
A. I also have a nickel/brass allergy. I found a pewter belt buckle on a polo belt I bought at Wal-Mart years ago which I have no reaction to. Unfortunately, the belt and buckle are pretty shot now and I have been trying to find a replacement, which isn't easy. I even tried coating belt buckles with clear nail polish, which doesn't really help. Anyway, any sterling silver or pewter belt buckle will probably do the trick.
Good Luck!
Pete
[last name deleted for privacy by Editor]
- Mahwah, New Jersey
---
2004
A. Try this site that I found that caters for Nickel free goods: NoNickel.com
Tony
[last name deleted for privacy by Editor]
- Melbourne, Australia
---
---
2004
Q. I have been on the internet for two days now looking for nickel free jewelry for men. I was not successful, I did find out that even though that sterling silver marked 925 is nickel free it is most of the time coated with nickel. So you as a customer would need to keep your eyes open. I also have found out that Europe does not permit nickel in their jewelry.
Stephen
[last name deleted for privacy by Editor]
- Brooklyn, New York
---
2004
A. I see a lot of folks on this post are looking for nickel free belts or nickel free buckles. Try www.nonickel.com. All they sell is nickel free belts, watches, and jewelry. They didn't carry my son's size in a belt so I asked them to make one in a custom length and they did.
Chris H
[last name deleted for privacy by Editor]
- St. Louis, Missouri
---
2004
A. As I live in Europe, I can tell you that all jewelry bought here DOES contain nickel! I have to buy gold or silver for my daughter who has this horrible allergy. My husband also suffers and I too can not find a belt for him. So, sorry, Europe is not the answer! My husbands last belt was bought from Spain which gives him a terrible reaction!
Julie L
[last name deleted for privacy by Editor]
- Liverpool, England, UK
---
2005
A. I believe a company called Rohan operates a no nickel policy in all it's clothing. They are a travel clothing company, and only really have a few belts, but all the metal in all their products are nickel free.
Toby E
[last name deleted for privacy by Editor]
- Horsham, Sussex, England
---
2005
A. My boyfriend suffers a terrible reaction to belt buckles and so far the only site I've found is nonickel.com which I intend to try out. I work in a jewelers in the UK & would like to point out that Sterling Silver DOES contain nickel. However the Nickel Directive passed in the UK only permits a small amount to be contained in silver so most people have no problem with it. I would suggest surgical grade stainless steel or titanium.
Kelly D
[last name deleted for privacy by Editor]
- Glasgow, Scotland, United Kingdom
---
---
2005
Q. There are many references to nonickel.com in the responses here. My son has a nickel allergy and I have purchased items from nonickel.com but the selection is very limited and there is only one style of belt buckle. He found that the square design cuts into a leather belt and causes the belt not to last very long. It did, however, not break him out on his stomach as nickel items did. Does anyone have any more ideas where to find belts for college students?
Debbie H
[last name deleted for privacy by Editor]
- Salem, Virginia
---
2006
A. I found a great shop on ebay with a fantastic range of sterling silver nickel free jewellery for men and women, check them out at 'simply jewelry' on ebay. They have some beautiful frangipani stuff too!
Robyn E
[last name deleted for privacy by Editor]
- Belmont, NSW Australia
---
2007
A. I got a nickel free belt from Nickel Free Accessory, which can be found online.
Randy Whitney
- Monroe, Wisconsin
---
2007
A. My daughter had that problem. The solution was brass buckles. More affordable than pewter or silver.

www.leathersmithdesigns.com

Based in Nova Scotia Canada but will ship to Canada & U.S.
Mat Fortin
- Kitchener, Ontario, Canada
---
August 17, 2009
A. I have been reading all the comments about nickel allergies. My husband has the same problem so we are now selling titanium buckles on ebay.
Gloria Gagnon
- Springfield, Illinois
---
November 13, 2009
A. I have been looking to buy an anti-allergy belt for ages. nonickel.com is good but expensive with P&P if you live in Europe. I just found this company called ItchyBellyBeltCo trading on EBay. Hope this helps.
Pete Karas
- London, U.K.
---
July 5, 2011
A. I live in the UK, and still get a nickel allergy rash from belts I buy here despite the European laws. Guess I'm just super sensitive to nickel. I've bought a belt from nickelsafe.co.uk and to my relief it's been a god send. At last someone who says nickel free, and actually means nickel free!
James McAllister
- Manchester, UK