The world's most popular metal finishing site, and the internet's friendliest corner
topic 17903
Tile contractor's muriatic acid corroded our stainless steel appliances
A discussion started in 2002 but continuing through 2019
2002
Q. Our general contractor recently used Muriatic Acid and water to clean the tile floor. All the stainless steel cooking appliances in the room have developed a sticky brownish layer of corrosion, even the overhead exhaust hood which could only have come in contact with the fumes.
My Question: Is there any way to stop the reaction (neutralize the acid) in the area? Is it likely that the fumes are still escaping from the tile floor? I fear that the fumes may also attack the HVAC equipment in the area. My kitchen equipment supplier says the corrosion will continue to come back indefinitely unless repeatedly protected by a thin layer of oil.
Any experience with this type situation or suggestions are welcomed.
Harry Wilfong
- Hartsville, South Carolina
---
2004
Q. I am having the same problem and have not been able to get answers from my contractor. Has anyone come up with a solution?
Ken Campbell
- Lake Placid, Florida, USA
---
---
March 22, 2013

-- this entry appended to this thread by editor in lieu of spawning a duplicative thread
Q. I also used muriatic acid on my kitchen floor and it ruined all of my stainless cookware that was hanging on a pot rack mounted on the ceiling. It looks like the worst kind of water spots. It also had an effect on the range.

Can I reverse the damage to the stainless as it is not etched, just discolored with white spots. I tried vinegar and it didn't help. I am also worried about inhaling the fumes.
Lily Benson
- Biloxi, Mississippi, USA
---
---
March 16, 2016
!! My cleaning partner and I recently used a product called "BeatsAll Tile & Grout Cleaner" marked "CAUSTIC" and "unsafe for all metal" to clean the tile in an entire new house (no ingredients listed). As directed on the label, we applied it carefully to the tile without splashing (spilling, not spraying), scrubbed it with the special applicator brush (essentially a long-handled scrub-brush, made in Italy) and rinsed with warm soapy water. Next day, there were unsightly spots on 3 new kitchen appliances (stainless steel isn't un-stainable, it turns out!) and a hazy orange "rust" over the entire surfaces of all exposed stainless except the kitchen faucet. (Maybe that was pewter finish?)
We used every product we had in our attempt to remove the spots, including metal cleaners, with limited results.

The company returned my call for help and suggested "Mother's Mag and Metal Polish" from an auto supply store. They said that would remove the stains and they would not return. We found "Mother's Mag and Aluminum Polish". It's a paste type, I think.

Unfortunately I don't have the rest of the story yet.

The owner likes the idea of getting the skins (front decor panels) of the appliances replaced. (Ouch, my purse. But probably cheaper than new appliances! I didn't realize that was possible, until now.) Lesson learned: don't let messy tile guys leave without cleaning first! Caustic substances are no joke.
Victory Dove
- Port Charlotte, Florida
---
---
April 8, 2016
Q. "passivate"
v.t. -vated, -vating.
1. to treat (a metal) to render the surface less reactive chemically.

Citation: Random House Kernerman Webster's College Dictionary, © 2010 K Dictionaries Ltd. Copyright 2005, 1997, 1991 by Random House, Inc. All rights reserved.

Both replies add excellent info. I just had to look up this new word and thought I'd share it for others' convenience. :-)

I don't know where you read the ingredients, my bottle didn't specify... (I assumed the company didn't have to list because it wasn't food), but it's good to know. I wonder what the difference is between inhibited and uninhibited hydrochloric acid or HCl (a.k.a. muriatic acid, according to another post in this thread). I'm no chemist, but I know HCl (stomach acid) burns skin and leaves a "birthmark"-type pink stain as a permanent scar. My brother had an unfortunate accident that marked his tummy with a 2" spot. I think it's unfortunate this stuff isn't warned better. Caveat Emptor (let the buyer beware), I suppose.
Victory Dove
- Port Charlotte, Florida
---
---
February 18, 2017
Q. We recently put new floors in the house and our installer used diluted muriatic acid to eat up the dust from the floors after installation was complete. He says he applied the diluted acid with a sponge, then wiped it immediately with water afterwards. 6 days later, I am realizing our stainless steel appliances are corroding ... every time I wipe them, they wipe brown.

HELP.

What can we do to fix this?
MONICA LOPEZ
- MIAMI, FLORIDA
---
---
January 17, 2019
Q. We recently completed a backyard remodel, including new BBQ Island w/stainless steel appliances/cabinets and concrete pavers surrounding this BBQ island. The contractor used a muriatic acid/water solution to "open up" the surface of the pavers. Less than 48 hours later, we noticed brown splatter spots on the lower 12--18" of the lower cabinets near the floor where the acid wash was accomplished.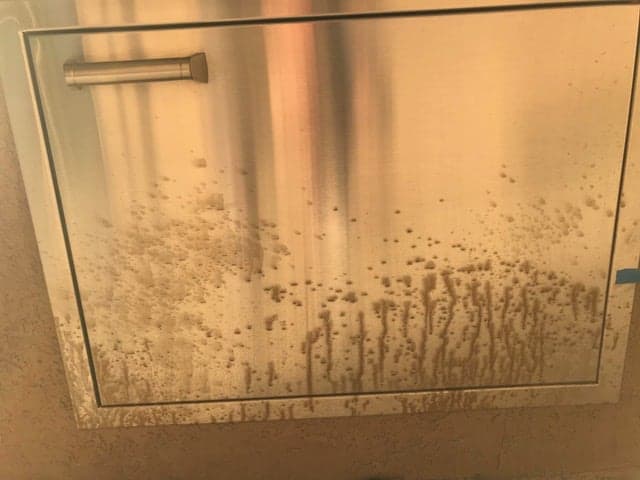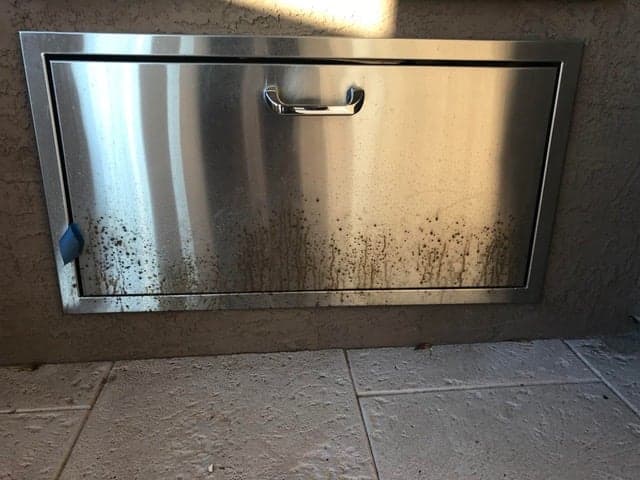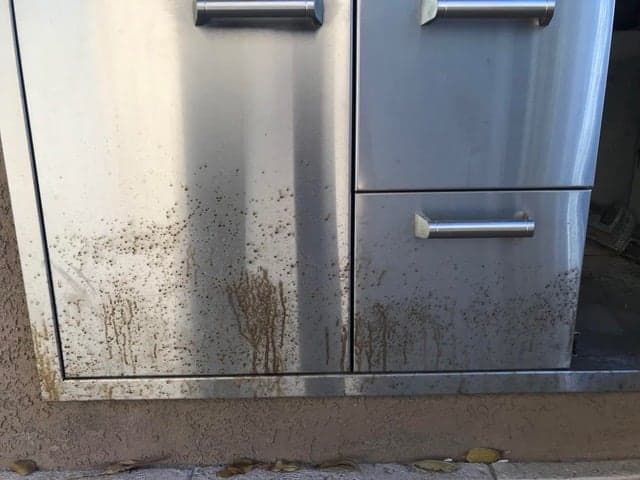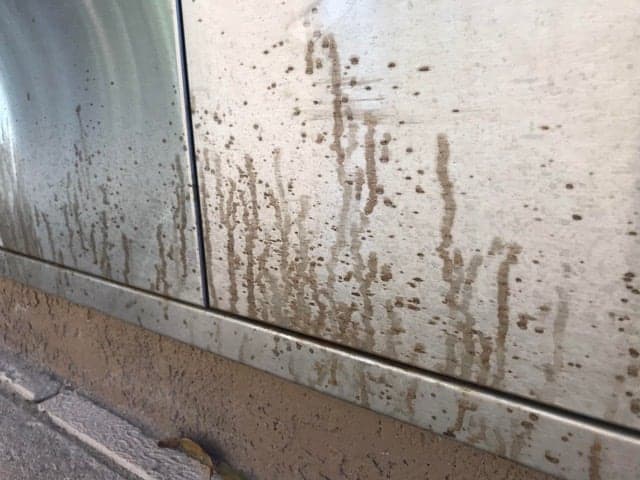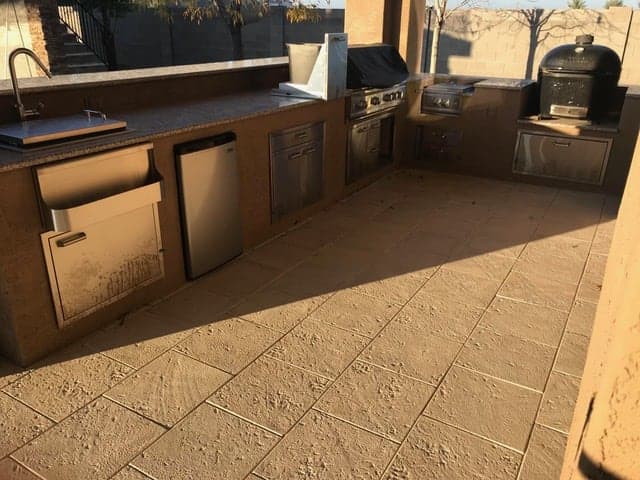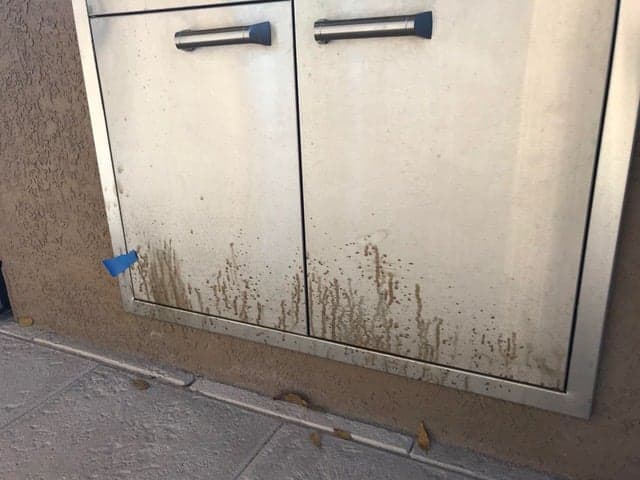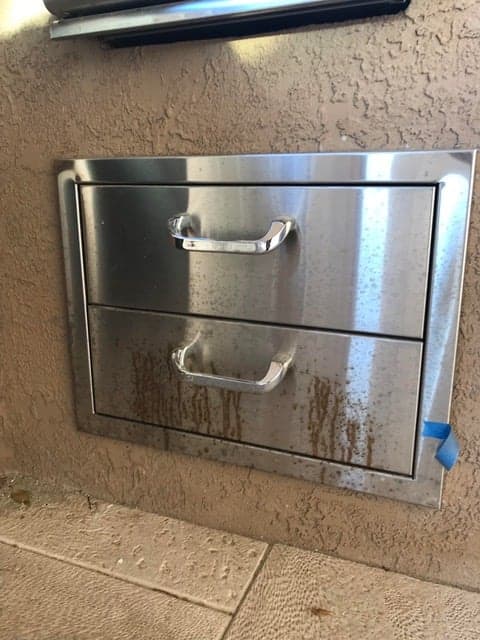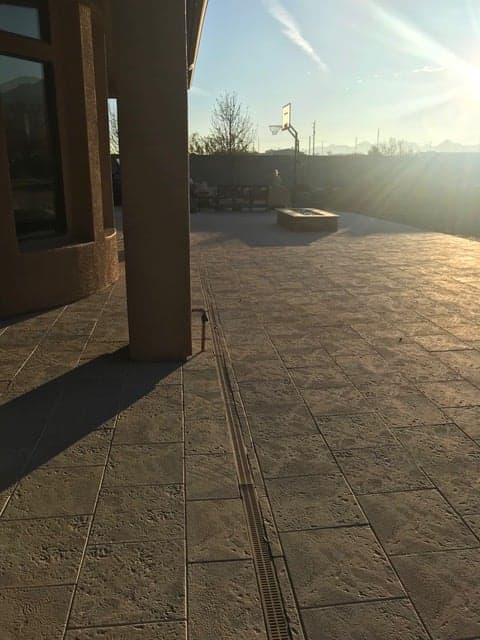 We suggested to the contractor that perhaps the acid wash caused the discoloration/damage. The contractor said, "no... it is simply dirt from the AZ dusty air." We tried using Simple Green to clean it off. Some of the brown came off, only to reappear within another 24-48 hours.

Carefully reading through this thread has been extremely informative. I would like to see if your experts could identify if this damage is, from their experience, due to that muriatic acid/water washing of the pavers.

Thank you...
Michael Kavanaugh
- Gilbert, Arizona USA
---
January 21, 2019
Q. Thank you for your reply, Ted. Just to be clear, my goal was not to hijack another's posting. Nor was it to gain free expert witness testimony. This field is not my area of expertise, however. Thus, I first need to determine if these pics were even consistent with what muriatic acid damage looks like, before pursuing anything further. Rather than further hijack this posting, I can respectfully post separately to gain more insight as to qualifications for an expert witness, costs of service, etc. If there has already been a posting for that info, I would gladly Akemi that link also.

Thank you...
Michael Kavanaugh
[returning]
- Phoenix, Arizona
---
January 25, 2019
Q. Strange situation ... Stainless appliances (all of a sudden) developed rust stains during 10 weeks of remodeling. Floors were buffed then re-sanded and restrained sheet rock repair, painting etc. Could fumes be the cause?
Christina Gale
- Houston Texas
---
January 30, 2019
Q. I had most of my house tile cleaned this morning. The grout had lots of Sheetrock dust. He ended up using some type of acid he "mixed". He came back with a rotary brush and water machine to remove the acid. I've had all my windows open all day with air vents running and fans. It's cold outside & getting dark so I had to close all windows. But me and my dog have been here all day and I have a bit of a headache and my throat's a little scratchy. We've been going outside for fresh air throughout the day. Are we in any danger staying here tonight? The smell is still here. Would Baking soda in containers absorb some of this? Should I mop floors with a baking soda solution? Thank you!
Gracie Smith
- Baton rouge, Louisiana USA