Where the world gathers for
plating, anodizing, & finishing Q&As since 1989
-----
Problems etching 304 stainless steel
2002
My subcontractors and I are etching images approximately 12 to 15 thousands of an inch deep into 1/8" thick 304 stainless steel and 220 commercial bronze sheets. They are using a ferric chloride solution. The bronze is etching beautifully, but the stainless steel is becoming pitted with a sandy texture. They claim they see this happen once or twice every few years and think it is due to contamination in the metal. (We are conducting tests now using 304 stainless from a few different suppliers.)
Could your readers please let me know any reasons for this problem and any possible solutions.
Thank You.
Darrin Hallowell
- Chicago, Illinois, USA
---
First of two simultaneous responses -- 2002

A strong possibility is that you sometimes get 304F instead of 304 or 304L. The F grade has a high sulfur content for improved machineability, and etching on any plane that is not parallel to the rolling direction from when the material was originally hot-rolled, will give the sort of finish you describe. The sulfur forms discrete particles of manganese sulfide in the steel, which elongate with the steel during rolling. On any plane of the rolled product that is not parallel to the rolling direction, the sulfide stringers break the surface as spots (cross-sections of the stringers), and these spots are particularly susceptible to corrosion.
You cannot modify the material to stop this - it is an inevitable property of 304F - so if the corrosion is a problem you have to be sure not to buy 304F in the first place.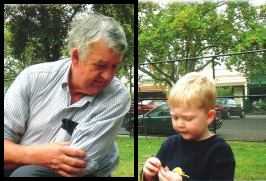 Bill Reynolds
[deceased]
consultant metallurgist - Ballarat, Victoria, Australia
We sadly relate the news that Bill passed away on Jan. 29, 2010.
---
Second of two simultaneous responses -- 2002

If they are using the same ferric chloride solution for both stainless steel and bronze, it could be the etchant. I would suggest different baths are used for different metals. It is also possible that the 304 stainless may have a large grain size and this will affect the final finish, but that can only be seen by metallography. I presume the usual process controls are in place - adequate temperature, flow rate, etc.

Trevor Crichton
R&D practical scientist
Chesham, Bucks, UK
---
2003
Have you tried hooking up an ohmmeter to test the resistance?
Thomas Crowne
- Fort Worth, Texas