60,000 Q&A topics -- Education, Aloha, & Fun
topic 17838
Silver Plating on Aluminum: Blister / Bubble Problems
A discussion started in 2001 but continuing through 2018
2001
Q. We routinely manufacture machined Al 6061 and silver plate with no problems. But, when we go to cast parts, the plating does not survive a 250 °F bake without completely blistering. Currently we use an undercoat of zincate, a coat of copper and finally silver. We cannot tolerate nickel for electrical reasons.
Is there something special we need to do to cast parts to get better adhesion?
Richard Scott
- Socorro, New Mexico
---
2001
A. We have a lot of experience plating silver on to cast aluminum for RF products. We do not use a nickel undercoat and do not have blistering after baking at much higher temperatures than 250 °F.
Brad Smith
- Evansville, Indiana
---
2005
A. Hi Brad,

We have exactly the same problem Richard has. Can you please give me some more info how you solved the issue.

Your quick response would be appreciated.

I hope you still can get this e-mail to reply to an old issue dated 2001 :))

Thanks
Alex
Alex Kultur
telecommunication - Brisbane, QLD, Australia
---
---
2002
Q. Dear Sir,
Our subcontractor is trying hard to solve bubble problem when plating silver (Ag) on Aluminum plate, but failed several times -- the bubble usually comes out after drying procedure - heat chamber -150 °C.
Unfortunately, the plating work is the most important part of this project since the component will be used in the telecommunication field.
Would you please kindly instruct us some reasons that caused these bubbles?
Appreciate you help, and with best regards,
Tom Wu
- Dong Guan City, Guang Dong Province, PRC
---
2002
A. Tom,
A lots of things can make the silver get bad adhesion on the aluminium surface.
1. Pretreatment steps.
2. Rinse steps.
3. Dirty acids, especially nitric acid can show micro bubbles if this solution is old and you have some contamination in it.
4. Low silver contents to the free cyanide in silver solution.
I think you must explain more how you do your pretreatment for us.
Regards,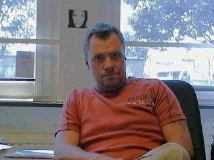 Anders Sundman
4th Generation Surface Engineering
Consultant - Arvika, Sweden
---
2002
A. Hi Tom,
Aluminium being a very active metal (electrode potential -1.66v) is difficult to plate because of oxide film leading to non-adherent deposition. Pretreatment and undercoat are the two most vital aspects which need to be looked into for the blister formation you face after heat treatment. Ensure and try improving your pretreatment. Aluminium being an active metal, try immersion coating of zinc. Silver, a noble metal will need a undercoat of nickel followed with a strike .
Venkat Raja
- Kitchener, Ontario, Canada
---
---
2004
Q. Dear Sir , We are one of the silver platers in Bangalore and we are doing silver plating on Aluminum wherein we are always facing the problem of blisters. Out of a batch of 25 at least one gets rejected. Please let me know if I have any methods to ensure that blisters are not repetitive.
Regards,
Shreesha Acharya . P
plating shop - Bangalore, Karnataka, India
---
2004
A. The most probable source is a bad/poor zincate before the strike. Since you did not give us any information on your process, I will guess that you are not using a double zincate (zincate-strip-zincate) You may need to go to one of the proprietary ternary zincates. You might also check for excessive brightener in one ore more of the plating tanks. You might not be getting the parts clean enough or properly de-smutted/activated. Lots of possibilities.
James Watts
- Navarre, Florida
---
---
September 2, 2009
Q. We are plating 6061 alum with electroless nickel, copper and silver. we have to pass a 200 °C bake for 45 min and are having blisters show up after the bake. any suggestions?
Bob Gillingham
plant manager - Billerica, Massachusetts, USA
---
September 4, 2009
A. Sounds like cast rather than wrought material.
Unfortunately, you can overclean and underclean with the same net bad results. I would question your desmut step. Also, you have said nothing about a zincate step. I prefer a double zincate and the use of an alkaline electroless nickel strike.
James Watts
- Navarre, Florida
---
September 8, 2009
1. Consider the thermal expansion coefficients of the sandwiched metals.

2. Consider the thermal diffusion problems of the sandwiched metals. That copper will come right thru the silver and cause blistering. The copper should be UNDER the nickel or not at all, heated copper "walks" almost as bad as silver.

Robert H Probert
Robert H Probert Technical Services

Garner, North Carolina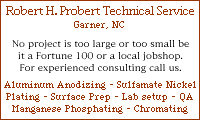 ---
December 12, 2017
Q. I am trying to do Silver Plating of one micron on my aluminium alloy having plated total area 5 m3 but the problem is that after plating when I heat them at the temperature of 300 °C, bubbles are formed. Now my customer is having problems with that; he says there should be no formation of bubbles when he heats it at about 300 °C

Please help to get this plating right so that after plating, upon heating there are no bubbles in holes.
Valamburi Ramu
plating shop employee - Kanchipuram, India
adv.