Where the world gathers for
plating, anodizing, & finishing Q&As since 1989
-----
Chemical passivation for stainless steel parts per ASTM A967
2002
Q. WHAT ARE THE CHEMICAL PASSIVATION TREATMENTS FOR STAINLESS STEEL PARTS AS PER STANDARD ASTM 4967.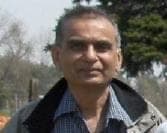 Popatbhai B. Patel
electroplating consultant - Roseville, Michigan
---
2002
A. You are probably referring to ASTM A967 [affil link] , which spells out how to passivate Stainless Steel. There are 2 ways to do this, one is by a citric acid solution or by a Nitric Acid Solution. The Nitric Acid Solution has 5 different concentrations and temperatures that you can use. Get a copy of this Spec., it should answer all your questions.
Ronald Simpson
- Phoenix, Arizona
---
2002
A. ASTM A967 [affil link] has officially replaced but not yet practically replaced QQ-P-35C [link is to free spec at Defense Logistics Agency, dla.mil]C, both of which describe a method for either
1. removing surface iron with a citric acid solution or
2. removing surface iron & "CONTROLLED OXIDIZING THE NICKEL IN THE SURFACE" with nitric acid, and sometimes with the addition of potassium dichromate on certain alloys.

Robert H Probert
Robert H Probert Technical Services

Garner, North Carolina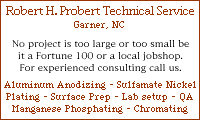 ---
2002
A. You can obtain a copy of ASTM A967 [affil link] online. The objective of passivation is to remove iron from the surface so that it will not interfere with the passive layer which will be the chromium oxide (and nickel oxide in those cases where nickel is present). Passivation removes any free iron from the surface and then chromium (and nickel if present) enriches the surface by removing iron from the top 25-30 Angstroms of the surface. This layer then very quickly oxidizes in air to form the passive layer.
Although the nickel in austenitic and PH grades of stainless steel is very important to attain the best corrosion resistance, the semiconductor and orthopaedic industries measure the ratio of the chromium oxide to the iron oxide in the surface, and measure the thickness of the chrome oxide layer to determine the degree of passivity. This way of measuring (through ESCA & AES testing) has been proven to correlate to corrosion tests. The reason citric acid proprietary formulations attain so much better and thicker chromium oxide layers (and better corrosion resistance to salt spray, etc.) is because the chromium (and nickel when present) is left on the surface when using citric, while much of it is eaten away with nitric along with the iron. The steady state of the reaction leaves a much higher % of chromium on the surface with citric. I cannot write all of the test data here, but there are MANY reports and papers presented showing the increase in chrome oxide layer attained with the citric formulations. With the ferritic and martensitic grades of stainless steel (where little or NO nickel is present) it is the only way to attain good passive surfaces and corrosion resistance. Grades like 410, 440C, 420, 416 can be passivated very well with the proper procedure using citric proprietary formulations (not just citric acid ).


Lee Kremer
Stellar Solutions, Inc.

McHenry, Illinois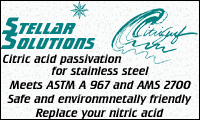 ---
---
Multiple threads were merged: please forgive repetition, chronology errors, or disrespect towards other postings [they weren't on the same page] :-)
---
---
2005
Q. I want to know what is content of ASTM A967 [affil link] (Standard Specification for Chemical Passivation Treatments for Stainless Steel Parts)? Can you help me ?
Xujin
Topdin - Dongguan , China
---
2005
A. Xujin,
ASTM documents are protected by copyright, so I cannot send it to you. However, you can BUY it from ASTM at www.astm.org.

Lee Gearhart
metallurgist - E. Aurora, New York
---
2005
Q. Our company manufacture appliances, stoves, refrigerators, etc; and we use stainless steel to make some parts of this. We don't know how to passivate, in the best way, stainless steel. We would like to know about ASTM A967 [affil link] .
We appreciate very much your help, thanks a lot.
AMANDA ORTIZ
- Bogota, Colombia
---
---
November 6, 2009
Q. Is it necessary to dry the pieces after passivation in an oven? If we do that will it alter the chemistry and will rust become a problem? A factory that we work with has followed the correct process with nitric acid and potassium dichromate but pieces started rusting within 4 months. The only thing they have done differently is to have dried the pieces after the final wash in an oven.
Lakshmi Ramakrishnan
- Chennai, India
---
---
October 2, 2015
Q. I am starting to do work in the NDT department and they just told me I will be passivating too. What can I do or where can I learn more about passivating?
Johnny Torres
- Los Angeles, California
----
Ed. note: One place to start would be this site's "Stainless Steel Passivation FAQs"
---
October 5, 2015
A. Johnny,
ASTM A967 [affil link] as mentioned above gives a fairly good overview of passivation.
Is there an existing passivation line at your company or are you tasked with creating one?
adv.
If you have any specific questions, I would be happy to help.

Ray Kremer
Stellar Solutions, Inc.

McHenry, Illinois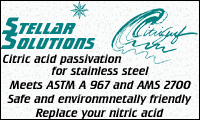 ---
---
High Humidity Sample Preparation for

ASTM A967
[affil link]
July 7, 2016
Q. Hello,

I need help understanding how to prepare the passivated sample parts for humidity test as per ASTM A967 [affil link] , specifically with the drying process. The standard requires the sample parts to be dried in an inert atmosphere or desicated container. Does this means that I need a special equipment to dry the parts? If special equipment is required, can anyone provide recommendations?

I think I can prepare a desicated container. However, the standard does not specify for how long the parts need to be there before they are moved to the high humidity chamber.

Any help on this matter will be greatly appreciated.

Thanks,
Carlos
Carlos Lopez
- Caguas, Puerto Rico
---
July 12, 2016
A. Carlos,
The dessicated containers I've seen are essentially glass jars filled with a desiccant on the bottom with a rack over it, and a lid sufficient to keep an air-tight seal. You can probably buy one from a lab supply company.

Since the standard is vague on the matter, it's pretty much your own judgement call. As long as it looks dry to you, I'd go with it. Despite the standard, there's frankly not much need for the part to be dry if it's going STRAIGHT into the humidity chamber.

The proverbial little bird told me that the next revision of A967 may be reducing the burden here.

Ray Kremer
Stellar Solutions, Inc.

McHenry, Illinois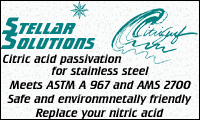 ---
July 14, 2016
A. Good day Carlos.

I think this spec is a little vague also. How much moisture can a passivated part entrap?
I use the desiccator to dry my hard anodize panels for Taber abrasion, giving them 24 hrs.
I rely on weight loss to determine if samples are "dry".
Hope this helps.

Regards,
Eric Bogner
, Lab. Tech
Aerotek Mfg. Ltd. - Whitby, Ontario, Canada