Where the world gathers for
plating, anodizing, & finishing Q&As since 1989
"Aluminum test panels failed salt spray test; what process step is wrong?"
-----
2002
We have aluminium panels (AMS 4037) processed per AMS2470 [affil link]. The panels are tested in the salt spray test for 336 hours. When the panels fail, we can have pits or dark discoloration with pits.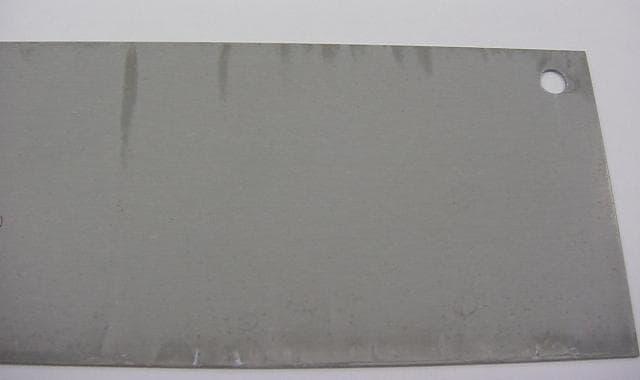 I'm trying to understand the relation between the appearance of a failed salt spray test result and a problem related to the process ( contamination of seal solution, no good concentration of chromic acid solution, etc,).
Thank you in advance
Valérie Caron
- Longueuil, QC, Canada
---
2002
Hi Valerie,
You will get to your solution faster if you describe the process in as much detail as possible. There are many things that can happen in the various chemical stages that can have an adverse effect on the corrosion performance of the treated part. I can suggest many, but without knowing your process, it's like looking for a needle in a haystack.
George Gorecki
- Naperville, Illinois
---
2002
George,
Thank you to try to help me, I will describe to you the process. We start with a acid cleaner (nitric acid 15% + sodium sulfate 13 oz/gal) for 1 minute.
-Rinse in cold running water for 30 second.
-Immerse in alkaline cleaner solution 6 oz/gal, 140-160°F for 2 to 5 minutes.
-Rinse in a first tank of cold water for 1 to 4 minutes and a second of cold running water for 1 to 5.
-Immerse in chromic acid solution 6 oz/gal. Initial voltage 0 to 5 volts following by an increase of 3 to 7 volts per minute operating voltage of 40 ±1 has been reached. Hold bath at 40 ±1 for 30 to 40 minutes
-Rinse in deionized water for 2 minutes maximum.
-Rinse in a second tank of air agitated cold deionized running water for 2 to 4 minutes.
-Seal: Deionized water + acid acetic to adjust the pH between 5-6. Immerse the panels in the solution around 200-210°F for 15 minutes minimum.
-Dry by air blast .
Valérie Caron
- Longueuil, QC, Canada
---
2002
Look very carefully under 10X magnification at the bare panel. Pits in the beginning panels are the single most frequent reason for failing salt spray. I have seen some panels recently from a very old reputable panel supplier and you could see large caverns in the metal with the unaided naked eye. PITS IN = PITS OUT

Robert H Probert
Robert H Probert Technical Services

Garner, North Carolina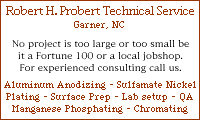 ---
2002
Anybody else can help me? :)
Valérie Caron
- Longueuil, QC, Canada
---
March 22, 2011
Hi, Valérie
Please take Robert's advice. These salt spray tests of "test panels" never say anything at all about your actual parts, and usually say little about your process, but always speak loudly of the quality and freshness of the test panels themselves :-)
Regards,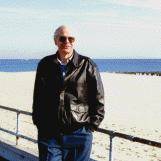 Ted Mooney
, P.E.
Striving to live Aloha
finishing.com - Pine Beach, New Jersey