Where the world gathers for
plating, anodizing, & finishing Q&As since 1989
"METAL WIRE ONLINE CLEANING AND PREHEATING PRIOR TO EXTRUSION COATING"
-----
2002
I AM MANUFACTURING COLOURED COATED M.S.WIRES FOR STATIONERY. BRIGHT STEEL WIRES IN SIZE 0.6MM TO 1.2MM IN COILS OF 20KG FROM SUPPLIERS ARE TO BE THOROUGHLY CLEANED OF RUST, CARBON, DRAWING LUBRICANTS,ETC.,SO THAT PLASTIC COATING BY EXTRUSION/DIP COATING IS BEST QUALITY AND COATING HAS STRONG ADHESION TO STEEL BASE. PROBLEM IS THAT WIRE RUSTS IMMEDIATELY IN OUR HUMID CLIMATE IF WATER BASED CLEANING IS USED.SOLVENTS LIKE TURPENTINE/PAINT THINNERS ARE NOT VERY EFFECTIVE.WIRE IS CLEANED ONLINE AT SPEED OF 100-150Meter/Min., and SPOOLED FOR FURTHER COATING PROCESS. WIRE IS SMALL SIZE AND SO NO PHYSICAL METHOD WORKS. HIGH GLOSS GALVANIZED WIRES DON'T GIVE GOOD ADHESION OF COAT. WHEN WIRE IS BENDED ON ITS OWN DIAMETER THE COATING CRACKS. COATING IS VERY THIN ONLY 20-35 MICRONS. PLEASE ADVICE BEST WAY TO CLEAN WIRE ONLINE AND PREHEAT THE WIRE PRIOR TO EXTRUSION COATING.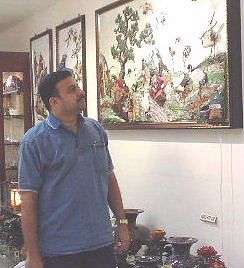 ESMAIL T. GODHRAWALA
wire drawing & plastic coating - MUMBAI, Maharashtra, INDIA
---
2004
Pretreating and cleaning your wire is critical if you wish to improve the adhesion of your thermoplastic coating to the wire. However, if your polymer does not exhibit good adhesion to the wire, then no amount of good cleaning will promote good adhesion.
Dr. Nicholas Tores
polymer systems - London, United Kingdom
---
2005
Try Toluene or other known organic solvents suitable to remove the specific oils/greases on your wire supplies.
Shabbir Dhinojwala
- Coimbatore, TN, India