Where the world gathers for
plating, anodizing, & finishing Q&As since 1989
-----
Problems of staining with iron phosphate
2002
We manufacture and paint grilles and diffusers for heating and cooling systems made out of steel. We paint them in a slide rail square transfer e-coat line and the pretreatment side is a 9 stage with 7 dip tanks and 2 spray tanks (one cleaner and one rinse). Since I can remember our problem has been with the iron phosphate. It is really hard to maintain an even coating, one moment we can have a perfect blue coat and with out changing anything on the system it starts to turn gold, giving me parts with different coatings in the same rack, and this at the end gives me parts with stains after it gets painted.
We already improve the cleaning and rinsing thinking that this is the problem, but still comes and goes. We have change solutions three times and right now we have less problems but still occurs once in a while and it takes to long to fix it.Is there a way to go so we can keep the process more in control. (sometimes the problem is present only in a specific part model and the minute we change parts it goes away, but changing steel vendor is not an option)
Norma Zepeda
- Mexicali, Mexico
---
2002




Hi Norma,

If parts on the same rack have a different appearance after phosphating, then there is clearly a difference in the substrates of the two types of parts. The phosphating bath is not smart enough to deposit a blue coating on one part and a yellow coating on another part at the same time.

The same steel may be used on all of the parts, but depending on the fabrication operations or other things that you do to the parts prior to pretreatment may result in some surfaces being more active toward phosphating than others. This can happen even if the parts are thought to be nominally the same because they came from the same steel.

Other things you can do to improve phosphate uniformity:
1. Agitate the bath.
2. Vigorous maintenance of titrations, pH and temperature.

George Gorecki




- Naperville, Illinois






---

2002




You don't say you are checking the pH and analyzing the phosphate routinely for strength. Is the temperature where it should be? Uneven heating will cause problems. Are spray nozzles working 100 %? Have you asked your vendor?

Bill Hemp




tech svc. w/ chemical supplier - Grand Rapids, Michigan





---
2002
Norma Zepeda,
You didn't mention what color the E-coat was. Assuming that the E-coat is white or cafe, the color change (stain) may not be in your pretreatment or E-coat. In a similar application a few years ago, we were able to trace the problem to a lubricant (I suspect it was chlorinated) used during the metal forming process. In this case, we were able to make up a diffuser from parts that were suspected of yellowing (white E-coat was used), and parts that were known to be good (non-yellowing). Once painted it was very obvious that the suspect parts changed color and the good parts did not. Once the suspect parts were replaced with new ones (where the metal forming lubricant was specified not to be chlorinated) the staining went away.
Dave Tozier
- Cincinnati, Ohio
---
2002
Here is my answer:
Gold color show that the phosphate solution is too active. One of main reason is the solution PH changes , this changes can come from one of the following reasons:
a.Acid penetration from former acidic bath
b.No buffer ingredient in the solution vendor formulation.
c.Drug in with unremovable lubricating oil .
For solving the problem you can do the following operations:
For reason a: dip in weak alkaline solution and rinse the part
For reason b: Change the Iron Phosphate product or vendor
For reason c: Search the lubricant source and change the problematic lubricant
Hope I was helping,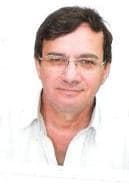 Yehuda Blau
YB Plating Engineering and Quality - Haifa Israel
---
2005
I AGREE WITH GEORGE ABOUT HIS POINT OF VIEW AND I NEED TO SAY IT IS IMPOSSIBLE TO GET A UNIFORM BLUE COLOR OF THE AMORPHOUS IRON PHOSPHATE ON THE STEEL SURFACE. YOU WILL HAVE MIXTURE OF COLORS BLUE ,GOLD ,BLUE GOLD , VIOLET , VIOLET BLUE GOLD , GRAY ACCORDING TO THE COATING WEIGHT. THESE COLORS INDICATE THAT YOU HAVE A GOOD IRON PHOSPHATE LAYER OVER THE STEEL SURFACE.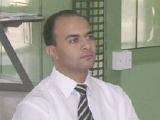 Ahmed Fouad Serag Eldin
Ein Shams - Cairo - Egypt
---
May 21, 2009
I want to achieve blue-gold staining or color on the mild steel washers, which are iron phosphated. Usually they turn grey, but sometimes I get rust like color or stains. What should I do or tell my plater
G S ARORA
- DELHI, INDIA