Where the world gathers for
plating, anodizing, & finishing Q&As since 1989
-----
Staining and Pitting of 304/304L Stainless Steel after cleaning
2002
Q. After reading all the submissions, I thought that someone might be able to make a suggestion for my problem. I am currently cleaning 304/304L Stainless Steel through a series of tanks that include an Alkaline Cleaner (1st Step), then a room temp. rinse, then into a 20% Nitric Acid / 3% Hydrofluoric Acid solution, then a room temp. rinse, then a heated rinse and finally air dried. Most of the time it works fine with no problems. BUT, every once in a while I will get a part made of the same stainless steel, and it will come out heavily stained with a brownish color and severely micro-pitted. We tested the raw stainless material and it is within 304 tolerances, we test the concentration of the chemical bath and it is within the required range.
I am at a loss here. The only other thing I can think of, is that some of these stained and pitted parts are HEAVILY milled or machined. Could there be an issue here? Proper lubricant is used in the machining and milling process.
Any information that you might have would be greatly and sincerely appreciated.
Ron Simpson
- Phoenix, Arizona, USA
---
2002
A. Please read our FAQ on passivation of stainless steel, which seems to deal with this problem. The finding in the FAQ is that this problem occurs because tiny remnants of machining oil turn the passivating solution into a powerful, etching, organic acid. The solution consists of better maintained tooling and very very extended cleaning times.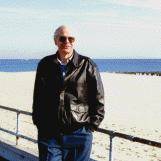 Ted Mooney
, P.E.
Striving to live Aloha
finishing.com - Pine Beach, New Jersey
---
2002
A. Believe it or not, I found the problem, but I wanted to share it with others in case anyone else ever finds this problem. The step before the chemical clean process is a hand finishing operation. For the final step in their process, they were using Windex [affil link] to shine up the part. Well, in "Windex" we find Ammonia. What happens when Ammonia mixes with Nitric Acid? That's right, pretty much rocket fuel and the characteristic attack on metals which includes a reddish/brown staining and pitting!
There is still one more question someone might be able to answer. Is there some process out there that can be used to remove things like ammonia on the surface of the part before a chemical clean is performed on the part. Apparently, Alkaline Cleaner doesn't do the trick.
Thank you,
Ronald Simpson
- Phoenix, Arizona, USA
---
2002
A. Ron:
Is the reason for using the nitric/HF bath to remove scale, discolorations, etc.? If not, you will get better passivation with commercial citric acid formulations. These formulae can also be used to neutralize the ammonia in your process above, if you need to do this.


Lee Kremer
Stellar Solutions, Inc.

McHenry, Illinois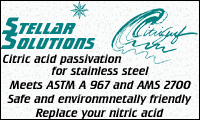 ---
2002
A. This is a required process by our customer. It seems that this is only occurring with the 304L type stainless and not the regular 304 stainless. The windex issue was resolved, but we are still seeing the same problem. Any information would be helpful. I've tried everything suggested to date and still no improvement.
Ronald Simpson
- Phoenix, Arizona, USA
---
---
September 26, 2013
Q. We are a stone company and we recently had to supply some type 304 stainless steel with a #4 finish. The stainless came with several pits and was rejected by the architect, the manufacturer tells us this is normal for this type of stainless steel. Is it normal to see this pitting?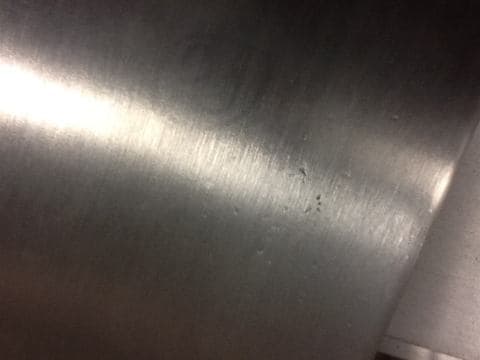 Brian Johnson
tile & marble - St Paul, Minnesota, USA
---
October 8, 2013
A. Brian,
That's a good close up photo of the surface defect but I can't tell what it's on. Is this sheet metal? Pipe?

The area doesn't look rusty so I assume it's not corrosion damage, which means it's likely mechanical damage, the steel was scrapped up against something else or some such event that marred the surface. This either happened after the #4 finish was applied or the damage was so severe that applying the #4 finish didn't remove it all and the workers were negligent in making sure they achieved a uniform appearance.

Ray Kremer
Stellar Solutions, Inc.

McHenry, Illinois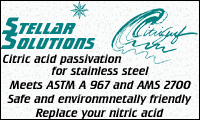 ---
---
Can CIP and acid baths cause stainless 304 corrosion?
January 26, 2019
ACRONYMS:

CIP = Clean-in-place
Q. Hello
I've been hired in a new company and when we started experiencing some frequent problems with one of the cheese machines we found out the stainless 304 body of the machine and augers corroded and there are a lot of parts with holes spread around. When I asked about the type and concentration of the CIP bath the give it they said it's the usual sodium hydroxide and nitric acid but with higher concentrations than designated - because they think it'll make it cleaner - and with tap water. Now I'm a mechanical engineer, I don't know much about metallurgy or chemical engineering, but I suspect it reacts with the surface causing the corrosion spots, especially it's been run like this for years.
Could someone please confirm or deny this for me? And if so what's the critical concentration of the chemicals above allowed for stainless 304.
Thanks
Muhammad Emad
- Banha, Egypt
---
January 29, 2019
A. Muhammad,
Check ASTM A967 [affil link] or QQ-P-35C [link is to free spec at Defense Logistics Agency, dla.mil] for the correct concentration of nitric acid to use on 304. Yes, an incorrect process with nitric acid can cause etching of the surface.

Ray Kremer
Stellar Solutions, Inc.

McHenry, Illinois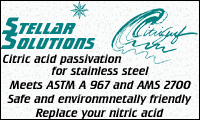 ---
---
Stain mark on SUS 304 after acid etch
October 27, 2020
Q. Hi,
We doing cleaning for SUS304 part after heat treatment (welding) as follows:

After acid etch, there is stain and black spot on surface.
It can be removed by sanding.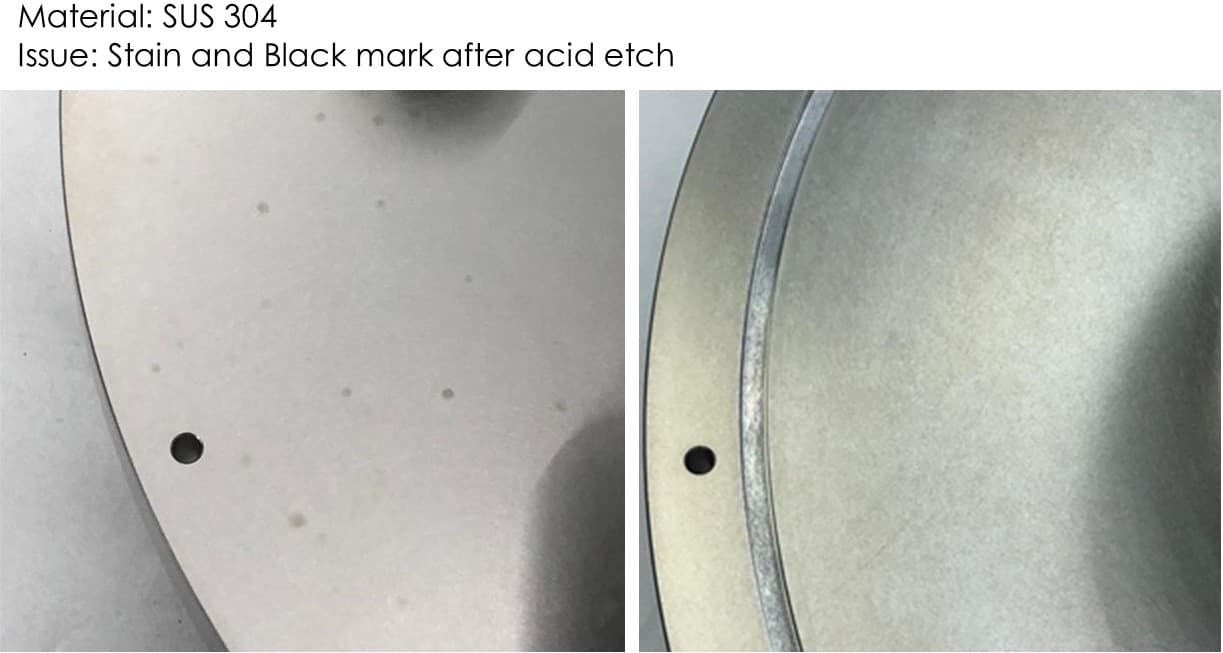 (photos showing spots and stains after cleaning process)
My question:
1. Is it normal for SUS304 have the stain after acid etch?
2. How to solve the stain mark issue? The visual acceptance should not have the stain and blackspot

Thank you
Amer Anaqi
- Penang Malaysia
---
October 29, 2020
Amer:
when you do acid etch, after the parts are immersed in the solution, only when there are gassing then you start counting timing 10-15s. Do not blindly follow the 2 min timing because the surface condition varies for aged parts and newly polished parts.
I believe that the black dot defects not happened on all of your parts (items) which follow the 20000 spec.
Hope this is helpful.
John hu
- Singapore
adv.: