60,000 Q&A topics -- Education, Aloha, & Fun
topic 17580
Brush applied Chromate Conversion Coatings
2002
Is it possible to achieve a conversion coating by brush or swab (for small areas) to match Mil-C-5541 [link is to free spec at Defense Logistics Agency, dla.mil] class 3 or similar to - def-stan 03-18. If so how and who manufactures the materials?
Brian A H Barton
- England
---
2002
Ref the Alocrom (Alodine in The United States) range of products (Henkel) there are products available i.e., Brush Alocrom.
Rich Mosley
- UK
---
2002
We are using chemical named CHROMAL that can be used in 3 ways of dipping, swabbing , brushing & spraying. Fulfills MIL standard (3 classes). The coating can be adjusted from clear up to dark ,according to alloy being processed.
Hadi Khosravi
- Tehran, Iran
---
2002
Iridite 14-2 brush on kits are available from Macdermid or its distributors
Don Baudrand
Consultant - Poulsbo, Washington
(Don is co-author of the book
"Plating on Plastics"
)
---
2002
Just put on rubber Protective Gloves [affiliate link to product info on Amazon], use a Cotton Swab, or an old cloth, swab on some of the deox solution from the deox tank, then rinse, then using 4 times concentration of whatever chromate you have, swab it on until the yellow color does not wipe off, let cure 24 hours, ship.

Robert H Probert
Robert H Probert Technical Services

Garner, North Carolina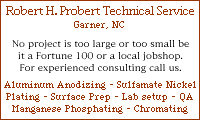 ---
2002
We carry out this process on a large number of parts, the solution we use is alocrom 1200 made up to double strength, pre-clean the parts brush on until the correct shade is achieved and rinse off, depending on the size of parts you can air dry or blow dry.
John Camfield
- UK
---
2004
We need sample and data sheet of ELPO chemicals in auto.
Dr-Kamal Mikhael Rizk
- Cairo, Egypt