Where the world gathers for
plating, anodizing, & finishing Q&As since 1989
-----
Sacrificial anodes and tomatoes
2002
Hello, We process fresh tomatoes for sale to grocery stores. We dump them into a water bath, at temperature 100 F, pH of 6.8 to 7.0, and 200 ppm of total chlorine. This tank holds 6,000 gallons of water. The tank is made of 304 stainless. My problem is a stainless heater pipe in the tank. After 2 seasons of use, the pipe, a schedule 5 tube, is pitted at every weld, including the seam where it was constructed. There are other metals in the tank, including mild steel, bronze and copper. I think it is an electrolysis situation. How do I fight this? I have been told to use a "sacrificial anode" of zinc. How much zinc? Does it have to be in the water or can it be outside? I want to preserve my equipment, but I am concerned if the zinc will hurt the tomatoes.
Chris Davis
- Naples, Florida, USA
---
2002
How is the mild steel holding up? It sounds a bit like chloride attack, especially given the fact the trouble is occurring at the welds. Passivation and even electropolishing the welds can help, as can using welding materials to minimize iron at the surface. Chrome and nickel plating are useful and rhenium ruthenium, rhodium, platinum, palladium or gold plating would be even better. If everything else is holding up well, you might even be able to get away with just plating the weld areas.
Dale Woika
- Bellefonte, PA, US
---
First of two simultaneous responses -- 2002

Type 304 SSTL is a poor choice with any solution containing an appreciable amounts of chlorine or chloride. 316 SSTL is usually a better choice. The chloride will attack and pit the welds, especially if the skin temperature is elevated.
Even at fairly low temperature and concentrations, I have seen stress corrosion cracking in a 304 SSTL water cooling jacket welded to a 316 SSTL reactor vessel. The cooling water source was drinking water from a treatment facility fed by Lake Michigan in Indiana. The year round water temp. of 50 - 70 deg., combined with high residual chlorine caused the cracking.
Heaters and immersion coils are best made of titanium for this application and the tank should be 316 SSTL. Try to eliminate the mild steel and any brass or bronze from the tank. If you are getting iron or other metals leaching in and staining things, this will eliminate that.
Chuck Reichert
- Seattle, Washington
---
Second of two simultaneous responses -- 2002

Plan 1: Electrically short out all dissimilar metals. Plan 2: If the above is not possible, Insert a scrap piece of stainless steel and connect it to the positive terminal of the lowest cost battery charger at Sears. Then connect the negative side to all the other pieces of dissimilar metal including the heating coil. Now turn on the battery charger [affil link].

Robert H Probert
Robert H Probert Technical Services

Garner, North Carolina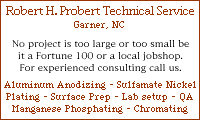 ---
2003
Undoubtedly, the reason for the corrosion is that the stainless wasn't either low carbon (<.03%) or stabilized grade (321 or 347).
Cheapest thing to do now (rather than replacing parts with 304L, 316L, or one of the above)is to indeed add a 'sacrificial anode' to the tank. I would just use several (maybe four?) magnesium anodes like those in water heaters. Connect them (electrically under the liquid level) to the corroding part. Replace them when about 1/2 of their weight has been 'sacrificed'.
Next time specify stabilized or low carbon grade stainless.
D Lemon
- Bo, Colorado, USA