Where the world gathers for
plating, anodizing, & finishing Q&As since 1989
-----
Chloride Induced Corrosion of CS Tank
2002
We are a medium scale chemical company. We are handling aqueous solution of Methanol (25 - 30%) after separating it from our solid product in a Carbon Steel Storage tank. The aqueous solution contains the dissolved chloride impurities and chloride salts and is handled at a temperature around 30 - 35 Deg.C. The tank is vented to atmosphere through a goose neck on top.
Over a period of last two years, we have observed that the thickness of the tank on shell and roof has reduced by more than 40%. The reduction is more in the vapor phase as compared to the area which is covered by the liquid level in the tank.
What is the reason for this high rate of corrosion? What type of coatings or lining can be done on CS for this application?
Thank you in anticipation of the answer.
Vijay Mandlik
- MUMBAI, INDIA
---
2002
Hi Vijay!
Re your tank (dammit, I wish you had given a size!), does it not appear to you that it is the chlorides that are attacking your steel?
Consider going to a fibreglass protection but ONLY use a Vinylester resin (epoxies are OK but costly). This would mean emptying the tank, sandblasting white the exposed areas and then fibreglassing with some layers of matt. An experienced fibreglass fabricator should be contacted.
But ensure that the fibreglass layer is well UNDER the normal liquid level. Re the gooseneck, ah, you'd have to replace that. Consider a flange at that point and then mate up with some normal PVC. OK? PVC should be OK unless you have polar or aromatic solvents present ... you didn't say you had but as a disbeliever (of Company Chemists and their ilk)'tis wise to be certain! I have been lead up the garden path in the past due to incorrect info being given.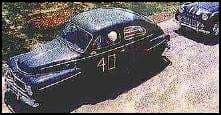 Freeman Newton
[deceased]
(It is our sad duty to advise that Freeman passed away
April 21, 2012. R.I.P. old friend).
---
2002
Hello Vijay,
Your problem is the that the condensation within the tank has deposited chlorides on the walls and roof. These chlorides which are present on a damp carbon-steel surface assist in the passage of ions which flow from anodic areas to cathodic areas within the tank. Anodic areas experience a reduction process (rust formation). The fact that it happens only in the vapour phase is because of the much higher level of oxidation which is taking place here. Especially at the temperatures you quoted. This can be countered by grit-blasting the interior of your tank and coating it with a layer of zinc silicate. Over this I would apply a layer of either vinyl-ester or an amine-curing epoxy. This system will give your tank a great many years of trouble-free service.
Rick Simpson
Zinga UK - Irvine, Scotland
---
August 21, 2011
We have a tank of dia. 10 inch containing a complex solution: pH 6.9, NaCl - 900 ppm, temperature 67° C.

I want to calculate the corrosion rate with this kind of chloride level.
A.S.Khanna
Teacher - Mumbai, India