Where the world gathers for
plating, anodizing, & finishing Q&As since 1989
-----
Patchy Coverage, Apparently Random Anodize
2002
Does anyone know what would cause a part to anodize in a seemingly random manner?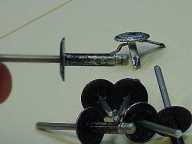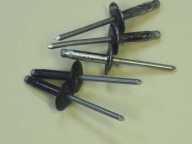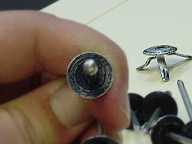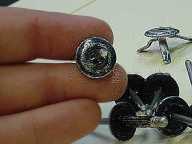 We specialize in bulk Type II anodizing (Mil/AMSA8625 [withdrawn / affil. link]), specifically fasteners such as rivets, and have lately been encountering parts that look like this (sorry about the poor quality picture - I had to artificially sharpen them up a bit to show what we were seeing, the zoom was a bit much for my camera). Our dissolved aluminum concentration is in acceptable ranges (we change the baths at or around 12 grams per liter), our sulfuric acid concentration is maintained at 27.5 oz per gallon plus or minus 2. The parts are double rinsed in tap water after anodized, than organically dyed black, sealed in hot nickel acetate (the seal checks out as acceptable per ASTM B136 [affil link] ) and waxed to increase shine. The wax contains a "mixture of Tricylic Carboxylic Acids Ester and Polyethylene Wax" (quoted from the MSDS), also on the MSDS for the wax is the statement that it is corrosive to copper, brass and zinc.

After waxing the parts are shipped across the country in cardboard drums. Stems are put in the rivets (possibly involving a lubricant of some type) and the parts are shipped on to the final customer.

Somewhere in this process the parts develop this appearance; has anyone seen this before or can anyone hazard a theory as to what it is?

Any assistance is appreciated.
Jim Gorsich
Accurate Anodizing Inc.

Compton, California, USA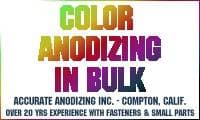 ---
2002
Two things stick out in my mind here Jim.

Because your parts are bulk anodized I assume you do them in titanium baskets. Does this occur on a large % of a lot of parts, is it random in its nature? First thing that would make sense to me is that because of bulk, basket type anodizing some parts will essentially develop a thinner coating than others. Because of that, they might not be able to hold up to the wax that is being applied to the parts. Because they are corrosive to other non-ferrous metals I believe the potential to be corrosive to aluminum does exist in that case.

Also, I have been told in the past that keeping your dyes in Stainless Steel tanks and using titanium racks with your obviously aluminum parts attached can cause a galvanic pitting situation to occur that somewhat resembles what you have occurring in those pictures.

I would examine those things I talked about, see if anything sounds remotely possible to you and see what you come up with. Obviously my thoughts are just that, and I can't guarantee anything, but what I got listed sounds fairly reasonable in this situation.
Matthew Stiltner
plating company - Toledo, Ohio
---
2002
Matthew -

Thanks for your suggestion. I ran the idea past my co-workers and they say that the problem has been noticed prior to the wax -- but it is much less noticeable. I checked on the galvanic issue and the Magnesium bars that we keep in the tanks are connected well and cleaned regularly.

Any more ideas?
The problem is pretty rare, it shows up in less than 1% of the parts we do, probably less than a tenth of a percent even. The bothersome thing about it is that it seems to be time-delayed or revealed due to physical actions -- the parts are shipped across the country via truck, the issue is more pronounced after shipment than before. Even our customer though has accepted parts through their quality control and passed them onto to their customer's only to have a problem manifest itself only at the final customer's location!

I would suspect sulfuric acid entrapment, except the problem is slightly pronounced on the smooth outside of the part than even on the inner diameter -- in fact, it seems to attack those areas where sulfuric would be entrapped least!

Any and all help is appreciated!
Jim Gorsich
Accurate Anodizing Inc.

Compton, California, USA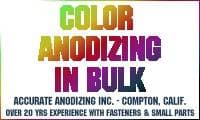 ---
2002
Dear sir:

As you know anodizing small parts in special basket pushed to each other create limitation different from rack type. First the looser the part the high percent of pert. Second vigorous agitation and electrolyte displacement is a need including chilling to 18- 20 0c. for a CD of 1.5 ampere. Sometimes rivet alloy is not capable of withstanding and they will burn more than being anodized.

My opinion: use oxalic/sulphuric acid to prevent redissolution of oxide layer due to local over heating. Start with lower CD AND VOLTAGE . You will see the difference. After cleaning and etching rinse very well. inspect the anode to cathode ratio this never should be over estimated. After anodizing use 9 PH in first rinse in order to neutralize extra acid trapped in recessed area in last rinse better using DI water . Do not extend rinsing time more than 1-2 min other wise you will lose absorbing oxide layer for dye. Try to follow dye supplier instruction for suitable pore size of oxide layer .
Hadi Khosravi
- Tehran Iran